Are you craving a dessert with a lot of flavor that's a little unique? Check out these five delicious dessert destinations – all are right here in Grays Harbor.

Note: Listed in no particular order, these establishments are not necessarily "dessert shops." They don't necessarily "specialize" in desserts. They just happen to offer some unique, delicious desserts sure to satisfy any sweet tooth.
Sink your teeth into one of these five scrumptious dessert destinations.
All Wrapped Up – 110 E. Pioneer Avenue, Montesano
Coffee, breakfast items and baked goods. Even though this place is a cracker box, with maybe three or four tables, it's So. Darn. Cute. Try a triple berry scone and a 12 oz. Mocha special with extra whipped cream. If you're having a bad day, don't worry. By the time you come down off that sugar high, it'll be a brand new week. Hours are Monday – Friday from 5:00 a.m. to 4:00 p.m. and Saturday from 8:00 a.m. to 3:00 p.m. Phone: 360-249-6694.
Hum-Dinger -104 Lincoln Street, Hoquiam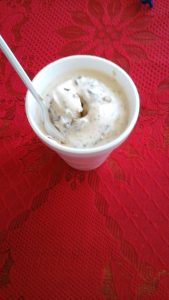 If you're in a hurry and don't want to wait for a table, grab a Humdinger soft cone or hard ice cream. Their Reese's peanut butter cup Polar or banana splits with double hot fudge are a perfect cool down on a warm summer day. Hours are 10:00 a.m. to 10:00 p.m., daily. Phone: 360-533-2754. Read a full story about Hum-Dinger here.
The Salmon House – 516 S. Shore Road, Lake Quinault
A great choice for anniversaries, birthdays, holidays, graduations, or Just Because. Top off dinner with a luscious slice of white chocolate raspberry cheesecake, house-baked blackberry pie, or chocolate tuxedo cake ala' mode. Open nightly from 4:00 to 9:00 p.m. You can call the restaurant at 360-288-2535. Visit The Salmon House on Facebook.
Amore – 116 West Heron Street, Aberdeen
Quaint, with a Mediterranean ambience, Amore features authentic Italian cuisine. Try their tiramisu. It's a five-star Italian dessert consisting of layers of sponge cake soaked in coffee and brandy or liqueur with powdered chocolate and mascarpone cheese. Delicioso! Open at 11:30 a.m. daily. Phone: 360-533-2442.
The Jitter House – 617 Simpson Ave, Hoquiam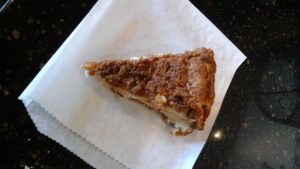 The Jitter House is a personal favorite. The specialty here is coffee. But what's coffee without something wonderful and taste-tempting, fresh from the oven? The Jitter House has some great options: a milk chocolate peanut butter oat bar, a brownie with walnuts and a white chocolate glaze, or a light and fluffy lemon bar. Baked fresh and served with a smile. Owner Sam and his wife are of Puerto Rican descent. Sam is always available for a chat. His passions are serving up great coffee teamed with luscious homemade treats – and America. Expect a little good 'ole American "flag wavin'" here. On the left as you enter, an entire wall is dedicated to honoring all five U.S. service branches. The display includes copies of the U.S. Constitution and Declaration of Independence.
I don't even drink coffee. But I'll definitely be back to The Jitter House for its excellent pastries, relaxing ambience, and passion for patriotism. Open from 7:00 a.m. to 3:00 p.m. Phone: 360-589-8581.
Bon appetit!