Saddle up for a ride into history and "living works of art" with a trip to Makarenko Park. Located in Cosmopolis, the park's 39 acres include soccer fields, a walking/biking trail, and a community garden. But a closer look reveals much more.
"It's the crown jewel of our park system," says Cosmopolis Mayor Frank Chestnut. "We have a lot of folks from the community who use it and folks from outside the community also enjoy it. We're very proud of it."
Makarenko Park was donated to the city in 1991 by Olivetta Faulkner who specified that the park be named the Major D.S. Makarenko Memorial Park. Major Makarenko was a retired Russian military major and former cavalry officer who moved to the area.
The City of Cosmopolis Makarenko Memorial Park Interim Report offers a bird's eye view of the park's proud past. Written by former Cosmopolis City Council Member Tom Grenfell, the report is dated November 6, 1992.
According to Grenfell, Cosmopolis resident Olivetta Faulkner left the park to the city upon her death in November 1991. She was 97. The park is on the site of what was formerly the late Major D.S. Makarenko's Riding School. And here's where it gets good. I mean, Hollywood-movie good. As in, Russian aristocrat flees Communist Revolution, makes good in Grays Harbor, gives back to community in spades, teaches kids to ride and helps them stay off drugs. In the report, Major Makarenko is described as an "extremely hard worker" and "notably warm-hearted."
I like the major already. This is before I got to the part about the major's tie-in with the Legendary White Stallions of the Spanish Riding School in Vienna.
Here's the back story from Tom Grenfell:
Who Was Major Makarenko and How Did He Wind Up in Grays Harbor?
"Diomed Sergeivich Makarenko was a major in the light cavalry under Czar Nicholas II before he fled Russian during the communist takeover. Eventually, the Major (as he was referred to by local people) made his way to Grays Harbor and started a riding academy on the South Beach in 1930. He moved to this location the following year and it was here that he conducted the Cohasset Riding School until his death in 1968.
By his own estimate, he taught more than 3,000 students from the Grays Harbor area to ride. Generations of local children and adults "rode with the Major" and will remember his horses Geordi, Rusty, Taffy, Nuss Afir, Rocky, Skipper, Neptune, and Cindy. Some, who as children either rode or helped with the horses, will remember the Major's prodding them to "work hard at school and stay out of trouble." Many credit him with their getting through school and keeping away from drugs.
Though born an aristocrat and despite a youth of leisure among the Russian nobility, the Major was not only notably warm-hearted, he was an extremely hard worker. He personally cleared and fenced the land, hauled fertilizer for the pastures and the polo field, and often would saddle horses for novice riders. Only his noble bearing on his horse disclosed his origins.
The Major's teaching methods were unique for his time; he followed the techniques of the Spanish Riding School (which had been perfected by the European militaries and were prevalent in Russian court riding.)"
Yes. That riding school. Located in Vienna, Austria, the Spanish Riding School is home to the world famous Lipizzaner stallions. These elegant, intelligent horses, snow-white upon maturity, are often described as "living works of art." And Grays Harbor apparently had its very own Spanish Riding School expert in Major Makarenko.
Recalls Mayor Chestnut, "The major was a very imposing character. You did it his way or not at all. The academy was very popular. A lot of people relied on the major's teaching abilities to learn how to ride." Lessons included advanced riding skills, drills, and riding exhibitions.
Grenfell continues: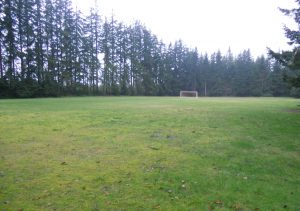 "His application of these techniques involved schooling several riders (usually no more than eight) in unison. Beginning riders learned basic skills and school drills. Advanced riders worked on dressage skills such as obedience and precision. The annual riding exhibition at the Cohasset Riding School was a remarkable display of complex drill and maneuvers by the major's team of children and adults.
Interestingly, the Spanish Riding School techniques taught by the Major and known as "quadrille riding" have recently returned from Europe to this country and are being actively practiced and promoted by the California Quadrille Association (CQA)!
It is appropriate that Miss Faulkner specified that the park be named the Major D.S. Makarenko Memorial Park."
The Grenfell report includes a legal description of Makarenko Park, roads and trails, diagrams, terms and conditions of Faulkner's will, and possible park uses. As you might guess, equestrian activities and facilities factor in huge here. "Possible park uses" included: riding instruction for children, adult and special (handicapped) riders, horse training and horse shows, clinics and examinations, saddle riding, dressage and jumping, and cross-country and trails. Equestrian facilities included a covered riding arena, lunge and cantering rings, bridle trails (with corrals), jumping arenas, stables (for resident, boarding and visiting horses), and a tack and trophy room.
Today, the park's most popular feature is the walking trails. Says Chestnut, "You can bump into any of your neighbors (on the trails)." The park is also enjoyed by youth soccer for practices and matches. It also hosts local cross-country meets.
You may not know it now, but the park site once included a paddock area, covered riding arena, barn and a polo field. In the early days of the Cohasset Riding School, folks engaged in the Sport of Kings on this field. The Major's house was also on the site. It burned to the ground in a "spectacular fire" in 1989.
Mayor Chestnut has a personal tie to the park and the major. He explains, "My uncle, Maurice ("Morey") and his brother, my father, used to work up there for the major. My uncle used to swamp out stables and my father, Mahlon, would tag along. Dad was the younger of the two. They'd sneak a (horse back) ride every now and then and the major would let them."
Rich in history and storied distinction, Makarenko Park is indeed a "living work of art." Just like the Major.
Makarenko Park is located on a hill west of Cosmopolis. From Highway 101, turn on to "G" Street. Continue about 5 blocks to the 5-way stop at the foot of two hills. Turn left at Altenau Road. Clue 1: "Makarenko Park" street sign. Go up the hill. You'll pass a cemetery on the right when you crest the hill. Continue down the road two blocks past the cemetery. Clue 2: Makarenko Park street sign at "Paisley Creek" sign. Turn right onto Stanford Drive. It dead-ends into Makarenko Park on the right. You may want to bring a saddle.