Jenny Fisher has painted murals on Grays Harbor walls for over 28 years. Her most prominent murals in Aberdeen include the "History of Transportation in Grays Harbor" at the Grays Harbor Transit Station, the "Kelp Forest" on the wall of City Center Drug and the recently completed "The Immigrants" on the Union Gospel Mission wall.  Each mural is a delight to the eye, but also the result of careful research of our history and our natural world. Jenny's murals tell stories inviting the viewer to look closer and deeper with each visit.
Jenny, who has created so much of Grays Harbor public art, was born in Long Beach and raised in Huntingdon Beach, California, by her Grays Harbor parents. "I always identified as an artist," Jenny says. "I have been creating art since childhood." She majored in art in college but after she married her husband David and raised a family, her art work took second place.
In 1985, the picturesque Victorian house the artist's mother was raised in came up for sale. David and Jenny jumped at the opportunity to raise their younger kids, Kelly and Billy, then six and seven years old, in Hoquiam and bought the house.
Soon after settling in Hoquiam, Jenny took a job as an Engineering Technician doing road construction engineering with the Bureau of Indian Affairs and David worked at home as a stay-at-home parent and restored their house. As the kids got older David gradually became a full-time employee at Ace Electric Hardware store in Hoquiam and then at the Dennis Company in Aberdeen. After Jenny's 20 years with the Bureau, the Fishers retired early. David had been battling cancer and they decided to spend the time he had left travelling. "My husband was my best friend," Jenny remembers.
When Grays Harbor received a grant for the 1988 Washington State Centennial celebration, Jenny was commissioned to paint four murals, which she completed taking two week vacations and working evenings and weekends.
After David's death, in August 2008, Jenny decided to devote her life to art. She was a founding member of the Harbor Art Guild together with Grays Harbor College Art Instructor Kathleen F. Graddy and artist Matt Jump. Membership in the guild grew quickly and they opened the Six Rivers Gallery at 210 6th Street in Hoquiam with the goal to make art more active, to provide a space for Harbor artists to show their work and to teach them skills like sketching, water color painting and hanging art. The gallery hosts shows for professional as well as entry-level artists. There are also regular shows for young artists as well as an occasional solo show. Jenny served as president for two years and is currently serving on the board. John E. Miller is the current Harbor Art Guild president.
Jenny is deeply aware of the world around her. This intensity is reflected in her paintings which are big and bold, some in spirit if not in size. "Art is a way to preserve the things I love, and to express how I feel about them" she says. Her paintings are of the objects of her love: historical scenes, the natural world, expressive family and equally expressive animal portraits. Even her painting of an oak tree is a portrait with its very own character.
An early expression of Jenny's love for history is the mural "History of Transportation". It depicts Grays Harbor modes of transportation from Native American canoe and horse drawn wagon to the first airmail to Hoquiam which happened to be delivered by Jenny's own grandfather.
"The Immigrants" is the result of careful research based on the "Chehalis County Nationality Survey, 1848-1915," a thick 1984 Census Report from the Aberdeen Museum. The historical flags framing the mural include an early 19th century flag of the Afghan Emirate representing an Afghani enclave in Cosmopolis. The artist chose some flags for their aesthetic or historical value like the beautiful flag of Imperial China featuring a dragon and a rare Irish rebel flag which was hoisted in Dublin at the 1916 Easter Rising.
Jenny's interest is currently held by astronomy. She has enrolled in a Grays Harbor College course while star clusters in rich mysterious colors are exploding on her canvasses. She is scheduled for another mural on the Colortyme building in Aberdeen for which she is studying historical maps. Meanwhile, the rough shape of a wooden eagle blocked out for her by chainsaw artist Whittler in Aberdeen is waiting to be finished by Jenny's hand in her yard. The sculpture was requested by her family for their cabin at Mason Lake.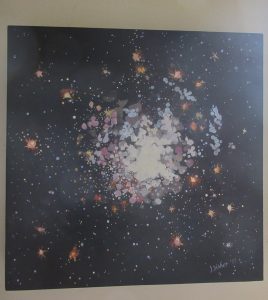 Jenny invites the public to visit the Six Rivers Gallery current show "Autumn Frenzy" and the upcoming Tina Karvonen solo show "Where Art Thou," October 14 to November 13. The public is also invited to the upcoming Harbor Art Guild general meeting at the Alder Grove Gallery in Aberdeen on September 19 at 7:00 p.m.
The Jitter House coffee shop in Hoquiam currently has some of Jenny's artwork on exhibit. The paintings are available for purchase.
To see more of Jenny Fisher's art, visit her online portfolio.