Seabrook will host eight craft breweries on the first day of October during the fourth annual Big Foot Brew Fest. From noon until 5 p.m., taste the flavors of favorite Pacific Northwest breweries like Two Beers, 3 Magnets, Fish Tale Brewing Company, Triceratops Brewing, Hop Valley, Top Rung, Dick's Brewing and Seattle Cider.
Dogs will also be welcomed in the beer garden by the Salty Dog booth offering Bowser Beer. So feel free to bring your best friend.
Live music will be by Alarm 58 out of Bend, OR and local favorite, classic rock artist, Vaughn Johannes of Grays Harbor. Big Foot will join the festivities on Front Street for a meet and greet and photo opportunities. The event will be a fundraiser for Seabrook Community Foundation which provides grants to Grays Harbor County organizations and education scholarships.
In addition to Big Foot, expect an appearance from the Hopfather. Or if you can't make it, be sure to follow him on your preferred social media site (Instagram, Twitter: @hopfather).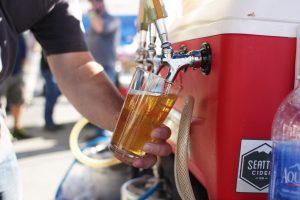 If you want a little exercise, plan to bring your mountain bike and meet at Buck's Bikes at 8:00 a.m. for sponsored, best friend mountain bike ride. The ride is no cost but helmets are required.
Beer tasting tickets and Big Foot Brew Fest logo gear will be available for various costs ranging from $1-$45. The beer garden is 21+, but kids are welcome at the Sand Bar behind Mill 109. BFBF logo pint glasses and gear purchases will benefit the Seabrook Community Foundation.
More information is available at www.seabrookwa.com/events.
See you at the beach!