When Loretta the American Bulldog arrived at North Beach PAWS, she was in distress. After giving birth to one puppy five hours earlier, she'd abandoned him. This is what typically happens when a mother knows she's in trouble, says Roberta 'Bert' Langley, PAWS Dog House Manager. Now, still in labor, Loretta was not making any progress with the rest of her puppies.
"We had to basically try and work the next puppy out," says Langley. She and fellow volunteer Shea Jones sat with Loretta throughout the night, in constant contact with Jessica, a Licensed Veterinary Technician at Raintree Veterinary Center in Hoquiam. "We didn't know what we could do, so Jessica helped to talk us through it."
Raintree Veterinary Center is one of the local veterinary services who work closely with PAWS, a non-profit organization in Ocean Shores run entirely by volunteers and funded by donations. "We partner with them all the time," says Langley of Raintree Veterinary Center. "Dr. Brown is probably the best human on this planet. His staff are incredible. They do as much as they can to help us."
Raintree Veterinary Center takes care of routine checks for animals that PAWS takes in, as well as any medical issues that arise. "We do their vaccinations and wellness exams and make sure that the animals are healthy enough to be adopted out," says Jessica. "In some cases, they may need surgery or the volunteers may have questions about the shelter animals. We're here for advice."
The collaboration started three and a half years ago and both groups benefit. "We do this because we love to help animals, and once the animals have been adopted, we hope their owners will still bring them to see us," Jessica shares. Some of the more memorable patients include Chewy, a seven-month old kitten who jumped off a roof and needed her leg amputated and an eight-week old kitten who somehow managed to swallow a nerf dart.
At PAWS, the focus is helping whatever animals come to their door, with one exception. "Our one major rule is that we don't accept aggressive dogs," says Langley. "We can't do anything for them and it's a safety issue. Everyone here is volunteering and some of our staff are over 80 years old. We can't afford for anyone to get bitten." The shelter is always looking for volunteers and donations, she emphasizes, noting that PAWS is 100% donation based.
Langley herself lives on site 24/7, managing intakes and transports as well as rehabilitation. "I work closely with animal control," she says. "If they have any adoptable dogs, they call me. I do my own assessment and then bring them back to the shelter."
Many of the animals, dogs in particular, have been so badly abused that they're afraid of people. In the beginning, no one can get near them. "I get to know them," says Langley. "We've had such success with rehabilitating dogs that have come in. After a week everybody can see the transformation. Some of them get adopted really quickly."
Occasionally an animal will be beyond help. At that point, Langley and one of the staff from Raintree will hold them up until the last moment. "We believe that they need to be loved right up until they cross the rainbow bridge," Langley says. "They are special people at Raintree. I am very happy to be working with them."
In the case of Loretta, Langley and Jones worked for hours to bring out two more puppies, but the bulldog was still in hard labor all night. "We set up a wellness check for 11:00 a.m. the next day," says Langley. "At that point, she was still in labor and there was at least one more puppy. We gave her oxytocin to try to induce, but it wasn't working."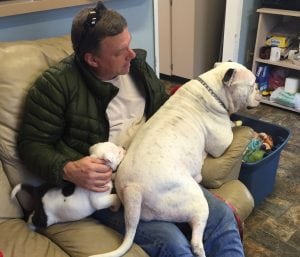 It was clear that surgery was the remaining option. When Dr. Brown performed a cesarean section, the problem was revealed. Loretta's bladder was so full that it was ready to burst, and there had been no way for the puppies to get past it.
Once the puppies had been born, the ordeal was still not over. Between having a hysterectomy and a cesarean section, Loretta was in so much pain that she didn't want to nurse her young. "I was with her every two hours, giving her pain medication and making sure they nursed," says Langley. "I did that for a week and she started feeling better. Then I did it for another week just to make sure."
In the end all but one of Loretta's puppies were healthy enough to be adopted. As for Loretta, she found a home with Tim Anderson, one of Raintree's clients. "My kids had wanted me to get a dog for a couple of years," says Anderson. "My son kept sending me links to Petfinder.com. Loretta's face popped up in my area."
When Anderson visited PAWS, it was love at first sight, says Langley. "He sat on the couch and Loretta laid on his lap for about an hour."
Anderson agrees. "She a 100-pound lap dog," he says. "She really is a sweetheart. She sits and watches TV like a human. She's just a really sweet dog."
Those are the kind of endings Langley dedicates so much of her time toward. "Loretta will live out the rest of her life being spoiled and getting the love she deserves," she says. However, Loretta is no longer Loretta. Her name was officially changed to Alberta – in honor of Bert Langley who fought so hard to save her and her puppies.
For more information about Raintree Veterinary Center visit www.raintreevetcenter.com or call 360-532-1900.
Sponsored