Austin Cain beamed proudly, blood trickling from his mouth. He has just made history – becoming the first Montesano High School wrestler to capture two state championships.
It was a tremendous accomplishment as the Bulldogs once went 40 years between state titlists.

The program had waited decades for this to occur. Cain's claim of being the program's sole two-time champion would last a little over two hours, however, as teammate Taylor Rupe joined him in the exclusive club later that evening.
Cain and Rupe capped their high school wrestling careers by each winning Class 1A state championships at Mat Classic at the Tacoma Dome on February 18.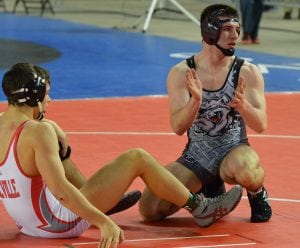 "It feels great. It's pretty special to be the first two-timer from my school," Cain said. "That's something I have definitely wanted since I was a little boy."
A year after winning the 152-pound division, Cain cruised through the 160-pound class this year, advancing to the finals after posting a quick pin in the semifinals where he defeated Jesse Hoffberger of Stevenson in a mere 83 seconds.
Cain, who had been the state's top-ranked 1A wrestler in his weight class all season, posted title No. 2 with an 8-3 victory over Colville's Thailer Morrison in the finals.
"We did our scouting and we did our work and it paid off, obviously," Cain said about his championship match performance. "We knew he wanted to throw and I was able to take that away. He was able to take away some of our stuff too, but if you take away all of someone's stuff and you have a little bit left, you're good to go."
Shortly after the win Cain was swarmed by several teammates, including Rupe and fellow senior Jacob Ellefson, who earlier in the day became a four-time state placer after finishing fifth in the 120-pound tournament.
Rupe would go on to win his second consecutive 285-pound state championship by defeating Connell's Alexander Deines by injury default in the finals.
Rupe also finished third as a sophomore and seventh as a freshman, while Cain has a second- and seventh-place finish on his resume, making all three seniors rare four-time placers.
The strong performance from the three seniors helped the Bulldogs place sixth overall as a team with 99.5 points. It marks the third straight year Montesano has placed as a team – a first for the program. They finished third in 2015 and fourth last year.
Prior to 2016, Montesano wrestling boasted just three state champions – Fred Southard (1968), Jerry Esses (1973) and Rick Johnson (1976). Over the past two years, the Bulldogs have won five individual titles, with Kylar Prante, last year's 182-pound state champ, joining Cain and Rupe.
Montesano junior Tony Williams finished third at 138. After opening with a first round pinfall victory (1:20) over Royal's Regan Callahan, Williams was pinned by Brent Hodgson of Deer Park late in the second round after racing out to a commanding 7-0 lead.
Williams was simply dominating as he ran through the consolation bracket, winning all four of his matches by pins with the last coming in just 59 seconds against Kiona-Benton's Flavio Sandoval to secure his third straight top 3 finish.
The Bulldogs also received placings from Andy Fry (eighth, 106 pounds) and Tyler Izzatt (sixth, 132).
Hoquiam's Artimus Johnson claimed third-place in the 182-pound division, giving the senior back-to-back third-place finishes.
Johnson needed little time disposing of his first two opponents, pinning each in under 50 seconds, before losing to eventual state champion Tanner Belcher of Sultan, 10-6, in the semifinals. Another lightning-quick pin followed (52 seconds) in the consolation bracket before Johnson edged Cle Elum-Roslyn's Jack Moen, 2-0, in the placing round.
Elma had a pair of placers in the 2A ranks in Colten French (eighth, 120) and Justin Sample (sixth, 138).
Aberdeen 126-pound junior Tyler Souphommanichanh claimed fourth place in the 2A tournament.
North Beach senior Seth Bridge defeated Toledo's Dalton Yoder by injury default to win the Class B 285-pound championship. Bridge, who finished fourth last year in the division, joins Daniel Fruh as the only Hyaks to win state titles. Fruh also captured in the heavyweight crown in 2014.
In the girls' tournament, Fruh's younger sister, Natasha Fruh, became just the second North Beach female wrestler to place at the tournament, finishing fourth in the 235-pound classification to join three-time state placer Jennifer Law (2009-11).
Hoquiam's Jenna Doll finished third at 155 and Aberdeen's Emily Wharton was seventh at 235. Wharton also helped the Bobcats earn the 2A girls academic state championship.
Congratulations to all the Grays Harbor athletes who competed this weekend at the Mat Classic 2017.