With Thanksgiving just around the corner, many around the region are getting excited about Black Friday. For the past few decades, the day after Thanksgiving has meant standing outside of large stores, hoping for great deals on electronics and clothes, but now, things are once again changing. Once known as the best day for consumerism all year, Black Friday is slowly but surely switching to a day spent with family in the great outdoors.

Known as the #OptOutside movement, families and friends are now skipping the malls and box stores and spending the post-Thanksgiving hours exploring the natural beauty found all around them. This year, we encourage you to start a new family tradition and join us as we #OptOutside this Black Friday.
Opting outside on Black Friday doesn't need to be a huge ordeal, especially for those of us who call Grays Harbor home. For us, incredible parks, beaches, and family-friendly walks are found right outside our doors. In fact, stunning displays of natural beauty and must-experience outdoor destinations are closer than most large stores, giving us the perfect excuse to explore wilderness this Friday. From local parks around forested trails and lakes, to rainforest walks and coastal wanderings, Grays Harbor might just be the perfect place to start opting outside.
While there are literally hundreds of destinations around the region that will be perfect, we have shared some of our favorites with you.
We start in the east county, out in Capitol State Forest. Known for mountain and dirt biking, the eastern side of the forest also has a fantastic family hiking destination. Perfect for kids of all ages and abilities, the Porter Creek Falls trail is less than two miles roundtrip and is a fantastic leg stretcher. Gaining just 89 feet of elevation, the trail's first few switchbacks are quickly over with, rewarding you with a short and flat walk along the pretty creek, swollen with the fall rains. Make sure to bring rain gear and a change of clothes for after the hike, as this is the Pacific Northwest and it may be a little damp.
West of Porter Creek Falls is Lake Sylvia State Park by Montesano. Easy to get to, family-friendly, and offering numerous options for variable mileage, it is hard to beat the hiking and outdoor activities found here. For those hoping to hike, the loop trail, which is roughly three miles in length, is ideal. Keep in mind that there will more than likely be some standing water on the trail, so bring a change of shoes and socks! Lake Sylvia is a classic and is one that should be visited often. Whether you hike the loop trail, watch birds, or decide to bring a kayak or canoe and paddle the lake, you will have an enjoyable time here.
Residents of Aberdeen and Hoquiam don't have to drive far for some easy walks, highlighted by the overlooked and often empty Lake Swano trail at Grays Harbor College. At just a mile in length, this "barrier free" nature trail perfectly captures the spirit of the region. At the college, there is also a botany trail that is roughly a mile in length, complete with displays to show you what plants are found along the trail. Combine this hike with exploring Bowerman Basin and the Grays Harbor Wildlife Refuge, and you'll have a perfect day getting to know the region we call home.
Largely overlooked, the Weatherwax Trails in Ocean Shores are a perfect way to wander the forests of the sandy peninsula before exploring Damon Point. The Weatherwax Trails are a 1.2-mile jaunt through gorgeous forests and along the lake shore, giving you ample opportunities to see deer, eagles, ducks, and other birds. Short and sweet, this trail makes a nice first stop on the Ocean Shores Peninsula before you head out to the sandy spit of Damon Point. Damon Point offers four miles of roundtrip hiking, giving you some of the best beach combing opportunities on the North Beach. Hunt for agates and shells, while watching eagles, blue herons, and seals.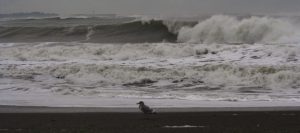 Finally, no list of outdoor recommendations would be complete without mentioning the Quinault Rainforest. Found in the Northwest corner of the county line, a day exploring the Quinault Rainforest is hard to beat. Whether you drive the Lake Quinault Loop and see the highlights, play around the Lake Quinault Lodge, or take a hike out to Pony Bridge in Olympic National Park, those who choose to opt outside out here will be rewarded with true wilderness beauty. For those looking for a well-marked and easily accessed trail, explore Olympic National Forest's Quinault Rainforest Nature Trail. The half-mile interpretive trail is a perfect introduction to the region and offers some incredible views and cool places to take pictures!