In early August, Summit Pacific Medical Center officially welcomed a new internal medicine provider, Dr. Samuel Engemann, to the Summit team. Originally from outside of St. Louis, Missouri, Engemann has quickly found a new and welcoming home in his move to Washington. "I'm loving it," says Engemann. "I really like the patient population that I'm working with and I really love the other providers, and of course, the community and the weather."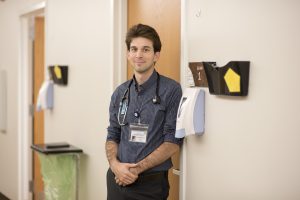 At Summit Pacific, Engemann specializes in internal medicine, focusing on helping patients with adult chronic disease management and he is also a primary care provider, as well. He has many goals to help the local community with their overall health and lifestyle.
"I'm passionate about getting people off their opiate medications and into treatment methods that work long term," Engemann says. "And that's physical therapy, osteopathic manipulations, joint injections and rheumatologic disease with immunologic medications. There's just a lot of people who are here who are hurting because they don't have access to the specialist they need."
Though his family is not from the area, Engemann, his mother and sister all have plans to settle down in the Pacific Northwest with Engemann being the first in his family to make the official move. His mother plans to move somewhere in the islands and his sister plans to move to Portland, making Grays Harbor a good middle place to be located. He is more than happy with his decision to relocate from Missouri to Washington and says it's been a big upgrade from his last location.
"I really like the scenery," Engemann says. "I just think it's absolutely gorgeous. I remember when I first came here, it took me several days just to get used to driving because I'd be constantly getting distracted by the trees and the mountains. And when my mom and my sister came up to visit, people were kind of looking at us because we were standing in the Costco parking lot just looking at the trees. It's just absolutely beautiful."
In his spare time, Engemann enjoys hiking and exploring the surrounding areas, like Ruby Beach and Ocean Shores, and has recently been getting into rock climbing. Aside from enjoying the breathtaking scenery, Engemann has found the local cuisines to be a delight, from the Mexican restaurants to the places with fresh seafood. "I love the seafood," Engemann says. "I'm getting oysters and clams at least once or twice a week."
The towns of Grays Harbor have also been nice for Engemann to explore with the culture and populace being welcoming and charming. "Everyone here is really sweet," Engemann says. "It's nice to have really friendly people in a small-town environment, especially after work."
What first drew Engemann to take a look at Summit Pacific was that it was rural and in a great location. "I like rural medicine," Engemann says. "It was a critical access hospital that was relatively close to Seattle and Portland, and then I visited a few other hospitals in the area, but I just really like the culture and the direction that the administration and the hospital staff at Summit Pacific are going."
Engemann is excited to have gotten on board with Summit Pacific because he feels that everyone there is working together toward a common goal. "Everyone has the same image in mind of trying to make this the healthiest community in the Nation," Engemann says.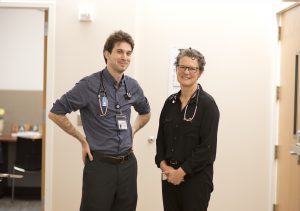 With the opening of the new Wellness Center, there are a lot of ideas going around and endless potential for new services to help make a happier and healthier county. A dream of Engemann's is to have a set up for multiple chronic disease rehabilitation one day. "So, if people who have got multiple illnesses that are affecting each other such as heart disease, lung disease, kidney disease, and chronic pain and arthritis," Engemann says. "If they have all of these diseases that are affecting their lifestyle, to try to assess their function, get them stabilized in medication and then work with education to see if we can help them heal."
Engemann says that he is grateful for several staff members who have made his transition to Summit Pacific an overwhelmingly positive one. "I have to thank our CEO, Josh," Engemann says. "I got to meet with him last week for a sit-down meeting and I'm really excited about the direction that the hospital district is going, and I think we can do some really amazing things for the community. I also need to thank Bonnie McReynolds, one of our other ARNP primary care providers. She's really helped me get my feet under me."
For more information about scheduling with Dr. Engemann or other services offered by Summit Pacific, please visit Summit Pacific's website or call 360-346-2222.
Sponsored