Comcast has accomplished a lot in their 50+ year history. Since the early 1960s they've become a titan in the TV, internet, telephone, and digital entertainment industry. As of June 2018, nearly 30 million customers subscribe nationwide.
Their recent improvements strive to keep them at the forefront of innovation, but also provide comprehensive customer service to households relying on their service. Piers Lingle, senior vice president, customer experience, is proud that they've introduced artificial intelligence (AI) and cutting-edge technologies to their line-up to improve the Comcast customer experience.
Lingle, who lived in Bellevue until he was 10-years-old, knows firsthand that the Northwest "is a wonderful place to grow up, certainly as a kid." He also knows how important customer service and the technology experience is to customers in our region.
Lingle worked his way to management via their video development department and admits it's a good fit because "we're very much a technology company nowadays." He's part of a group dedicated to improving the customer experience, asking how they can use technology to enhance a customer's interactions with Comcast.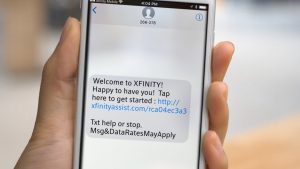 They focus on a simple goal: what's the best way to solve a problem, to make things easier for customers? "We want to get an answer to the customer, hopefully before the customer knows they have a question," says Lingle.
One advancement is the X1 voice remote for TV and home entertainment. You simply tell the remote to search for a particular show, actor, or genre and it will find it for you. But "there are over 20,000 different ways to say 'I want to watch HBO,'" says Lingle, so the remote deciphers the intent of your request and recognizes both individual and regional speech patterns.
With more than 23 million X1 remotes in circulation, it's already racked up accomplishments. It understands Spanish, powers smart homes or those connected by voice-activated technology, processes half a billion voice commands and offers a "Teach Me More" feature. Because customers in Washington state and nationwide are often up to date on cutting-edge technologies, they've programed the interface to learn from interactions quickly and efficiently. It can suggest current news, sports statistics, and shows a customer might like. It's also a manageable interface for people with visual or physical disabilities.
The voice remote's success soon led Comcast to use these same AI and speech recognition programs with other services. The X1 voice remote and other advancements came after much research and analysis with customers. Lingle and his team studied what questions people were asking and what they needed help with. It became apparent that "Comcast isn't communicating as much as customers would like."
"By not providing customers more frequent updates, we're not really helping them through a stressful experience like a move," says Lingle. They now offer reminders, appointment confirmations, and suggestions which "map out that journey" and improve overall customer satisfaction.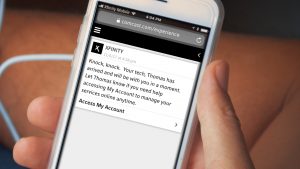 When calling or problem solving, there is now RealTime Assist, a service messaging platform that proactively messages customers real-time information relevant to their installation process, repair appointment, network maintenance or equipment update. RealTime Assist feels like talking with a real person and messaging is sent through text messages, My Account, or X1 – whatever the customer prefers. It even transfers you to an agent immediately on request. The ability to chat "helps cognitive overload," says Lingle, and in 2018 they interacted with 8 million customers.
The Xfinity Assistant, a virtual assistant that delivers informed, personalized customer service solutions also helps users, like when setting up appointment times. Entire transactions can take place through the assistant and "feel like a chat with a friend," says Lingle. If additional help is needed, it's programmed to hand off seamlessly to a real person with minimal repetition. Xfinity Assistant was launched in November 2017 and is available in the MyAccount mobile app and Facebook Messenger.
These assistants are an empowering asset to Comcast's nearly 5,000 Washington employees. The AI efficiently summarizes issues before transfer so no-one misses a step. "At no point in time are they being left in the lurch" thanks to "a real, customer-facing aspect," says Lingle.
"As a technology company we have a lot of capability to support customers," he adds. With this in mind, Comcast is also focusing on the health of the network and looking at how they can benefit experiences through service improvements and solutions.
Comcast's communication network processes more than 3 billion events every day so they take full advantage of research, new technology, and open-source programming. Any new product or technology takes years to refine and produce. "Comcast has the foresight to build platforms and frameworks early," says Lingle. For example, their X1 voice remote started development more than 5 years ago.
Read more about the latest developments on the Comcast website or find available service in your area for home or business. Contact them directly with questions or for the latest offers.
Sponsored