The big yellow bus pulls up to the driveway. Flashing yellow lights switch to red as the bus rolls to a stop. With a cheerful smile, the driver opens the bus door. Cautiously, an enthusiastic four-year-old approaches the school bus. He takes hold of the handrail, dwarfed by his backpack, and smiles back at the driver as he climbs the steps. He walks down the aisle and finds an open seat. The bus driver closes the door, and continues the route, which concludes at the West Olympia Head Start/ECEAP, a part of Capital Region ESD 113's Sound to Harbor Early Learning Programs.
Bus drivers play a very important role, especially in early education. Sound to Harbor serves many families in lower income brackets throughout Grays Harbor, Thurston and Mason counties, helping prepare students for lifelong learning. Many of these families do not have the means or time available to transport their students to class regularly, especially students in rural locations. Regular school bus service ensures the students will arrive safely and on time to class, every day, regardless of transportation barriers. Research shows that regular attendance is crucial to academic success, and it starts early, forming lifelong habits.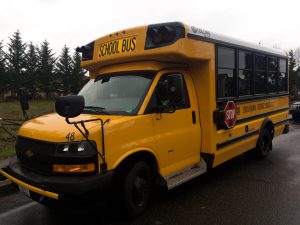 Bus driver shortage is a nationwide issue, but the problem is especially pronounced in Western Washington, where the candidate pool has dwindled with high employment levels, says Roger Lange, transportation program supervisor for Sound to Harbor. To combat that problem, Sound to Harbor offers some attractive incentives to appeal to new hires. Qualified applicants receive their Class C Commercial Driver's License (CDL) with Sound to Harbor's bus driver trainee program. Training, licenses and fees are covered, paid directly by Sound to Harbor, or reimbursed in the case of some fees.
"Average cost for a CDL is about $3,500," says Lange. "If you come train with us, you will receive the benefit of having those costs covered, including a number of fees for testing and licensing, which amount to about $500 to 600."
Also, during their training, drivers are hired on as employees and paid at a trainee wage during their in-class training and practical driving training behind the wheel, a perk that is not commonly available. Bus driver trainees alternate between three days of classroom instruction during the week and two days of on-the-road training, practicing the skills they need to become safe bus drivers prepared for weather, road conditions, and interactions with other drivers on busy streets.
Driving for Sound to Harbor means getting behind the wheel of a bus from one of the newest and best equipped school bus fleets in the area. "Any bus added to our fleet will have shoulder and lap belts available for all passengers," says Lange. Current rules do not require the lap and shoulder belts, but Lange says the district is prepared if those rules ever change. Plus, many of the district's small passengers feel more comfortable on the bumpy roads with a seatbelt anyway. The seatbelts also encourage students to stay properly seated.
Sound to Harbor drivers benefit from having an aide on every bus too. "Drivers can pay attention to the road, while the aide ensures that students are safely seated on their ride to school," Lange adds. The aide also extends the learning onto the bus ride making it an enjoyable and educational part of the school day.
Parents make up a good portion of the bus driving staff. Their work schedule lines up with the school schedule, so that they can be off work when their children are out of school on weekends, holidays and school breaks. The driver contract is also set up to benefit the employees, as it is balanced to pay drivers throughout the year, so they don't have to worry about paycheck gaps over long breaks.
Perhaps the biggest benefit to being a bus driver for Sound to Harbor comes in the form of the small passengers they serve. "They are so excited to go to school and learn," explains Lange. "Preschool age children are just lots of fun, and parents are happy because they know their children are getting a chance to really prepare for kindergarten." Education opens up a whole new world to children, and Sound to Harbor bus drivers are there to help them start that journey.
If bus driving sounds like it might be a good fit for you, check out the Sound to Harbor webpage for additional information, or to browse current employment opportunities.
Sponsored