A magical world of wonder beckons explorers to the rocky beaches and sandy shores of the Washington Coast, with spectacular and colorful creatures revealed above and below the surface of tide pools. If you're looking for Washington Coast Tide Pooling day trips, Ocean Shores and Westport are two favorite Grays Harbor beach cities destinations.
A day trip focused primarily on tide pool explorations requires very little planning, but it should always include checking local tide charts, with the ideal time to explore being just about an hour or so before and after low tide. Check tides in Damon Point and the Jetty in Ocean Shores here and Westport State Park here, keeping in mind low tides of at least -1 tend to reveal more intertidal life in tide pools.
Pack a lunch and some snacks, grab the sunscreen and let the day trip begin!
Washington Coast Tide Pool Locations: Damon Point and North Jetty in Ocean Shores
Head out to Damon Point, an ideal spot for exploring tide pools as well as beachcombing and birding in Ocean Shores. Low tides reveal a bevy of sea life just above and below the rocks lining the sandy beach.
A world of sea stars, crabs, anemones, barnacles, sponges, seaweeds, and more in a sea of colors await. A plethora of sea life allows visitors a truly spectacular chance to witness marine biodiversity at its finest.
Just a few miles up the road, the North Jetty Ocean Beach Access offers additional tide pool adventures in Grays Harbor. Here, sea stars live among barnacles, anemones, sponges, and more creatures in this popular beach spot. Jetty rocks often reveal sea cucumbers and urchins attached and on full display.
Summer months tend to be the best time to explore tide pools, with views of migrating whales, seals and sea birds frequently adding to the fun. Download the free iNaturalist app, a great tool to help with identifying various species.
Washington Coast Tide Pool Locations: Westport's Westhaven State Park
Although Westhaven State Park can be seen just across the straight from Damon's Point, it will still take about a one-hour drive from Ocean Shores. Doable as a same-day outing, or as a separate adventure. This park requires a Discover Pass, available at the kiosk or online. The parking area gives way to ADA accessible restrooms, picnic areas, and an outdoor shower area ideal for washing away sand after a visit to the tide pools.
Along the rocky shoreline, sea stars, sand dollars, anemones, barnacles and more await in tide pools during low tide. Snails, seagrass, chitons, limpets, and sponges share space with small crabs, and mussels.
The size of tide pools can vary, so keep a look out for small areas of water in between rocks for some interesting habitats! In general, though, most are more noticeable, and feature a variety of saltwater creatures. Extreme low tides of -2.5+ feet will expose the most marine life, according to marine life information from the Washington Department of Fish and Wildlife.
Day Activities in Ocean Shores and Westport
A stop at the Coastal Interpretive Center is a must for those interested in learning more about tide pools and sea life. Featuring hands-on exhibits, a nice gift shop, guided adventures, and educational programming, the center is open daily from 10 a.m. to 4 p.m. at 1033 Catala Avenue SE in Ocean Shores.
Tours of the historical Grays Harbor Lighthouse are offered from 11 a.m. to 5 p.m. on Fridays, Saturdays and Sundays during the summer. The Westport Maritime Museum features historical exhibits, natural exhibits, maritime collections, and more.
Where to Eat in Ocean Shores and Westport
Grab a treat after your day of tide pooling and exploring. In Ocean Shores, find sweet delights at Murphy's Candy and Ice Cream, Peppermint Parlor, and Buddy and Howie's Old Fashioned Sweet Shoppe.
In Westport, visit Whale of a Cone, Surfer Girl Waffle Cones, and Granny Hazel's Candy and Gifts to satisfy that sweet tooth.
Craving a more substantial meal? Stop by Pizza Factory in Ocean Shores or Westport Pizza Company in Westport. Bennett's Fish Shack, a local favorite for seafood, clam chowder, and more, has locations in both Ocean Shores and Westport.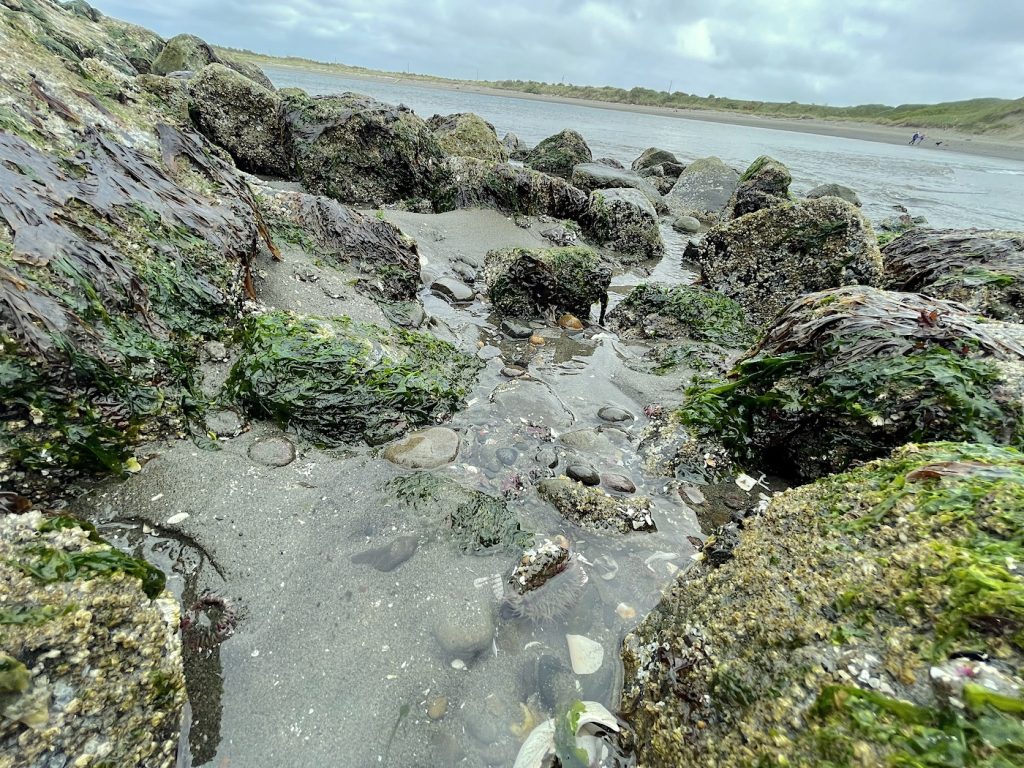 Tips for Exploring Washington State Tide Pools
Be safe. Protect against slippery seaweed, moss, and sharp barnacles by wearing waterproof shoes with a good grip.
Don't turn your back on the ocean. Be mindful of incoming tides and the potential for sneaker waves.
Go slow. Tread lightly without leaping or jumping across rocks, and wait for nature to reveal itself.
Keep dogs and other pets away from tide pools, and pick up any trash you may see in the water or beach area.
Be respectful. Tide pools are the homes of sea creatures, and they don't like to be picked up or moved. The key is to observe, not disturb.
Be visually aware of tide levels, checking when the tide is coming back in to avoid getting trapped in deeper water especially with kids.
Clean your hands prior to visiting or keep your hands out of the tide pools. Chemicals in sunscreen, hand sanitizer, and lotions are harmful to tide pool creatures.
Sponsored