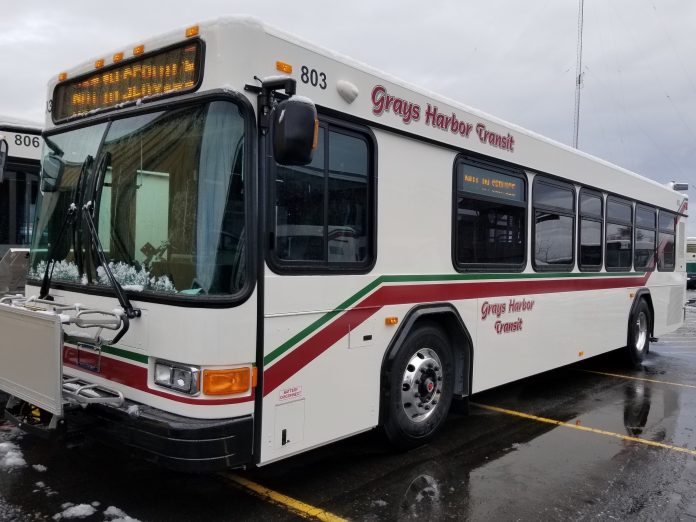 Grays Harbor Transit is always looking for methods that they can implement to increase passenger comfort, convenience and reliability. With the addition of state-of-the-art replacement coaches, the Grays Harbor community will undoubtedly notice a difference onboard the new buses, which is an exciting prospect for the future of the company and the passengers who rely on their services.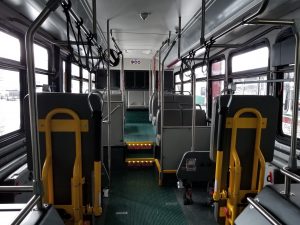 Thanks to a Federal Transit Administration (FTA) grant, which covered 80 percent of the costs, Grays Harbor Transit has received 6 new 35-foot diesel replacement buses. After waiting nearly two years since ordering the buses, production is complete and staff members are eager to see the new buses on the road and in action. These coaches feature state-of-the-art security monitors, USB charging plugs at all seats, as well as two passive restraint wheelchair stations per bus.
"These coaches are brand new and will be replacing a few of our buses that are nearing 20 years old," states Ken Mehin, General Manger at Grays Harbor Transit. "We're thrilled to be implementing these buses into our service line and giving our customers the most accommodating experience possible while onboard." Additional improvements include flashing yield signs at the rear of the bus, rear-view backup cameras, inside safety monitors that let passengers know they are being recorded, as well as additional upgrades that benefit the operators.
Since beginning transportation services in June of 1975, Grays Harbor Transit has prided themselves on providing exceptional public transportation services to the community. Owning and maintaining a vehicle is both a time consuming and expensive part of life, which is why a reliable, affordable alternative option to owning your own mode of transportation is not something that should be overlooked. Modern features and additional services that have been implemented over the years range from up-to-date Twitter notifications, GPS bus tracking, vanpool, general public dial-a-ride, digital signage and much more. The implementation of these new buses continues the mission of serving passengers with the most reliable transportation services in the county.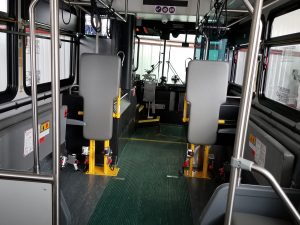 "The new coaches have officially been received and are now in service," states Ken. Once in operation, these new coaches, painted in similar fashion to the buses implemented in 2016, The new coaches will be used around Grays Harbor County and into Olympia covering various routes, so riders in all areas will have the opportunity to ride onboard. "The most important part of receiving these coaches will be their reliability factor," says Ken.
The older buses that have been on the road for the past couple of decades obviously are more prone to expensive problems and breakdowns, in turn requiring more maintenance and time off the road. Less time put into preserving older coaches saves funds that can be used towards further improvements. "Our older buses have been on the road for quite a while now," expresses Ken, "Our newly acquired coaches will be on the road until roughly 2039. Brand new coaches such as these have a 14- to 16-year lifespan. We're very excited to be phasing out the older coaches and giving our loyal customers an enhanced experience."
With continuous improvements that contribute to the longevity of these buses and to the many services offered within Grays Harbor Transit, the community is sure to be pleased for many years to come. For more information on bus routes, fares and passes, programs and other general information, visit the Grays Harbor Transit website.
Sponsored