Historians never truly retire because history is everywhere. When Fresno history professor Stephen Armes retired to Aberdeen, he initially engaged in a couple of business activities. Eventually, however, Clio, the muse of history, called and he followed. At present, Professor Armes writes for the Senior Sunset Times, appears on Doug McDowell's Coffee Talk on KBKW, and runs his own YouTube channel, Arena of History. On all these platforms, he seeks to share his expertise and his historical philosophy with the Grays Harbor public.
Stephen Armes received his Bachelor and Master of Arts in history from Fresno State University. He spent most of his career teaching history at Fresno City College with short interludes at Fresno State and the University of Phoenix, Arizona. He enjoyed teaching at Fresno City College most. "Students there were genuinely trying to improve their lives and showed much interest in what I taught." Professor Armes used to tell his students, "I want you to have an educated opinion of things, not somebody else's opinion."
His philosophy is classical liberal promoting small government, the rights of the individual, personal liberty, freedom of thought, of speech, of mobility, and of labor. He finds today's world disturbing, full of half truths, which he likes to tackle.
Professor Armes' storytelling skill complements his love of history. He tells the story of his move to Grays Harbor: "My wife's parents live in Anacortes. We wanted to move closer to them. We had been observing the Fresno housing market, which had reached a peak in 2004, the year I retired. In 2005, we sold our house at a nice profit just before the market collapsed. Valerie, my wife, had come up here by herself and was able to find a house within two weeks. As we hurriedly departed from Fresno with our belongings, it seemed like everything collapsed behind us with a huge thunderstorm for dramatic effect."
Stephen and Valerie Armes are both possessed by an entrepreneurial spirit. For two years, 2008 to 2010, they ran the Paisley Bookstore on East Wishkah Street. Stephen Armes began to conduct online sales, first for himself and later, starting in 2014, for the Salvation Army. He did well and credits his success to his historical knowledge. "History helped me to find out what things were and to distinguish genuine items from fakes. I can tell a real Gucci purse from an imitation. We once received a designer lady's dress by Versace. I called the company to verify its authenticity and sold it for around $700."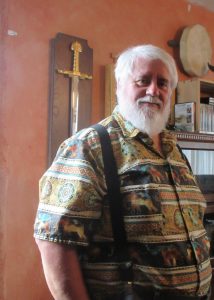 Some Salvation Army finds decorate the Armes' residence, among them a replica of Charlemagne's sword Joyeuse. The house is full of interesting artifacts and items. For example, a heavy 13th-century-style steel helmet that was made in 1980 for Lord Stephen Fitzpatrick, Baronial Marshal of Nordwache, Stephen Armes' title in the Society of Creative Anachronism. Other weapons such as a wooden Japanese practice sword bear witness to his martial arts skills. Apart from medieval sword fighting, Armes practiced boxing, fencing, escrima (Filipino stick fighting), and karate. He is especially interested in Japanese ken gitsa, the art of sword fighting, and its famous 15th century representative Musashi Miyamoto. Musashi's Book of Five Rings is one of Professor Armes favorite reads.
Professor Armes' bookshelves show the scope of his interests with great diversity in subjects from The Book of Five Rings to the Dead Sea Scrolls with a sprinkling of Rex Stout mysteries. Being well read, Armes worries about the way opinions are formed in our time. Not everybody knows where to go for the facts. Furthermore, many government documents tend to be written in legalese making them inaccessible to most of us. Armes likes to clarify matters by researching popular current issues such as climate change and publishing the results. He likes to share facts rather than opinion. A matter close to his heart is to teach people how to distinguish fake news from fact.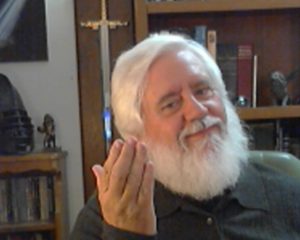 In 2018, Armes began sharing his knowledge with the Grays Harbor public in his column "In the Arena of History" for the Senior Sunset Times. In the same year, he started his YouTube channel Arena of History. Topics include the Constitution and clarifications of important concepts such as socialism and capitalism. A few hilarious satirical videos expose some absurdities of contemporary thought. 2018 was also the year in which Armes began his Coffee Talks with Doug McDowell on KBKW. He usually appears on or near the last Friday of the month. Armes comes in with a history topic or a current issue which he discusses with McDowell or with a guest. He recently debated Grays Harbor College Professor of History Gary Murrell.  The public is invited to call in with questions. Armes has posted some of his coffee talks on his YouTube channel.
Professor Stephen Armes clearly enjoys the freedom of retirement which allows him to invite the Grays Harbor community to his Arena of History. He is receiving much positive feedback. "I always carry a copy of the Constitution with me," he says. "Just in case I need to quote."