There is nothing more disappointing for a 4-Her than missing Fair. When Grays Harbor County Fair was cancelled due to COVID-19, along with 4-H club meetings, the Grays Harbor 4-H staff worked together to give local kids something to do that aligned with the 4-H experiential learning model, which emphasizes "learning by doing" through hands-on activities. They wanted someway to continue this while unable to meet in person. This is where the 4-H Summer in a Bag comes in.
"This idea has been a collaborative effort with WSU Extension staff and dedicated local 4-H volunteers," says Dan Teuteberg, regional specialist of 4-H youth development for Grays Harbor and Mason counties. The 4-H Summer in a Bag gave Grays Harbor youth at-home, hands-on learning opportunities they could enjoy with their families.
For 4-Hers, it gave them something to do that lessened the sting of missing fair. "I was sad I didn't get to take my pig to Fair," shared Nathan Totten, a nine-year-old member of Country Pride 4-H Club, who was looking forward to his first Fair with his project, a hog.
His brother, 11-year-old Ben, who also has a hog project with the Country Pride 4-H Club, felt the same way about missing Fair. "I was sad," Ben said. "I wanted to show my pig and go on rides with my friends."
Megan Totten, his mother, said they haven't done much to fill the time, but Nathan did start a garden this year. The 4-H Summer in a Bag gave her a way to break up the monotony of the days. "We still have some things left to do, but I plan to use them to break up the school day," she said.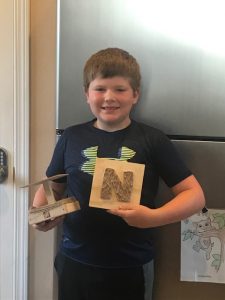 "It gave us something to do when we are bored," Nathan said and Ben agreed. Both of the brothers liked the string art project. "The projects weren't too hard, but not easy," said Ben. "My favorite was the string art. Nathan added he also liked building the bird house.
Nine-year-old Laura Coleman-Schoch is a member of the Barnyard Wranglers 4-H group and has steer and meat rabbit projects. She decided to make the most of the situation. "It was hard at first because my favorite part of 4-H and the fair is making new friends," she shared. "Now I think it was okay because it gave me a chance to learn from what made this year difficult and prepare me for next year. I spend a lot of time with my farm animals and pets, riding ATVs, swimming, and spending time with my family."
She loved the 4-H Summer in a Bag because it was filled with things she has never tried before, and it allowed her to learn how to use tools she had not used before either. "I was able to use new tools and learn on my own," Laura shared. "It was very helpful to have all the things I needed to do the project. I was even able to do projects without help! My favorite projects were the string star art and the tin can lantern."
"We are incredibly thankful for the efficient response and thoughtful resources provided by the 4-H and WSU extension office," said Allen & Nicole Schoch, Laura's parents. "Not only does the 4-H program help our daughter foster relationships in the community, but has given her a sense of pride and accomplishment. The life skills she has learned her first year have given her the confidence and ambition to open her own business selling produce and goods, 'Laura's Market.'"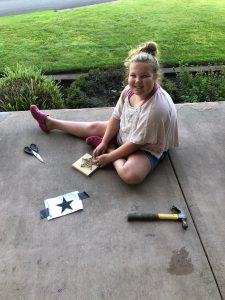 Grays Harbor 4-H distributed over 120 bags to kids throughout the county. Kids did not have to be members of 4-H to receive one of the activity kits. The bags are reusable drawstring cinch sacks filled with supplies and instructions for nine different activities to keep kids learning by doing. Each activity provides an opportunity for families to spend time together creating and exploring; projects include tin can lanterns, campfire cooking, string art, bird feeders, lemon batteries, origami, constellation exploration, gardening and more! Our focus on deciding which activities to include was based on our ability to provide the supplies needed to complete each project. A few additional basic supplies such as tools and ingredients that families are likely to have on hand were all that were needed to complete the activities.
"While families have already received their 4-H Summer Bags, similar opportunities may be available again in the future," shares Dan. "Planning is currently underway with WSU Extension staff and 4-H leaders to prepare for the new 4-H year, which begins October 1.  We are looking forward to a wide range of opportunities for youth and families to stay engaged with Positive Youth Development while youth and adults are staying safe during this unique time."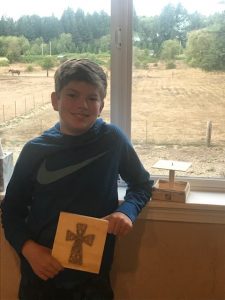 In addition to the bags, 4-Hers could also participate in the Virtual 4-H Showcase, a way for them to share their projects for the year in lieu of the county fair. Foods, poetry, plants, science, animals robotics, art, photography, clothing, archery – all are being showcased for the entire community to enjoy! You can view the projects on Fair Entry website. Exhibitors are awarded a virtual ribbon, a unique Showcase t-shirt, and feedback from the judges.
Next year, we hope we can all head to the Fair, eat a deep-friend twinkie, and talk to the proud 4-H kids about their projects. Until then, support your local 4-Hers however you can. If you are interested in volunteering, contact the WSU Extension Office.