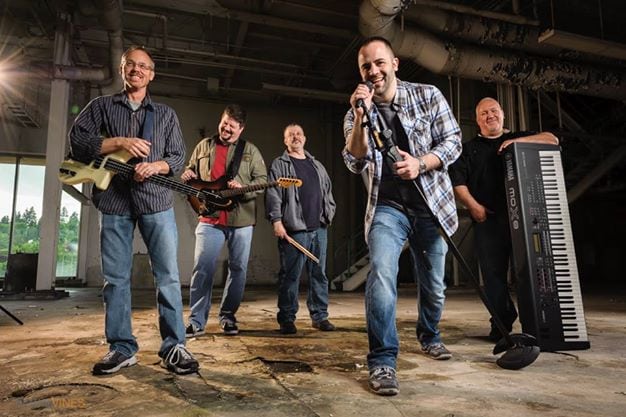 By Gale Hemmann
Journey. The Police. Van Halen. Six Pack Pretty is known for throwing down fun renditions of cover songs at venues all over the Harbor and beyond.
But Six Pack Pretty is about more than a good time. Sure, their music is an upbeat mix of covers from the 1970's to the aughts. And they have a great time jamming together and putting on live shows for audiences. But they are also a band with a heart. This Hoquiam-based rock band holds a major event, Rokfest, each year, to raise money for animals in need.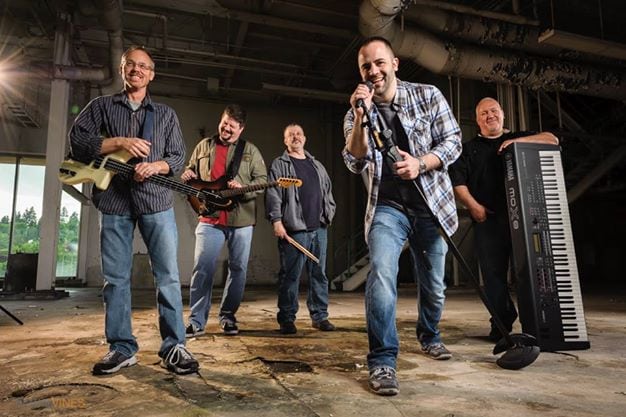 I met with band members Mark Skinner (lead vocals, keyboards and guitar) and Duke Harner (drums, percussion, and vocals) to learn more about Six Pack Pretty. Skinner currently lives in Olympia and Harner resides in Elma, though both grew up in the Harbor area. (The rest of the members live in the Harbor, and the band practices at Rosevear's Music Store.) Over coffee, we talked all things music.
The guys of Six Pack Pretty have been jamming together since 2003. In addition to Skinner and Harner, the band is made up of Don Stone (lead guitar and vocals), Mike Pirianian (keyboards, guitar and vocals) and Jeff Perrin (bass). Skinner says two things have been key to their longevity: the shared vision of the band and the fact that they like to have good old-fashioned fun when they're together. "We like to get together and laugh," says Skinner.
I asked them how they started playing covers. They said that when the band first got together, they started out with covers to find what common ground everyone had musically. It just kind of clicked and they decided to go with it. They have been exclusively playing covers of rock hits ever since. (You can check out some of their songs on their ReverbNation page.) The approach has worked out well for them – they have a loyal following, and audiences know and love the songs. The cover songs I listened to were energetic and spot-on, from Journey's "Separate Ways" to the Police's "Every Little Thing."
Six Pack Pretty is obviously influenced by the bands whose songs they cover. They list their influences as everyone from Van Halen to Rush to Matchbox 20, but cite the classic Journey as their defining inspiration. They aren't afraid to tackle ambitious songs and especially like to play tracks that you don't often hear out and about. One thing that's great about their music is the wide range of decades and sounds they can capture with skill.
When not playing in Six Pack Pretty, the band members all have busy lives. Skinner is a registered nurse and Harner is a business owner. Pirianian is an English teacher at Hoquiam High School. Stone is part-owner at Rosevear's. He also plays with two other bands, the Bruce Hughes Band and country-rock outfit Humptulips. (Read more about Humptulips on GraysHarborTalk here.) And Perrin works for the Grays Harbor PUD. Yet despite their diverse walks of life (or maybe because of them), the band says when they get together everything is smooth and just flows naturally.
Over the past decade, they've played shows all over the Harbor and beyond, including wedding receptions, casinos, opening acts, and festivals. They recently played at the McCleary Bear Festival. Their future goals are to keep playing together, bringing fun shows to audiences, and broadening their audience base. Like the parts of a song, the group clearly has all of their elements working together to keep Six Pack Pretty going strong.
Rokfest: Good Music for a Great Cause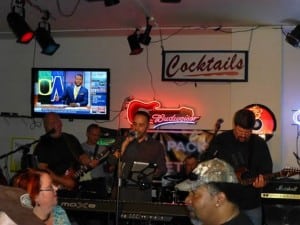 Proof that Six Pack Pretty is much more than just a good-time band? Every year they host Rokfest, a local music event held in honor Jeff "Rok" Sanford, a band member who passed away unexpectedly in 2011. The proceeds from the events go to the South Pacific County Humane Society, with which Sanford was deeply involved. They are a no-kill shelter, and they are known for working tirelessly to find a home for every animal. The event proceeds help them continue their mission and also honor Sanford's dedication. In talking with Skinner and Harner, they recalled how "Rok" was always transporting rescued animals to the shelter, and was willing to drop everything to help a cat or dog get to safety.
The fourth annual Rokfest is coming up on Saturday, October 4, 2014. It will be held at Geppeto's Italian Restaurant and Sports Bar in Montesano from 7:00 p.m. to 1:00 a.m. You can hear Six Pack Pretty put on a great live show with local band Stifler and several special guests. (Harner and Skinner also play in Stifler, as did Sanford.) The event will also include a raffle with prizes donated by local businesses and community members.
The band members are stoked about the upcoming Rokfest. They invite locals to come out and enjoy a great night of live music while helping animals in need. Over the past three years, Rokfest has raised a significant amount of money and collected many supplies for the shelter. There is even a plaque at the shelter in Sanford's name due to Rokfest's efforts.
Six Pack Pretty is proud that the event has grown every year. They thank the community for their support, as well as 104.7 KDUX radio. For more show details, visit the Rokfest event page on Facebook. You can also view a video clip of Rokfest 2013 here.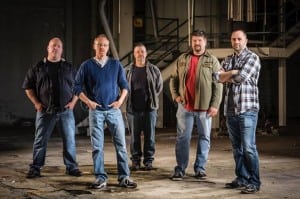 For more information about Six Pack Pretty, check out the band's Facebook page. For booking inquiries, you can also email them.
Rokfest 2014
Featuring Six Pack Pretty, Stifler and guests
Saturday, October 4, 2014  from 7:00 p.m. to 1:00 a.m.
Gepetto's Italian Restaurant and Sports Bar
126 Pioneer Avenue East in Montesano