By Justin Damasiewicz
When it was first formed in 1998, Humptulips was a three-piece rock band based in Olympia. After 16 years and many personnel changes, it has evolved into the most popular country band in the Grays Harbor area. The band's official Facebook page describes Humptulips as "a country band with a twist of rock."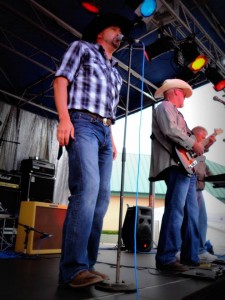 Several of the band members have a rock-and-roll background, and it is noticeable when you hear them play. Lead guitar player, Don Stone, believes that the style helps the band appeal to a broader fan base.
"When I joined the band I wasn't really big country fan, but playing it live is a little different," Stone said. "I think, live, we put a certain twist on it that makes it appeal to more than just country fans. We gravitate (toward the rock sound) by nature, because of who we are and the music we grew up playing."
Humptulips has played at many venues throughout Grays Harbor County and surrounding areas, including: Gepetto's in Montesano, the Pitchwood Alehouse in Raymond, the Pourhouse in Aberdeen and the Pine Tree Tavern in Westport. The band also opened for country legends Montgomery Gentry at the D & R Theater and headlined at the Grays Harbor County Fair last year.
Humptulips has also become a regular for big events such as Hoptoberfest at the Quinault Beach Resort and Casino and Springfest at the Little Creek Casino. Several band members agreed that those events, especially a New Year's Eve show they played at Little Creek, are some of the most fun. However, opening for Montgomery Gentry was their most meaningful gig.
Mat Smaciarz and Brian Huffstutter, who play drums and rhythm guitar respectively, are the band's remaining founding members. Smaciarz is a Hoquiam resident and an operations supervisor at UPS in Elma. Huffstutter lives in Thurston County.
Smaciarz, Huffstutter and lead singer Corey Daniels were connected by a fan of Daniels who was also a co-worker of Smaciarz's. The first gig they played together was opening for country singer Keith Anderson on just four days notice.
Along the way, Humptulips added Jim McDowell as its keyboardist, Stone as its lead guitarist, and Chloe Pinckney on bass to round out its six-piece band. McDowell works in purchasing at Kenworth in Aberdeen. Stone and Pinckney work at Rosevear's Music Center in Aberdeen.
The band members agree that a big reason for their success is their chemistry. Smaciarz believes that, more than any other time in the band's history, the dynamic would change drastically if even one member left.
"Right now, if somebody were to leave the band for whatever reason, it would be forever changed," Smaciarz said. "A lot of bands I know have a revolving door of people. If you look at the grand scheme of things, we haven't been together all that long. But, if you look at what we do, covering other people's music, we've been together a long time. I think that we've gotten to the point that if somebody were to leave it would drastically change the dynamic."
"We have great chemistry and we all get along really well," Stone added. "It's a lot of fun. More than anything, we enjoy each other's company. We love playing music together. We're just really happy to get to do what we do."
Daniels loves what he does, and feeds off of the support that the band receives from its fans. Humptulips' fans from Grays Harbor and Pacific Counties travel wherever the band plays.
"You know you're rocking it when the dance floor is packed and nobody is dancing with another person," said Daniels, who is a Montesano resident and the store manager at Western Peterbilt in Cosmopolis. "At Springfest, for example, when we broke out Rebel Yell, nobody was dancing with anybody else. Everybody was just freaking out. That is the best feeling in the world, to get that many people rocking out."
"My favorite thing is watching a crowd," said the band's manager, Ashley Greninger. "The way that they can be sucked in to what (the band) is doing on stage. It's amazing to see the support that we have in Grays Harbor. Like New Year's Eve, that place was packed. The stage was incredible. Soaking that all in, I love that. This is my favorite thing to do. These are my favorite people to be involved with. They have become like a family to me."
On Friday, May 16, Humptulips will compete in the final round of the eighth edition of the Battle of the Bands at the Ponderosa Lounge in Portland, Oregon. The competition started with 30 bands and is now down to its final two. Humptulips went head-to-head against a couple of local Portland bands in the first two rounds of the competition, but came out on top both times.
Greninger, who is known to most harborites as the "Afternoon Delight" on Grays Harbor Radio's country station, KIX 95.3, emphasized how much she appreciates the support that Humptulips receives from its local fan base.
"It's amazing the amount of support we have in Grays Harbor," Greninger said. "I know so many people that are planning on coming down to see us. I'm really excited to see how many fans have in that place compared to how many fans the local Portland band has there."