By Chelsea Royer

"If you need me, let me know, gonna be around. If you've got no place to go, if you're feeling down, if you're all alone when the pretty birds have flown, Honey I'm still free. Take a chance on me…"
If you were born a few years earlier than I was, you probably recognized these "Abba" lyrics right away. What you will likely not expect, is to hear them sung by a group of fifth and sixth grade kids. Joe Fagerstedt, sixth grade teacher at Robert Gray Elementary School in Aberdeen, is currently teaching willing participants a series of 1980s tunes and melodies. I'm sure all 80s music fans are thinking that's teaching done correctly.
Four years ago, Fagerstedt discovered that some of his students had fantastic vocal talent. Desiring to give them an outlet for that talent, he created the "Glee Club." Today, about 25 students gather in his classroom during their lunch and recess hour to eat and sing. Sometimes changing the lyrics for appropriateness or creative reasons, the students' repertoires include modern pop music, country, 80s classics, and Christmas music sung to the tune of "Gangnam Style." According to Fagerstedt, his classroom turns into the "young version of Saturday Night Live." And the kids and parents love it!
Madi Niemi and Josh Fritts are two of the longest standing members of the Glee Club. Both love to sing and Niemi plans on being a part of her high school choir when the time comes. Josh explains that one of the challenges he experiences is focusing on singing and not goofing off as he has so much fun practicing with all of his friends.
The Glee Club has performed in front of parent groups, during other schools, at the Rotary Log Pavilion and even the State Capitol.
Though most songs are group efforts, sixth grade members are given preferences for solo performances – a nerve-wracking experience for many. Fagerstedt teaches his students, "You can do amazing things if you don't care what people think.  Do what you love."
Fagerstedt, an Aberdeen High School graduate, jokingly says his only formal musical training comes from listening to all of his sister's 80s albums. "In high school, I did choir but that doesn't count because I was chasing after a girl. I wound up marrying her so that worked out pretty well for me."
But formal training is not what the Glee Club is about. "It's just fun to give the kids an opportunity to belong to something," explains Fagerstedt.
Coming from a musical family, Fagerstedt has an appreciation for music that he passes on to the students. There is also a creativity implemented in the musical games they play with teachers or in the songs they rewrite. Fagerstedt is currently working on his own version of "Sweet Home Alabama." You may hear the rewritten version, "Sweet Home Aberdeen," if you ever have the opportunity to listen to the Glee Club perform this year. Fagerstedt takes a creative spin on the popular song to help his students have a positive outlook on their hometown.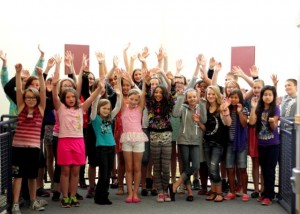 With twelve years of teaching under his belt, my impression is that the four years of running the "Glee Club" is what's had the greatest impact on his students. His creativity paves the way to build confidence in kids who may not have otherwise discovered an outlet for their passion and talent. The sense of belonging, performing in front of people, and the fun of memorizing music are tools the club members will use throughout their high school years and beyond. Fagerstedt will not be a teacher easily forgotten.
I had the privilege of receiving a private concert in Fagerstedt's classroom. With 25 voices sweetly singing Bruno Mars' "Count On Me," it was a very endearing experience. But even if you aren't fortunate enough to catch a private performance, the Glee Club will be visiting several different schools towards the end of this year.
With extraordinarily talented kids gathering in room 217, I'm sure that, thanks to Fagerstedt, a sixth grade performance will hardly be the last we hear of them.