We're back to the grindstone of school and work with the drizzly arrival of fall. But everyone needs to take a break sometimes. Even Stephen King, one of the most prolific writers of our day, admitted "I work until beer o'clock."
And, beer o'clock starts promptly at 2:00 p.m. on Saturday, October 11, for those attending Hoptoberfest, a celebration of craft brews and good times hosted by the East Grays Harbor Rotary Club at the Quinault Beach Resort & Casino in Ocean Shores.
This year marks the fifth annual Hoptoberfest celebration. Rotary Club member Donna Rosi explains that "The monies raised support our scholarship and charity funds. To date, Hoptoberfest has raised over $40,000. East Grays Harbor Rotary Club was formed in 2005 with 22 members. We tried selling roses, raffle tickets, and doing pancake breakfast fundraisers. With a small – but mighty – group, we decided it was better to concentrate our efforts. We do Hoptoberfest for the scholarship and charity funds and Pair of Hearts Ball in February, to support the Children's Advocacy Center."
Attendance is expected to be between 800-1200 thirsty souls looking to partake in games, prizes, food, and more than 22 microbrews, as well as wine and spirits. Music will be provided by Ken and Christine, Slightly Awry, and Six Pack Pretty, among other hometown favorites.
There will also be a silent auction, games, and prizes, and even tickets to the upcoming Seahawks bout against the San Francisco 49ers.
Amy Thomason, East Grays Harbor Rotary Club treasurer, tried listing some of the many recipients of the Hoptoberfest proceeds.  "Off the top of my head: Shop with a Cop, Salvation Army, Making a Difference for Grays Harbor Kids, The Rotary Foundation-Clean Water Project, RYLA, Catholic Community Services, NW Response-Oso landside relief fund, Beyond Survival, Anchor Bank-Big Little Program, Centralia Rotary Project Foundation-PNG Project, and The Rotary Foundation-ShelterBox." Agrees Rosi, "We know there are other beer festivals out there, so thanks for helping support local charities and scholarships by attending Hoptoberfest!"
Admission is only $10 to enjoy the entire day's worth of fun. Tickets are available online or in person at Grays Harbor Radio in Aberdeen, Umpqua Bank in Montesano, Foothills Massage in Elma, and Quinault Beach Resort & Casino in Ocean Shores.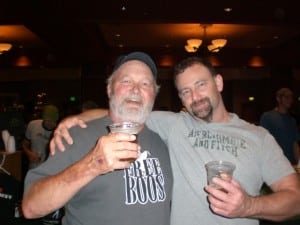 Quinault Beach is also offering a special room rate for Hoptoberfest guests, but the hotel is filling up fast. For more information, see the accommodation details online or call Quinault Beach and mention promo code Hoptoberfest.
Stephen King also admitted that "life is like a wheel. Sooner or later, it always comes around to where you started again."  Make Hoptoberfest a key cog and come back every autumn, it's good for you and your community.
For more information or with questions about the event, call 360-533-1320.