By Rachel Ayres, Montesano High School Intern
Far, far away from all they had ever known, seven exchange students came to Grays Harbor in August 2014. For just the school year, they would become part of a new community, a new school, and a new family.
It would be a year of firsts for them: their first American football game, first rock/country concert, and first time touching the Pacific Ocean. The year that started out with homesickness and unfamiliarity is coming to a close with the students having a special place in their hearts for their new "home."
At Montesano High School, four of the students became part of the student body: Kseniya Shulga from Russia, Kristýna Princová from the Czech Republic, Mariam Ghlonti from the Republic of Georgia, and Daniel Hansen from Denmark.
Kseniya Shulga didn't plan on being an exchange student, but when she heard about ASSE (International Student Exchange Programs) she became interested. Within ASSE is a program called Future Leaders Exchange (FLEX) that holds a competition with the prize being a one exchange year in the United States. Kseniya decided to enter and her second try in the competition yielded her the scholarship.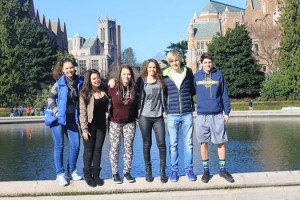 Going to America for a year meant that back home in Russia, Kseniya would miss her senior year of high school. When she goes back she will be a year behind and will not only have to make up her senior year, but she will also have to study for and take the critical national exams that determine if and where she will attend college.
"I had always dreamed of going to the US," said Ksenyia, so she went for it, arriving in the United States on August 25, 2014. The host family she was assigned to was Greg and Lori Blanchard and their older daughter and high school son, Eric, of Montesano.
The Blanchard family has hosted four students over the past couple of years. Also, Lori Blanchard is the area representative for ASSE. Her job is to match up students with host families and to take care of issues that arise. "They're my kids. I am responsible for them and their happiness and look out for them," said Lori.
Ask any one of these seven students, how to describe their exchange experience, and the answer will usually include the word "awesome."
"Whenever I do something new here, I am always like, 'Wow! This is so awesome!' This whole experience has been so awesome!" said Kristýna Princová.
Kristýna has had a busy year, participating in basketball, track, cross country, leadership class, astronomy club and drama. She also took a trip to California with her host family, Tyler and Jennifer Tingey and their two older sons and high school daughter, Noelle. In California, Kristýna swam in the ocean, and visited San Diego, Disneyland and Universal Studios. All of it she described as — you guessed it — "awesome!"
However, the thought of her departure in a few weeks isn't so awesome. "I don't know what to do. I have family and friends in two places now. I love both so much. I wish I could just cut myself in half so I could be in both places at once!"
Ilaria Fanari of Italy, Josep Domingo of Spain, and Nichlas Botten of Norway, were the other three exchange students through ASSE that lived in Grays Harbor during the 2014 – 2015 school year. The three all attended Elma High School, where they participated in many sports, clubs, and other activities. "I have grown up a lot and learned things about myself that I didn't even know through this experience. Also, I really learned to solve problems by myself," said Ilaria.
This year wouldn't be possible for these kids without their amazing host families, Lori Blanchard, and the ASSE program. Established in 1976, ASSE has now grown to more than 30 countries that send students to the United States. The mission is to, "foster international understanding through educational and cross cultural programs."
Not only did the exchange students meet new people and make new friends with Americans, the seven students from all different countries really got to know each other, too. They enjoyed many out of school activities together with Lori Blanchard, such as going to a Seattle Thunderbirds hockey game and a University of Washington basketball game, checking out the University of Washington campus, a day at the beach, and just hanging out together.
All great things must come to an end, and as the school year nears its finish that is a harsh reality for these amazing young adults. Mariam Ghlonti, of the Republic of Georgia, actually had to head home earlier than the rest of the students. On May 12, Mariam boarded the plane that took her back home. It was as emotional for her to say goodbye to all of her new friends and family as it was for them to say goodbye to her. So instead, they resorted to firmly say, "See you later," as a promise to meet again.
Mariam had many firsts here in America. The first time wearing makeup, first time eating Georgian food in America, first time going to state with a drill team, first time acting in a play, and first time seeing Hollywood in person are just a few. Mariam stayed with Dave and Jamie Golding and their two daughters, Bailie and Cassadie, during her time in Grays Harbor.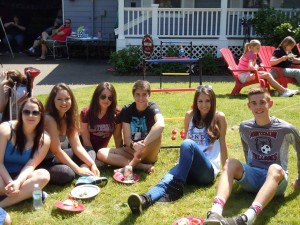 Mariam's mother wrote to the Grays Harbor Herald about all of the great reports she was hearing from her daughter across the world. She wrote, "One more time I realized that no matter what nationality, skin color or religion you have, the love you show others is what defines you. Thank you for giving exchange students this unique chance to be a part of this wonderful community. Thanks to you all, she had the best year of her life and as a mother, I'll be forever thankful for that."
Lori Blanchard is always looking for host families within a 100-mile radius of Montesano. If you are interested, please email her at Lorib789@gmail.com. You can learn more about about ASSE by visiting its website here.