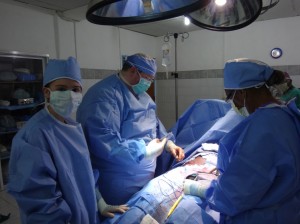 Grays Harbor Community Hospital General Surgeon Dr. Jonathan Gifford is no stranger to helping people in need — both at home and overseas.
The first and second time Dr. Gifford traveled to Haiti he was in college on a mission trip with his church. He wasn't a medical student yet, but he already knew he wanted to help people. It was on his first trip that Dr. Gifford immersed himself in the culture and learned the Creole language — a skill that would aid him in future trips to the Caribbean country.
During medical school, Dr. Gifford didn't have time to visit Haiti, but he knew another trip was in his future — he just didn't know when. After completing his residency, Dr. Gifford attended a regional medical conference. It was at this conference that he was introduced to Snell Fontas, a physician, native Haitian, and founder of the Oregon-based organization Lane Haitian Relief, a non-profit that sends medical teams to the southern coast of Haiti twice a year.
Born in Port-au-Prince, Haiti in the 1960s, Dr. Fontas didn't grow up in Haiti, but he would later become well acquainted with his country of birth during visits to Centre Medical Emmanuel, a hospital and nursing school in Cayes Jacmel, Haiti, built by missionaries in the 1970s. The medical center was founded by Dr. Louis Phillipe, a longtime friend of the Fontas family.
Over the years, Dr. Fontas would bring teams of medical professionals to visit Haiti, not only to provide medical services to the local population, but to introduce Americans to what Fontas refers to as "Magical Haiti." It wasn't until a devastating earthquake hit Haiti in 2010 that Dr. Fontas decided to establish Lane Haitian Relief as a way of organizing regularly scheduled, biannual trips to Centre Medical Emmanuel with Northwest-based doctors.
Dr. Gifford has traveled to Haiti with Lane Haitian Relief three times over the past few years, and it's an experience he always looks forward to.
During trips to Haiti, Dr. Gifford says most of his time is spent in the operating room. Dr. Gifford says in many cases it's a challenge just for patients to make it to Centre Medical Emmanuel, but that the trip is worth it. Something as simple as correcting a hernia can be life changing. "Someone with a hernia can't do much in a society that's so dependent on manual labor," Dr. Gifford explains. "They carry water, haul food — that's basic daily living. Fixing a hernia can make a big difference in someone's life." And, Dr. Gifford says his patients are always very thankful for the treatment they receive. "That's rewarding," he says.
It's the thankful, gracious attitudes of the Haitian people that Dr. Gifford looks forward to most during his visits to Haiti.
In a country where money, possessions and security are a rarity, Dr. Gifford says the people of Haiti never hesitate to share. "During one of the trips I had in college, we were researching the availability of prosthetics in Haiti," Dr. Gifford reminisces. During his research, Dr. Gifford came in contact with a group of locals who worked with handicapped people. While talking with the group, Dr. Gifford mentioned he hadn't had a good coconut since he arrived. The next time Dr. Gifford encountered the people from the handicapped group, they had brought him an entire bag of coconuts. "Everyone is happy and grateful," Dr. Gifford says. "They're humble people. They don't have a lot. They're grateful for whatever they can get."
Dr. Fontas says on Lane Haitian Relief's website, "When I decided to put together and lead these trips to Haiti, I never thought the response would be so positive. All I wanted to do is give people an opportunity to discover what I considered a mystical place."
It's evident that Dr. Gifford has been enchanted by the Haitian charm Dr. Fontas is so fond of, and he's sure to return. However, when Dr. Gifford isn't travelling abroad sharing his medical expertise with the people of Haiti, he's at home offering up his skills in the other community he knows and loves, Grays Harbor.
You can learn more about Lane Haitian Relief by visiting its website. For more information about Grays Harbor Community Hospital and its many outstanding doctors, like Dr. Gifford, visit Grays Harbor Community Hospital online or call Harbor Surgical Associates at 360-537-6414.
All photos courtesy Dr. Jonathan Gifford and Lane Haitian Relief.