This was their payoff and reward for years of hard work.
Instead of taking batting practice or working on their swing at the plate, Zach Spradlin, Skyler Jump and Jerod Steen were working on their jump shots and lay-ins for an extra week. Baseball practice, which started on Monday at Hoquiam High School, would have to wait for another week.
That's because the Grizzlies are headed to the 1A state basketball tournament, part of the final eight. It's been a magic-carpet ride for these three juniors, who have been buddies and teammates since they were in grade school.
Last spring, Spradlin, Jump and Steen were on the Grizzlies red-hot finish that captured the school's first state championship in baseball since 1980. Now, their magical ride continues with their trip to state in basketball, the school's first state appearance since 2006.
"It's been awesome," Jump said about the trips to state. "It's been a lot of fun."
And besides all the fun it's been a lot of work.
"We couldn't have done it if we weren't playing together and without the work ethic we have," Jump said. "In baseball, we run a couple of miles every day. We run more than the track team."
It was a familiar scene as the basketball team practiced this week. Eight of the players on the Grizzlies' state-bound basketball team are juniors and they've all played on the same team or against each other since they were in first grade. That has built a close friendship that's helped them win. Nobody wants to let down a friend.
"We all get along, so it makes it enjoyable," said Steen, who plays infield on the baseball team and guard on the basketball team. "We're all competitive, so we all force each other to do a little better. We all have great relationships. I've known these guys for the last 10 years of my life."
They've been together for youth football, basketball, and baseball.
"You don't want to say something that's going to offend anyone because all these guys are my best friends," Steen said. "I don't want to do anything on the court or on the field that's going to make them mad at me off the field. That's the great thing about have all these friends on my team. It makes it a lot easier."
In that run to a state title in baseball last spring, Coach Steve Jump had to make a couple of emergency lineup changes because of injuries. One came when Spradlin moved from second to catcher, filling in for Jack Skinner, who broke a finger bunting in a game.
"I'll play whatever position that's best for the team," Spradlin said.
Spradlin's ability to play more than one position isn't an accident. Coach Jump prepares for that emergency fix by having his players take outfield and infield practice throughout the season.
"We create utility players out of individuals so they can play anywhere," said Coach Jump, a Hoquiam graduate. "That's what we've done years ago because we're a small school and we have to tap into our talent."
Each of these players agree that by playing sports they've learned some life lessons.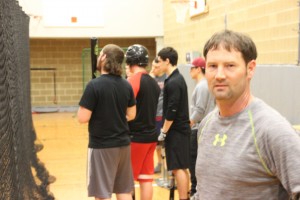 "I guess people who don't do sports don't have that team concept of working together," Skyler Jump said. "Academically, it's the same thing as in sports – working hard to be where you need to be. Most people nowadays don't want to work hard to be where they need to be."
The equation for success is hard work plus talent equals success.
"Hard work beats talent when talent doesn't work hard," said Jump, who is being recruited by several major colleges as a pitcher. "That's for sure."
These Grizzlies have proven they have that work ethic and the talent.
Coach Jump isn't worried about having to share three of his players with the basketball team this week.
"It's pretty awesome," Coach Jump said. "This is a good problem to have. Football was exceptional and then basketball has been exceptional. And we're hoping for another great baseball season."
It's been a pinch-me-I'm-dreaming year for Steen and Spradlin. Spradlin, the catcher on the baseball team and guard on the basketball team, is headed to state this spring in golf. In Spradlin's book, success is all about hard work.
"We wouldn't be here today, going to state, if we hadn't pushed ourselves and have a great work ethic," said Spradlin, who has a 3.95 GPA.
Besides trips to state in baseball and basketball, Steen was on the Grizzlies football team that reached the state playoffs. But by now, Steen, growing up playing on teams that made it to the playoffs in youth sports, is used to winning.
"We'd always go to tournaments and stuff," Steen said. "We've probably been to five championships and regional tournaments together."
Steen, who has been all-league in football, basketball and baseball, said his team was once one strike away from the World Series but they lost.
"We've been playing together a long time and we've had success in every sport," Steen said. "We had an AAU basketball team that we lost only three games."
The winning adds to the excitement, making it easier to work hard. But Steen doesn't think the final score is the best measuring stick.
"I don't even look at it as wins and losses," he said. "I know we have a great group of kids. We're going to get everything done we can. We go into every game thinking we're going to win. You never think you're going to lose. You always give 100 percent. You never wish you gave more. It's awesome."
And it's been a winning formula.