Their pairing was an unsurprising scandal – the setting was the Gold Rush, in Juneau, Alaska. She was a saloon girl and he was a gold hunter and co-founder of the Gold Rush town. They danced together in the summer tourist show "The Gold Nugget Review," and like all good stories go, fell in love.

Eric Bjella, who played the part of Richard Harris, probably didn't know life's irony would play out as it did. Today, he's a banker at Bank of the Pacific, and together with Tricia Funk, who created a colorful career as a variety show dancer, enjoys life in Ocean Shores.
Living at the beach, they had what seems like little choice but to recreate some of the excitement that helped shape this very dynamic couple. Their talents have combined to offer the coast a taste of the arts with projects like Ocean Shores Wearable Art Show and Stage West Community Theatre group. They are also actively involved in the Ocean Shores Pirates.
Tricia, born in South London, was trained at the Royal Academy of Dance. From there, she started her dance career with various shows in London and travelled through Scotland and Spain, while earning her Equity card, allowing her to be a professional performer. Working for "The Talk of the Town," Tricia began backing acts like Tom Jones, Sammy Davis Jr., Buddy Greco, and Liza Minelli.
Following her time there, Tricia married and moved to Cornwall where she and her husband opened a leather tooling shop. In their cottage, they hand tooled goods from belts to handbags. As life happens, Tricia found herself skydiving in California, single again. Her Wild West journey led her to Alaska, where she continued her dancing career, joining dance troupes such as Alyeska Dance Company. At this time she had a baby and life started to settle down a bit, and she began working for an orthodontist.
Tricia met Eric when they were partnered as dancers in a summer show in Juneau. Eric, a native of Minnesota, left to seek his fortune as a banker in Alaska, but being the son of a music teacher, he also pursued his natural love of theater and music. A friend got him involved in the show where he met Tricia.
Together they moved to Ketchikan, where they discovered their first Wearable Art show. The show was so popular they weren't able to get tickets for a couple years. Once they made it, they were hooked. Tricia's daughter, Nona, was also inspired. Nona then started the daunting task of sewing hundreds of hoochies – brightly colored rubber, neon squid bait – onto a small black dress. That painstaking work must have inspired something, because after starting the dress, she left for Europe. Tricia finished sewing on the 400 hoochies, creating an anchor piece for what would later be featured in the Alaska Airlines inflight magazine and shown in their own Wearable Art show. I've seen this dress – and it can shake. With it's flapper inspired look, and the Charleston playing, the swinging of the hoochies start to take on another meaning – and it's a lot of fun.
From there, Tricia's creativity took off. Her costumes have included butterflies, jewelry encrusted dresses (a tribute to the 52 jewelry stores just in Ketchikan), a firebird, and a baroque lady with a dress made from building construction materials.
After the move to Ocean Shores, Tricia knew she was wanted to create her own Wearable Art Show, to run out of the Ocean Shores Convention Center. Her desire was to provide artists a venue to express themselves in a way they otherwise could not.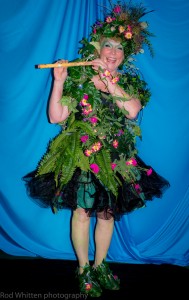 Last year's show featured 24 artists and 28 pieces. Although it won't happen again, it also featured a dog. With a theme of Myths and Legends, the Great Dane was a dragon and the handler was Saint George. Groups come from as far as Vancouver to take part in the show. These groups have served as the opening act, from mermaids to jousting members of medieval times.
The mystery of what will happen at each of these shows is as much of a surprise to Eric and Tricia as it is to anyone else. Until the costumes are there, no one knows what to expect.
This year's show, set for June 4, has a theme of "Movers and Shakers." Entries are being accepted until April 30 from artists and designers, 14 and over. They only ask that artists avoid the subjects of religion and politics. Entry forms can be downloaded online at www.oswearableart.com, or obtained at the Ocean Shores Convention Center Visitor's Bureau. An artist entry is $20. This can include one, or the maximum of two costumes.
In the meantime, Eric and Tricia will be buzzing around organizing their stage manager, front of house crew, seat fairy, lights, camera crew, set design, and everything else that goes into creating this incredible production. It is worth every bit of their effort. Every year they sell out with over 300 seats. This is an adult event and a bar is available. Well-behaved children, 13 and older, are permitted with a parent.
The Wearable Art Show is not their only major achievement on our coast. As charter members of Stage West Community Theatre, Tricia and Eric volunteer to help bring two shows per year to the North Beach. Stage West Community Theater is going on their sixth year performing at the Ocean Shores Lions Club.
If you've spent any time at North Beach, you may have seen these two aboard a pirate ship, or swashbuckling in a way only those two could, as members of the local group, the Ocean Shores Pirates. This costumed group, complete with pirate ship, provides costumed entertainment to help raise money for local non-profits.
This dynamic couple has provided entertainment at the coast for years, not only for all of us in the audience, but also for themselves. As Tricia said, "We had to build our own playground when we got here."