Every day in the United States, 10,000 baby boomers turn 65-years-old. Like the patients they treat, providers are aging, as well. At the same time, the United States is experiencing a significant shortage of physicians, particularly in primary care and particularly in rural areas. In Washington State, Grays Harbor County ranks among the lowest in terms of population to physician ratio.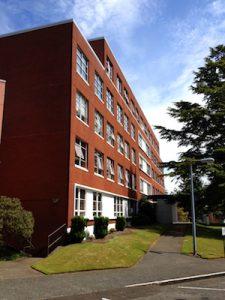 The statistics paint a grim picture for Grays Harbor County, compounded by a lack of wellness and a high incidence of chronic illnesses such as diabetes and cardiac disease. However, as in other areas of the country, nurse practitioners are playing a critical role in filling the healthcare access gap.
"We are lucky to live in Washington State," says Ron Oman, a nurse practitioner with Grays Harbor Community Hospital's Rural Health Clinics "The state has been a trendsetter in addressing the healthcare shortage. We have been a leader nationwide in promoting careers in health care and defining practice rules for nurse practitioners."
In addition to Washington, nearly half of the states in the country now allow nurse practitioners full autonomy in their practice. This means that providers like Oman can run an independent practice. They can evaluate, diagnose and treat illnesses. They can order and interpret diagnostic tests, and they can prescribe medicines and controlled substances.
Nurse practitioners bring a wealth of experience to their profession. Requirements for practice include at least six years of academic studies and clinicals, as well as national board certification and state licensing. Many nurse practitioners begin their career as a registered nurse.
"I worked in the ER for ten years as a nurse, and I saw patients at their worst," explains Katha Gazda, a colleague of Oman's at Harbor Medical Group. "I decided I'd rather work on preventative care to try to keep patients out of the ER, so I went to graduate school to become a family nurse practitioner."
While working at the bedside, nurses hear bits and pieces of the family influence and situational problems that contribute to patients' health issues. That background gives nurse practitioners a unique and valuable perspective.
"I spent many hours at the bedside with patients and their families in the ER," explains Gazda. "Now, as a nurse practitioner, I keep those things in mind when approaching a patient. There may be five things influencing the patient's illness that he hasn't even thought of."
According to Oman, his training and background in nursing has led him to look at his patients a little differently, perhaps, than a traditional physician. "We look at the whole system," he explains, "not just the physical part, but the mental and spiritual, as well."
Gazda and Oman work as part of a team of physicians and nurse practitioners, with ready access to specialists such as surgeons and radiologists. Each member of the team brings areas of expertise to be tapped.
"I may have a patient come in with acute abdominal pain, and I need to determine the differential diagnosis," explains Oman. "I can call one of the surgeons upstairs and run the situation past them. The collaborative part of our work makes for better patient outcomes."
While the majority of nurse practitioners practice in primary care, they can enter any of a number of specialty areas. For instance, in addition to six family care nurse practitioners, the GHCH staff also includes a nurse practitioner specializing in urology. In early 2019, a nurse practitioner will join the gastroenterology team.
These providers represent a vital resource to improve healthcare access in Grays Harbor. They also highlight a possible career path for those who want the opportunity to give back to their community in meaningful ways.
"We have a great nursing program in our community with Grays Harbor College," says Oman. "There are seeds being planted in the community to encourage the younger generation to look at options in health care."
Once individuals have completed training as a registered nurse, they have flexible options for pursing a masters or doctorate level nurse practitioner degree. Many nurses complete their coursework online while doing their clinical training in their hometown. The result is a win for both the providers and the community.
"The most important thing, especially for this community, is access," concludes Gazda. "It's about the patient finding a provider they are comfortable with, whether that be a nurse practitioner or a physician.  And it's about providers and patients working together to improve health."
Sponsored