Anne Gordon, 65, is a part-time Ocean Shores resident who is blending her diverse interests as artist, musician, photographer, and writer with technology. The resul – unique commercial products and aesthetic renderings.

After an early career as a Registered Nurse specializing in intensive care nursing and cardiology, she transitioned into medical equipment sales. Anne's efforts pioneered a generation of computerized cardiac ambulatory monitors such as the Holter Monitor benefiting millions of people through sustained cardiac monitoring,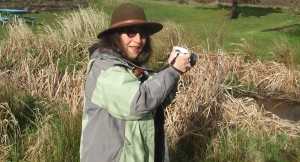 In addition to her medical training, she earned a degree in social psychology with a journalism minor. Anne wrote a nurse's continuing education home study course along with other managed care books published by Homestead Schools, Inc.
"My nursing background morphed into a holistic viewpoint," she said. "I started recognizing the importance of people taking responsibility for their own healing and treating the sacred body well, the truest temple."
This metamorphosis led to a departure from medical sales and into writing a book on holistic health, How to Strengthen the Immune System. A similarly focused blog followed as well as her entry into environmental activism that Anne voices through photograph compilations and as a videographer.
She found ways to interweave these accomplishments with her artistic interests in photography, graphics, color and design.
Cell phones and computers offered the exploratory platform in producing a variety of commercial products. Her business clients, many in Ocean Shores, use these in their online presence or as retail store items, such as postcards supporting publicity and marketing efforts.
Digital experiments over the past 15 years resulted in a technical system allowing Anne to travel while keeping up with customer orders.
Currently working with an iPhone 6 and iPad Air tablet, her photographs are enhanced through a myriad of apps. The final images are reproduced according a customer's request or for Anne's own purposes, such as canvas prints for art showings.
Her photographic art subjects are discovered while traveling to wild and under populated destinations. Moving between timeshare properties, she is able to expand her opportunities throughout the Pacific Northwest and British Columbia. The resulting images reveal the story and emotion of any given moment.
"As an artist, I see bits and pieces of elements then stitch them together with a bit of distortion, creating a work of art in doing so," Anne said.
When asked about the driving force behind her creativity, she said, "I think the very act of the creative process makes me create. You never know what you're going to get. I sit down and start playing with it. Then distort it. I pull things out and begin experimenting with the image with what I might have in mind. I can't judge it. It's very hard to judge your own stuff."
After some thought, she adds, "The result doesn't have to be esoterically pleasant, either. Sometimes the more horrific the better to me, I push the limits the more I go."
The limits are also stretched in other mediums through a lifestyle nurturing her varied skills.
A piano and electric keyboards musician, Gordon has pursued both composing and recording music on her own and with other musicians.
A love of music and her association with fellow musicians opened other business opportunities. Gordon produces CD covers and graphic videos for bands and solo performers in Seattle, Olympia, Victoria, and Portland, including 13 CD covers for the band Heartflight with a new one to be released later this month. A collection of her cover art can be seen under the band's name on the CD baby website.
Anne's jewelry making has claimed the attention of admirers through shows and various benefit auctions. She is a semiprecious stone and crystal enthusiast hunting them down during her travels. These are used in constructing EMF (electromagnetic field) jewelry, her specialty and a particular style gaining more public attention and devotees.
Gordon says she returns to Ocean Shores for periods of time to recuperate from her sojourns. She is nocturnal, working on her projects in the late-night hours without distraction or interruption.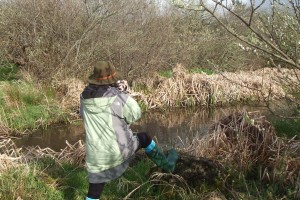 "I'm a lone wolf," she declares. "I need to be alone to do what it is that I have to get done. I don't like unexpected drop-ins or telephone interruptions."
It's all about the work for her, but she balances the reclusive artist veneer with an easy social engagement spiced by a heavy dose of self-deprecating humor.
Soon Anne Gordon will be on her way with a planned four week or longer solo dispatch into Canadian vistas, her tools at the ready and other projects in the works.
There's a new website under construction that Anne says will have "an avant-guarde coaching style" and interface with her smart phone/tablet art classes. Lastly, another book on strengthening the human immune system will be published.
Interested parties can contact Anne about her business offerings and class information.