Connie Church has a stillness to her that is ingrained from long years of habit. Her posture is perfect, her fingers rest lightly on her keyboard, and she never, ever looks down at her hands. Working as a freelance court reporter, Church takes depositions, records the events of trials, and captures, verbatim, court proceedings. She is a licensed court reporter for Capitol Pacific Reporting, working in Montesano.

It had been become commonplace to Church, until a few years ago when she learned that a local deaf, hard of hearing leader in the community left her post in frustration. Without an accommodation for her disability, she was unable to follow the content of meetings or respond with her own ideas. Church quickly made the connection between her own work—capturing words—to the need for captioning words, ideas, and even emotions. As a result, she began researching Communication Access Real-time Translation (CART), also known as real-time captioning. CART is a program to change how people who are hard of hearing communicate in open settings.
"To use real-time captioning, you have to be a clean and careful writer," Church says. "Everything you write is seen in real time. With the software, what I write becomes an instant translation of the spoken word into written word. Real-time captioning appears on a computer monitor or a screen immediately. I can't edit it. It's like talking."
After completing a CART certification program through the National Court Reporters Association, Church knew that she wanted to start real-time captioning with a special project, but she didn't know where to begin. She needed a meeting. She needed a class. She needed a deaf, hard of hearing person who would benefit from the opportunity to fully engage with the content and with other students.
David Galyean was that person. Deaf since birth, Galyean contracted German Measles and Rubella during his mother's pregnancy. His eyesight is also impacted by a cataract in one eye and glaucoma in both eyes. Fortunately, his good right eye has been stable for 23 years enabling him to live on his own and continue driving. Galyean wanted to start his own small farm. The training he needed was a class offered through the Grays Harbor WSU Extension Office.
When Cindy Burton, Resource Conservation and Development Coordinator (now retired), for the USDA Natural Resources Conservation Service heard that Galyean wanted to participate in the class, she immediately began to search for ways to make that happen. With little to no budget, she knew it was an exciting opportunity to test the extension office's ability to provide accommodations for a student with disabilities.
"We first looked at computer programs, but we suspected that some of the subject matter vocabulary might make the program unreliable. So that idea was out. We sought solutions within our organizations, but that was a dead-end. Then we looked into the cost of using someone to provide real-time sign language interpretation. When we called to inquire about this, it was way out of our budget."
Burton was concerned that it seemed all of the doors were closing against Galyean's opportunity to enroll. Then, one of the class leaders shared the name of court reporter Connie Church.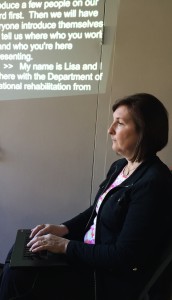 "It was a whole new experience for me," Church said. "The first few classes were nerve wracking. I had to figure it out on the fly, but then I saw how much David benefited," she said her face brightening. "I realized that, in his own way, he was hearing all parts of the class. He was able to read the captions right on my screen and type in his own questions. He was in the class just like everyone else. He was listening through the captions, comprehending and joining in the conversation."
Galyean confirms that learning the class's content with Church's assistance made a significant difference in what he did with the knowledge. "Real-time captioning changed my participation in a class.  It gave me an opportunity to feel welcome and participate in a huge group of hearing farmers."
Galyean's success in the farming course opened other doors in his life. He attends an annual conference put on by AgrAbility, an organization that supports the quality of life for farmers, ranchers, and other agricultural workers with disabilities. His runs his own farm, Galyean Farm and Nursery and created a Facebook page, Farming Association for Deaf, Hard of Hearing.
And Connie Church?
Burton says, "Connie didn't just help David – she offered the full transcripts of every class to all of the students taking that class. They were captured electronically, so she made them available to everyone. Really when I think of Connie in our classroom, I think of the embodiment of compassion. She reached out to help someone she didn't know who was trying to fulfill his dream.  It was an amazing gift to David and to all of us."
Church sums up her personal connection to real-time captioning. "It is so immediate. The deaf, hard of hearing are no longer on the outside. I think of it as service to others."