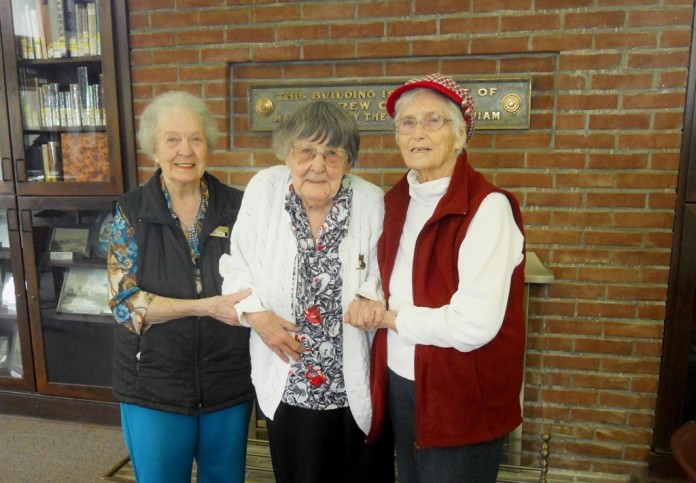 Rose Reeves, Lillian Matheson and Barb Carter are three remarkable ladies in their eighties.  They have no problem with boredom. The trio spends many hours per month volunteering at the Hoquiam Timberland Library cheerfully lending a hand wherever they are needed.

The three sprightly octogenarians are members of the Friends of the Hoquiam Timberland Library. Affectionately called "The Friends" by library staff and patrons, this volunteer group is dedicated to raising funds for special library projects. Among other activities, Rose, Lillian and Barb assist with The Friends' two major fundraisers – the great annual book, plant and bake sale and the regular book store sale which is open three times per week.
Retired horse rancher Rose Reeves, 86, came to the Harbor six years ago from Colorado after her husband had passed away. Rose closed down their ranch and donated their seven horses to El Paso County Search and Rescue of which she was a member. As she has no children of her own and followed her niece's invitation to move to Hoquiam. After she had moved into an apartment near the library, Rose lost no time in finding work. The Friends needed a supervisor for their book sale and soon horse ranch manager Rose was managing the library book sale.
For two hours each Tuesday, Rose can be found in the book store in the library basement welcoming customers with a friendly smile. She remembers the names of regular customers. If a patron cannot find what they are looking for, she handles requests and volunteers will reserve the item if it comes in.
"We have eight book sale volunteers that work in pairs," Rose explains. The store is open Tuesdays, Thursdays and Saturdays from 11:00 a.m. to 1:00 p.m. "It is important to match people who get along. We don't want any disgruntled workers. They quit," explains Rose. The book store donates children's books to Hoquiam homeschoolers and supports the Aberdeen Women's Shelter.
At age 89, Barb Carter is a volunteer dynamo. Along with working for The Friends, she sings with the Aquanotes Choir which performs in retirement homes twice a week. Barb is a member of the Daughters of the America Revolution and of the Grays Harbor Genealogical Society. She also previously volunteered at the Polson Museum.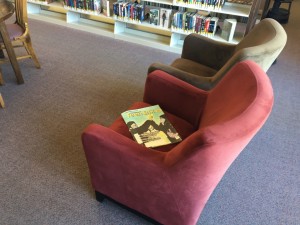 Barb was born in Lebam, Washington. She married her husband Warren Max Carter when they were both still at high school and Max was about to joined the army to fight in World War II. They were 17. After the War, Max worked in the Rainier Pulp Mill and Barb worked as a grocery clerk. Together they raised five children who gave them 13 grandchildren, 16 great-grandchildren and 4 great-great-grandchildren. Barb lost Max two years ago, after 79 years of marriage. "I wish, we could have had another 79 years," she says. Barb is about to retire from The Friends but not from volunteering. She is planning to move to Sitka, Alaska, to live with her daughter where she will help in the family store.
Elma native Lillian Matheson, 88, is another multi-tasking volunteer. The widow of biologist, game warden and social worker Harold Matheson, she has been helping out at the Hoquiam library ever since her two sons left the house.
The love for books and libraries runs in the family. Lillian's son, Iver, works as a librarian at the Ocean Park Library and her son, Ken, is the current president of the Hoquiam Friends. Her family is of Swedish descent and Lillian functions as treasurer for the Swedish Order of Vasa. Three years to go and Lillian will reach 75 years of membership. She is an active member of the Saron Lutheran Church.
It is hard to believe that Lillian, at age 88 and battling severe foot problems still volunteers in hospitality and holds a paid cleaning job at her church. She reminisces about her past work as hospitality person for the Hoquiam Library programs. "I baked cookies, made coffee and took care of the cups and plates. I helped whenever I could." Lillian remembers a particular Friends annual bake sale at which a customer bought the entire lot of her Swedish krumkaagen waffles to send them to California. She also remembers a hug she received for her wild strawberry jam.
Youth Librarian Sarah Livingstone is the greatest benefactor of the Friends fundraising efforts. "Sarah just needs to tell us what she needs for the kids," divulges Rose. "We buy craft supplies for her programs, educational materials, food for Teen Movie Night or the Fancy Nancy Tea Party. We also helped pay for the beautiful new murals in the children's area painted by Hoquiam artist Jenny Fisher."
Rose, Lillian and Barb are all concerned about The Friends' future. "We need volunteers badly," says Barb. "We are all getting old!"
Be inspired by these wonderful ladies and become a volunteer. For info about The Friends, visit the Hoquiam Library at 420 7th Street or call 360-532-1710. The Friends meet at the Hoquiam Library every second Thursday at noon.