Nice Nuts are a new brand of candied almonds and pecans. They are freshly roasted and charmingly served by David and Jamie Quigg, assisted by their adorable little sons, four-year-old Emmett, two-year-old Ansel and baby Walter. The Quiggs have been selling their nuts at local and regional fairs and festivals since 2014. You will also find Nice Nuts on the shelves of a few select Grays Harbor retail stores during the Christmas season.
The seed of Nice Nuts was born when David Quigg came upon a vendor roasting fragrant almonds at a Denver shopping center. David and his wife Jamie had been thinking about a small family business to run with their kids. Inspired by the delicious Denver almonds, they began brainstorming nut related words for a business name.  They hit on Nice Nuts, a deceptively simple attention getter that lends itself to endless word play.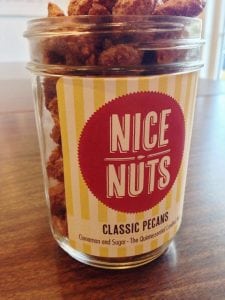 The Quigg spouses bring complementary skills to their business. David states the essence of their qualifications: "She is the brains. I am the pitchman." He goes on, giving more details. "Jamie is financially savvy but she is also good with people. She is a decision maker. While I was endlessly thinking about nuts and things, Jamie said, let's do it."
Jamie Quigg's background is only indirectly related to nuts. She is sustainability professional with a Bachelor in Entomology from Washington State University and a Master of Industrial and Environmental Management from Yale School of Forestry and Environmental Studies. She has worked for United Technologies, Grays Harbor Paper and Honeywell Building Solutions. Currently she is displaying superior management skills raising three small boys while working as a real estate broker with Windermere Real Estate and roasting Nice Nuts in her "spare time".
Pitchman David is the marketing nut of the family, building on the experience of his father, Bill Quigg. "Dad is an entrepreneur," he says. "He started several businesses. He learned by trial and error." David studied communication and marketing at Gonzaga University and went on to work in hospitality at the Four Seasons Hotels and Resorts.
Back on the Harbor, David worked as Director of Communications for Grays Harbor Paper and as Director for Public Relations and Marketing for Grays Harbor Community Hospital. David is also well known in the Grays Harbor theater world. Acting skills are certainly a plus when selling Nice Nuts to the festival crowd.
David and Jamie married eight years ago and are deeply rooted in Grays Harbor. "We are both fourth generation Harborites," David says. "Jamie's grandpa was my dad's Little League coach." The couple loves Grays Harbor and is planning to raise their family here.
They have had strong community support for their business. Eric Stewart of the Washington Small Business Development Center was extremely helpful with setting up the legal structure. Friend Karen Eichelsdoerfer, an experienced shaved ice vendor, introduced the young family to the trade and to the festival vendor community. "It wasn't easy for us to be accepted," says David. "Most of the festival people are older and have been in the trade for many years. They had to get used to a young family coming in with kids."
The Quiggs acquired a German made nut roaster to get Nice Nuts started. The machine consists of a large copper bowl on top of a heating element. A paddle stirs the nuts. David and Jamie took some time to perfect their first recipe, Cinnamon Sugar Almonds, including almonds, sugar, vanilla and cinnamon. They added Cinnamon Sugar Pecans and Cocoa Dusted Almonds to their selection and hit the festival circuit.
The simplicity and whimsy of their marketing betrays David's professional background and leaned on the expert assistance of Alder/Creative in Aberdeen to perfect their brand. The Quiggs built their website with a vintage circus theme featuring the bright primary colors of red, yellow, white and blue. The theme is used consistently in signage, packaging and display shelves. Their attractive red and white t-shirts are also available for purchase.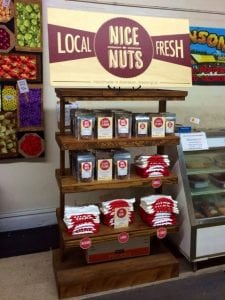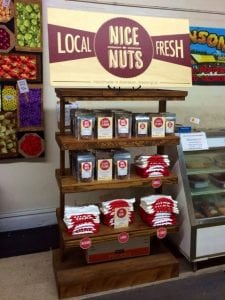 Well prepared and equipped, the Quiggs have taken their Nice Nuts  to events throughout the area including the Chocolate on the Beach Festival, St. Mary's October Fest, Capital Food and Wine Festival , Aberdeen Founder's Day, Westport Winery, Christmas in Seattle and more. Their entire setup reflects a family having fun with their business. When asked if they'd ever consider doing this full-time, David remains uncommitted. "That would be a big leap. We just want our boys to learn business and social skills and perhaps earn some money for college."
The Quiggs are a busy family and recently, that has put Nice Nuts a bit on the back burner. Jamie gave birth to Walter, the youngest business partner and David started a new job with In Touch Health.
However, Nice Nuts are back in force for the Christmas season. Look for them at Harbor Drug and Gift, Jay's Farm Stand and Grays Harbor Wine Sellars. They are also available by request via email at dtquigg@gmail.com.  "You are gonna love their nuts."
Follow Nice Nuts on Facebook or visit the NiceNuts website for more information.