Grays Harbor, Washington is the perfect destination for a getaway. Miles of sandy beaches, winding forest trails and quaint towns to enjoy restaurants, shopping and dining. It's been a popular tourist destination for generations. Families looking for a beach town experience, outdoor enthusiasts getting in touch with nature and

those looking for romantic hideaways far from the big city find what they seek along the shores of the Harbor and Pacific Ocean.
Grays Harbor has recently caught the eye of another type of traveler – sports participants and enthusiasts. With so many desirable event venues in Grays Harbor, larger and nationally sponsored sporting events are putting Grays Harbor on their event calendars.
Here's a calendar big sporting events coming to the Harbor and surrounding areas this year.
Dugan's Run – March 19
On Sunday, March 19, you can run on the beach and then eat pizza. Really. For over 30 years, Dugan's Run has been held in Ocean Shores, promoting youth sports, family participation and community involvement. With a 5K, 10K, a one mile run for those 12 and under and even a kids dash for the smallest of participants, there is something for everyone. Dugan's Run is one of the few events that is held right on the beach. Check out the Dugan's Run Facebook page for details and register online.
2017 Hood To Coast Washington – June 3
On June 3, 2017, Seabrook Washington will be hosting the 2017 Hood To Coast Washington Relay Race. This event is so popular it sold out the first day of registration. Hood to Coast Washington will span 77 miles through the Evergreen State, beginning from Hood Canal and ending at the beautiful Pacific Ocean.
This one-day, one-van, six-member race features teams of six that will run 77 miles total with each participant completing two legs along the 12-leg race course. Walking teams of four to six will trek 52 miles along an eight-leg course. The walking course will be a primarily flat, fast, and friendly journey starting near Lake Isabella State Park, through the Olympic National Forest, along the Chehalis River and Grays Harbor, eventually ending at the coastal community of Seabrook.
Toughman – (formerly Trifreaks Triathlon) – June 3
Just down the road in Ocean Shores is an event held the same weekend for those that want to swim, bike and run really far, all in the same day. The international brand "Toughman" has absorbed the 13-year tradition of "Trifreaks Triathlon" and brings national level competitors from all over the country to Ocean Shores. All the races start and finish at North Bay Park, the city's largest park and a popular local spot for outdoor recreation.
From the park, those running the half marathon will follow an out-and-back loop course in a counter-clockwise direction around the peninsula. Runners will get to see plenty of the scenery for which Ocean Shores is known along the half marathon route, which crosses bridges and takes runners out for a roughly mile-and-a-half stretch along the beach in the race's first few miles. After heading back onto the roadway, runners then head down to the peninsula's southern end, where they make their way around the edges of the Oyhut Wildlife Recreation Area along the shore, and back to the finish line at North Bay Park. This event is a qualifier for the Finals in New York.
Dirty Dash – June 24
On Saturday, June 24 the Straddleline ORV park in McCleary plays host to the Dirty Dash. You don't have to be tough to play dirty – it's the mud run ready for anyone. Mud pits, a slip and slide and foam bath are planned for even more filthy fun than you could dream of. The event organizers promise this year will be dirtier than ever. With your registration, you'll get a Dirty Dash participant t-shirt, temporary tattoo and a Dirty Dash Finisher Medal
Beach Blast Volleyball Tournament – July 7 – 9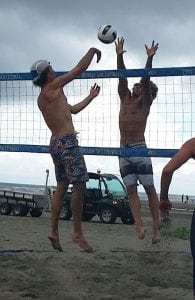 Mark your calendar for the second weekend of July and visit one of Washington's top beach destinations, Ocean Shores, for a volleyball tournament that is sure to be a blast.
The Beach Blast features a variety of live matches for all ages. The Ocean Shores Beach Blast will be held on the sand just down from the Convention Center. Amateurs to semi-pro can play in this event. Sponsored by AVP Volleyball, Uprising Volleyball and Puget Sound Regional Volleyball.
Athletes from all types of sports are putting Grays Harbor on their calendars, and that is putting Grays Harbor on the map for a whole new type of tourist destination.
So, lace up and join in. Whether you compete or simply cheer, these events are something to get excited about.