It's nothing new that Aberdeen's Driftwood Players are opening another delightful production this month. The theater company, known for its elaborate sets and quality performers, was formed nearly 60 years ago by a few Civic Choir members after a production of The Pajama Game. Over time, the players bounced around from location to location before ending up in their "forever home" at 120 East Third Street in Aberdeen in 1982.
What is new for the group is local director Alex Eddy has returned to direct a fun and lively show for the entire family. Eddy first contributed to Driftwood as a mentored director under Brad Duffy several years ago with Calendar Girls and then directed Five Women Wearing the Same Dress last year. Eddy also serves as the Musical Director for 7th Street Kids and has worked with local high school productions. He also partners with Grays Harbor Community College where most recently he's been the rehearsal pianist for Anything Goes.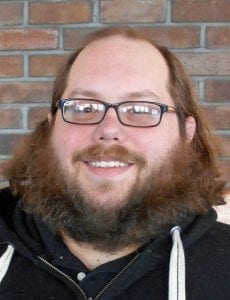 This time around Eddy chose Steven Dietz's Still Life with Iris to direct at Driftwood. "The first time I read it," says the seasoned thespian, "was about three years ago." He's wanted to produce the show ever since because of, "the language—it's some of the best writing I've ever read. It's a beautiful story. I've always enjoyed its fantasy." The Evergreen State College graduate, with a degree in music composition, is happy to be working once again at the beautiful Driftwood Playhouse.
The stunning Roman portico of the old Christian Science Society building stands out on the Aberdeen hillside. Driftwood secured the building when the society decided to move to a smaller one in 1981. The Driftwood board thought it would make the perfect site for a theater. The Aberdeen Rotary Club assisted by raising the needed funds and the remodeling was undertaken by the Aberdeen Lions Club under the direction of Will Foster and Gene Fogde. The project was completed on September 17, 1982.
More than 275 productions have been mounted since the group's inception in 1958. The 2016-17 season opened this past September with The 39 Steps, followed by The Language Archive closing out 2016. The new year opened with Outside Mullinger, directed by theater president Ben Hohman.
The company's newest production, Still Life with Iris, is often presented by children's theaters. Eddy is directing and the show will open April 22. Hohman will serve as the production's Technical Director and Julayne Fleury, who designed and co-directed The Language Archive earlier this season, will provide the set design.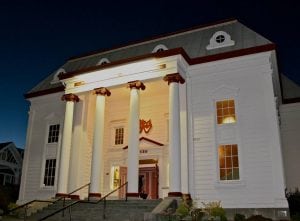 Eddy began acting at eight or nine years of age with Hoquiam's 7th Street Kids and continued in theater as a high school student—sometimes as a musician in the pit and occasionally on stage. In his senior year, he played the title role in the musical The Wizard of Oz, but says he then turned to the music side of things throughout college.
Eddy compares this show's fantasy feel to that of The Wizard of Oz and Alice in Wonderland. The story revolves around Iris who lives with her mom in the land of Nocturno—a magical place in which the workers make, by night, all of the things we see in the world by day. In Nocturno, memories do not reside in people's minds, but instead are kept in their coats (called past coats). The rulers of Nocturno are determined to have the best of everything on their own island and therefore take Iris away from her home to be their daughter. To ease the pain of this separation, they remove her past coat, leaving her with no memory of her home or family. All that remains of Iris' past is a single button from her coat. Using the button as a clue, Iris joins with friends and together they search for home.
"This is the type of show [where] my idea is to keep it fairly simple," says Eddy, noting that the scenes change rapidly and that he doesn't want to slow the pace with big set changes. "I'm going for a cinematic feel and I want the audience to feel like they're a part of it and use their imaginations." Rather than role doubling, as called for by the text, he's expanded the number of parts into a large cast of young players—most in their teens and twenties—to lend to the energy and scope.
Still Life with Iris is suitable for all ages and runs at 7:30 p.m., Fridays and Saturdays, April 22, 28, 29, May 5, 6, 12, and 13, and at 1:30 p.m., Sunday, May 14. Ticket are available at City Center Drug in Aberdeen, Harbor Drug Co. in Hoquiam, Valu-Drug in Montesano, Dolores' & Fay's in Ocean Shores or at the theater box office. Tickets may also be purchased online here.