While many grays Harbor residents flock to far away locations in the Cascades or out of state, there are seven campgrounds close by that will help you quench your wanderlust.

From old-growth forests and pristine rivers and lakes, to the crashing waves of the Pacific Ocean, we lay out seven often overlooked camping destinations within a shirt drive from our homes in Grays Harbor. While some might be well known, each deserves your attention for a weekend or two this coming year.
Campbell Tree Grove Campground
Located along the rugged and remote West Fork of the Humptulips River, the Campbell Tree Grove Campground is rarely visited and absolutely gorgeous. Offering 31 campsites, including 10 walk-in only sites, this first come, first serve campground is located just under fifty miles from Aberdeen, north on highway 101. This Olympic National Forest campground is surrounded by huge trees and a rainforest wonderland, including towering Sitka spruce, Douglas-fir, western hemlock and western red cedar. If you love fishing, hiking and being in natural beauty, the Campbell Tree Grove Campground is perfect for a weekend getaway. Keep in mind that the campground has vault toilets and extremely limited amenities.
North Fork Campground
Rarely visited, the tent-friendly North Fork Campground along the Quinault River is a hidden camping gem in Olympic National Park. This small campground is located near the end of the road, but gives access to memorable and historical trails criss-crossing Olympic National Park. Whether you decide to just camp and enjoy the river, hike over First Divide and reach the Elwha River or get high above the Quinault and Queets Rivers on the Skyline Primitive Trail, the North Fork Campground gives hikers and nature lovers an overload of wilderness. Bears, deer and elk are commonly seen in the area and the region is close to the great sights of the Quinault Loop Drive. Reservations are not accepted and this campground is quite primitive with pit toilets and no running water. The campground has just nine total sites, costing $15 a night.
Graves Creek Campground
Camping at Graves Creek Campground in Olympic National Park is a local favorite, as the Quinault Rainforest offers some of the more remote and awesome rainforest camping opportunities. Graves Creek is located on the Quinault River and is home to deer, elk and the occasional black bear. If you are hoping for a remote camping experience in the middle of the rainforest without much effort, Graves Creek is perfect. Usually empty in the non-summer months, camping right along the river banks is possible at Graves Creek, making for a world class camping experience in one of the 30 campsites. Graves Creek doesn't have sweeping views from the campground, but does have access to some of the most beautiful hiking and driving experiences in the park. The campground is open year round, but offers primitive camping (no water, pit toilets) from October to May. Reservations for Graves Creek are not available and a short walk-in may be required in some seasons due to road closures. Check road status here for most current conditions in accessing this well-worth-the-effort spot tucked inside the ONP.
Coho Campground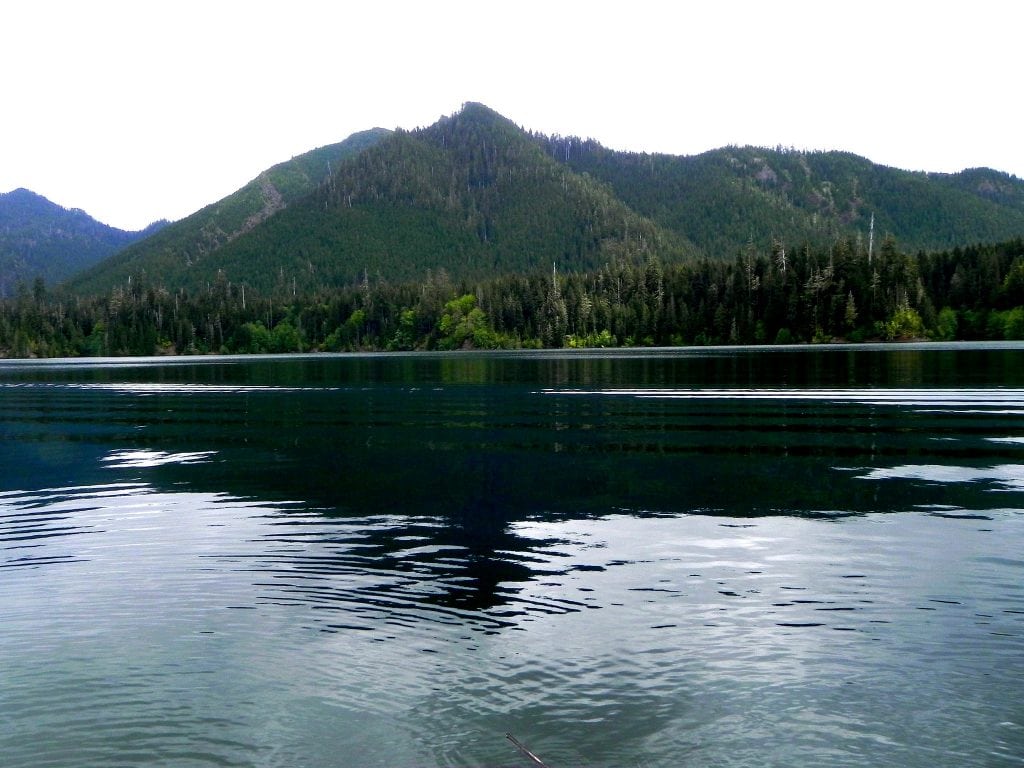 Near the western shore of the wild and beautiful Wynoochee Lake, the Coho Campground is one of the more developed and accessible campgrounds around Grays Harbor. Located just 36 miles north of Montesano, the campground has something for every level of camper. Offering 55 camp sites (including eight walk-in and one group site), as well as three yurts, the campground is open mid-May until October. Ranging in price for a campsite between $20-$25 and a yurt price at $70 a night, this remote getaway is perfect for those hoping for amenities out in the wilds of the Wynoochee. Reservations should be made if you plan on camping here, as this campground see moderate use in the summer.
Willaby Campground
Located in the Quinault Rainforest, the Willaby Campground gives visitors access to incredible hiking, great views and experiences on Lake Quinault. Surrounded by towering old growth forests, shoulder high ferns and one of the most beautiful settings in the region, this campground is perfect for those needing a rainforest experience. With the Quinault Rainforest entrance to Olympic National Park a few miles away, staying here will let you explore waterfalls, forests and the mountains of the Quinault region. Hiking highlights are the Pony Bridge Trail, Colonel Bob Peak and Quinault Rainforest Trail System near the campground. Costing $25 a night, with reservations possible, staying here lets you choose between 19 tent-only campsites and two walk-in sites for your rainforest camping adventure.
Oil City
If you long for a truly primitive camping experience on the wilderness coast of Washington, try camping near the beach at Olympic National Park's Oil City. Camp near the crashing waves and remote sea stacks. However, the camping here is for hikers only, as the nearest sites are a little less than a mile from the parking area. Campers need to register with Olympic National Park's Wilderness Information Center (WIC) in Port Angeles, as well as have approved canisters for food (due to raccoons) and understand the rules of how to use the bathroom when there is no bathroom. While not appealing to all, this level of remoteness and lack of amenities gets you up close and personal with the wilderness coast of Washington State and a chance to see the most beautiful sunsets of your life. This is only for experienced campers, but is one of the best camping experiences you can have.
Cottonwood

Campground
Offering just nine sites along the Hoh River, the Cottonwood Campground is one of Washington's most overlooked rainforest campgrounds. Offering dispersed, primitive camping experiences on Department of Natural Resources land, the campground is located 90 miles from Aberdeen and worth the drive north. It is as primitive as they get, requiring campers to bring their own water. One of the best parts of camping here is the close proximity to both the rainforests of the Olympics and the coast. The beaches of Oil City in Olympic National Park are just 11 miles away from the campground. The campground has picnic tables, fire rings and pit toilets, but no other amenities, so be prepared when you camp here. Directions to this remote site found here.