Do your children think vegetables come from the grocery store? Plan a visit to Dew Acres Farm where the "veggies are so fresh the 'sh' has yet to be said." It there that you'll meet Darrell and Evelyn Wogan on their family farm, located on Montesano's Geissler Road among the lush, green meadows of the Wynoochee Valley.

In 1976, Darrell and Evelyn Wogan registered 125 Jersey cows and went to work milking twice a day, making hay and growing their vegetable garden. It was Darrel's dream come true. Raised on a farm in a German neighborhood in Iowa, Darrel had always wanted to be a farmer.
Darrell came to the Pacific Northwest as a flight navigator in the United States Navy. He was stationed on Whidbey Island when he married Bellingham native Evelyn in 1962. The couple had five children.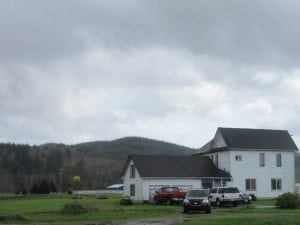 After travelling all over the world in the Navy, Darrell attempted a more settled career as police officer back in Iowa in 1967. "I wasn't very good at it," he mutters, but Evelyn comes to his defense, reminding him, "You got hit by a car!" Darrell had the bad luck of being injured after only a year in the police force. A crippled hand rendered him unfit for police work and he retired from the force.
In 1976, the Wogans took the big step and started their dairy farm. "I finally got smart enough to talk the government out of a loan," Darrell quips. Together with Evelyn and the occasional hired milkers and hay hands, they operated their family farm until decreasing milk prices along with rising feed prices made their business unprofitable. Along with many Washington State dairies, they were forced to sell their cows.
Rather than abandoning farming altogether, the Wogans explored niche farming. Niche farmers serve specialty markets outside the box of corporate farming. Darrell and Evelyn brainstormed ways to find new markets to make their land and buildings profitable. It has been an ongoing uphill struggle. Several of the family's creative ideas failed due to market conditions or prohibitive government regulations. Their kitchen-ready rabbit venture, for example, never came off the ground due to the excessive cost of a certified kitchen.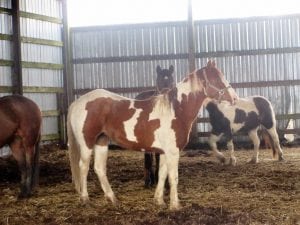 Darrell doesn't like "tootin' his horn". He talks about his struggles in a matter of fact way, never revealing the amazing courage and hard work it must have taken to keep the farm going. For several years, he even went beyond farming and ran a long-haul trucking business. Evelyn supported him all the way. After the children left home, she even joined him on the truck.
Converting their dairy buildings into barns to board horses, however, has been a successful venture. Currently, nine horses live on Dew Acres farm, one of them belonging to horse lover Darrell himself. Blanket Ass, Darrell's very own appaloosa, is a notorious escape artist who likes to crawl through the fence to the neighbor's greener pasture. Evelyn christened him Houdini. Other horse owners come from Montesano, Elma and other nearby locations. Owners care of their own horses while the Wogans provide stable, pasture and hay for purchase. The do-it-yourself boarding arrangement saves labor for Darrell and Evelyn while providing a service to neighbors and a steady income stream.
On three one-acre plots, Dew Acres farm is now producing a great variety of vegetables including sweet corn, peas, beans, potatoes, squash, zucchini, cucumber, and virtually all the cole crops such as cabbage, cauliflower and broccoli. "I have to work with the local market," Darrell explains. "Certified organic isn't profitable because people here in Grays Harbor are not ready for it. My crops are freshly picked and chemical free but not certified organic." The official designation is a lengthy and expensive process for small farms and many opt to bypass the process, yet still offer organic produce.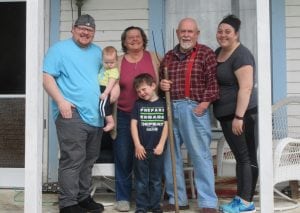 Until recently, the Wogans were successful growing tropical flowers and rare sugar pineapple on rented land on Hawaii until rising transport prices forced them out of this niche market last year. Evelyn loves her anthurium plants, though, and is planning to cultivate them at home in a new greenhouse Darrell has planned.
The Wogans love farming and continue devising new ways of making their land profitable. Darrell is growing herbs this year starting with dill, oregano and thyme. He is asking for input from the community. If you or your business is interested in any kind of crop, he will grow it for you. He is also considering crop share farming, often known as CSA – Community Supported Agriculture. Customers would pay a lump sum for their share in the Dew Acres vegetable crops. They would receive weekly deliveries of assorted fresh produce throughout the harvest season. Darrell also has land available for rent.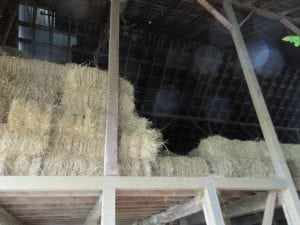 Meanwhile, life on the farm continues. The horses are eager for the rain to stop. Darrell is planting and the peas, beans and sweet corn are in. Evelyn is taking care of the household. Grandchildren and great grandchildren drop in to visit and to help. Family farming is still alive.
Dew Acres natural produce is sold at the farm door. "U pick or we pick," Darrell and Evelyn say. Call the Wogans at 360-249-5086 or email dewacres2@hotmail.com for more information.