We all know carpooling is helpful to the environment and allows you to share the cost of fuel. But, it also saves wear and tear on your vehicle from everyday commuting. However, if you don't have coworkers nearby, how do you find people to share a ride with? Grays Harbor Transit's Vanpool system is the perfect solution. Think of it as carpooling 2.0.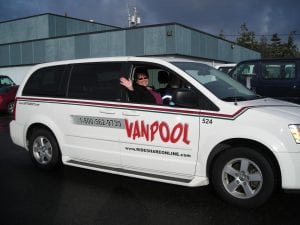 Vanpools consist of a group of people that live and work in the same general area and ride together in a Grays Harbor Transit (GHT) owned van. Vanpools can be anywhere from 4 to 13 people, depending on the size of the van. Since the van is owned by GHT, they cover costs for maintenance and repair.
"We provide the fuel, insurance, window wipers, oil changes, repairs – anything that comes up," says Terri Gardner, supervisor at Grays Harbor Transit.
And that can really add up. "We have one Vanpool with 14 people in it, with about 7 of them riding on any given day," Terri explains. "Each person in that pool pays about $60 a month to go from South Bend to Stafford Creek every day."
How To Join a Vanpool
You don't have to live in Grays Harbor to take advantage of the Grays Harbor Transit Vanpool program. "We have Vanpools coming from as far as Yelm," Terri says. "There is a group that lives in that area but works in Grays Harbor."
Joining an existing Vanpool is easy. Simply call GHT secretary Kathy Dawson. Tell her where you live and work and she will see if there is a Vanpool already set up that you can join. This allows you to carpool even if you don't have coworkers nearby – they match you with people who live and work in the same vicinity as you.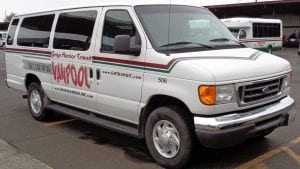 How to Create One
If there isn't a vanpool for you to join, you can create one. Again, Kathy is the person to help you. You will need at least four people, including one driver and coordinator. If the driver/coordinator is the same person, the pool may agree to give them a  free seat in exchange for the small amount of weekly paperwork including turning in mileage to GHT and providing communication with riders.
For more information about joining or creating a Vanpool, call Kathy Dawson at 360-532-2770 or visit the Grays Harbor Transit website.
Sponsored