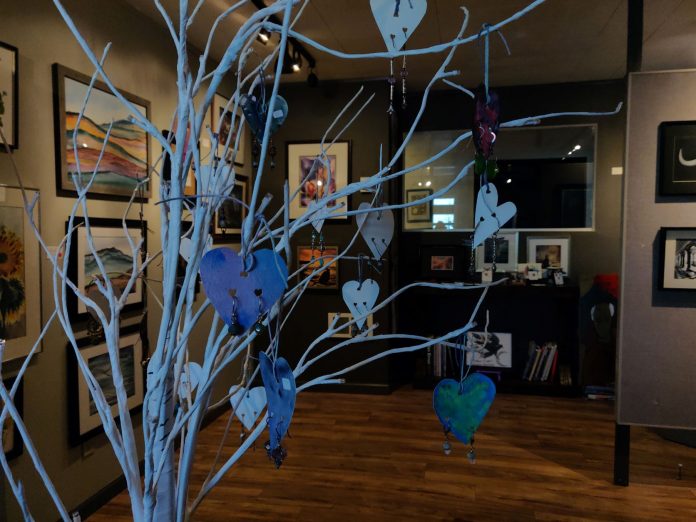 In January 2021, a new neighbor joined Douglas Orr's Aldergrove Gallery in the Aberdeen Art Center. Artist Tamara D'Andrea moved into a small space on the east side of the building and opened her doors under the name of Mother Crow's Studio Gallery.  Visitors can watch Tamara paint while browsing and purchasing local artists' work.  Classes are also available.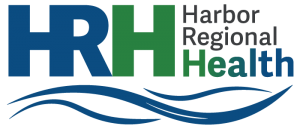 Tamara D'Andrea was born and raised in Tacoma and Gig Harbor. When her mother retired to Grays Harbor, Tamara followed and finished her Chemical Dependency Counseling degree at Grays Harbor College, graduating in 2011.  She worked as an administrator at the Crisis Care Center in Hoquiam until it closed its doors in 2019.
The youngest by 10 years of 7 children, Tamara D'Andrea grew up surrounded by art and music. Her mother was a classically-trained pianist who also wrote and painted. "By the time I grew up, everybody in my family was already fully developed in their talents and in their artistic activities, and I felt I could never live up to what they were doing," Tamara remembers.  When she had trouble focusing in high school, her wood shop teacher changed things for the better. Noticing her interest, he gave her a wood carving set with a mallet and provided instruction.  Here was finally something none of her family had done, something uniquely her own.
After studying with watercolor artist Roy Lowry, founder of the North Beach Artist's Guild, Tamara began to focus on watercolor painting. "I did not do the class very long," she says. However, beautiful results grace the walls of her studio gallery. She also began to study more traditional sketching and painting, always facing the same emotional barrier: "I spent too much time comparing myself with what I thought I should be."
Working through her problems, Tamara realized that art heals. "Just doing it brings healing and leads to my own style," she shares. "I don't have to worry about the outcome." She experienced the healing property of art intensely when she suffered a series of personal losses in 2020.  A couple of years ago, she had met Douglas Orr and David Rodriguez when they displayed some of her pieces in their Aldergrove Gallery. "They gave me lots of love and support," she says. With their encouragement, she took the step to open Mother Crow's Studio Gallery.
Next to housing Tamara D'Andrea's studio and art, Mother Crow's goal is, "to support local artists by showing work and creating opportunities to explore various mediums." Realizing that art needs to be shared, the new gallery owner is offering upcoming artists a place to display their work in two-month shows. Her current show includes Japanese sumi and oil pastel works by the deceased Laura Mosely. Tamara is proud to display the works of notable Gig Harbor artist Bev Pedersen whom she admired when she still lived in the area. Bev Pedersen was one of the first women gallery owners. At the age of 79, the award-winning Pedersen is not much in need of promotion, but Tamara likes to show her art to keep her being talked about. Proceeds from Bev Pedersen sales will go towards an award for upcoming artists in honor of Laura Moseley.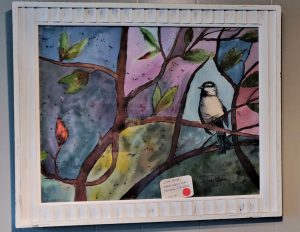 Art as a way of healing features in the work of photographer Jade Black who aptly describes her images of herself in dark, dramatic local landscapes, "I delve deep into my soul and create striking, yet unsettling pieces."
"Art should be accessible to everyone," Tamara believes. She makes this happen in her open-access watercolor class she teaches Thursdays from 3 p.m. to 6 p.m. in the Aberdeen Art Center classroom. The fee is $25 per 3-hour class. There is a core of regular participants but drop-ins are always welcome. Tamara will meet with newcomers to learn the material. She has a palette ready if they want to try the technique before buying their own supplies. Ask Tamara about group or individual classes on watercolor and jewelry making.
Mother Crow's Studio Gallery sponsors and participates in events supporting the local family of artists and women's issues. The Gallery is located in the Aberdeen Art Center at 200 W Market Street, #2. Contact Tamara at 360.592.6208 or 3tamarad@gmail.com.