By definition, a philanthropist embodies unselfish concern for human welfare. In healthcare philanthropy, boards, foundations and other groups do more than just keep hospitals and clinics running smoothly. Their work fosters the partnerships behind new technologies, first-rate staffing and a secure future. At Summit Pacific Medical Center, their Foundation's Board of Directors recently brought on Brad Thomas to work his magic in and around the community.
Thomas was approached by a management recruiter a few months ago while working for the nonprofit Children of the Nations. "I loved my job and intended to refer others to Summit Pacific," he recalls. But the recruiter spoke so highly and stressed their mission and vision that Thomas was quickly won over.
He's been in healthcare philanthropy for over 17 years having spent time in leadership with the American Cancer Society, City of Hope in Los Angeles, Seattle's Virginia Mason and Columbia Memorial Hospital in Astoria, Oregon to name a few. "A lot of places give lip service to health and wellness, but really don't do more than treating sick patients," he says. "Coming to a more rural, regional setting has been a delight because in a small community we do everything."
"Summit Pacific Medical Center is super unique because they're committed to the health and wellness of the community and beyond," says Thomas, "Anyone who comes through our doors gets the best care ever. Everyone here is committed to the mission and vision and are just really, really nice."
Having started the new job June 6, 2022, Thomas estimates that he's met about half of the caregivers so far. "I'm still in awe and it reiterates that I've made the right decision. They provide high quality healthcare and have some fun too! People in rural communities tend to take pride in their region and really love family and community."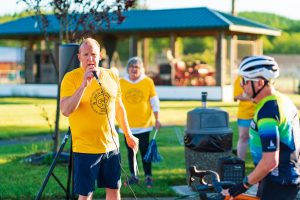 When not working, Thomas prioritizes health at home too, competing in triathlons and coaching competitive swimming. "I always ask my friends, what are you doing to stay healthy?" He recently purchased a house in Montesano and gets involved through volunteering as he learns his way around.
But work is a joy when you do what you love. "The beautiful thing about my job here," says Thomas, "is that it's half and half. Half executive director of the Foundation and half in community development for the hospital. It's a really nice blend because those two go really well together." He spends time networking and meeting local leadership through the Chamber and Town Hall when not learning the ropes at the hospital itself.
At the end of the day, the fit is a win/win for everyone. "I love working with volunteers—it's amazing how many we have but there's still such a great need," says Thomas. "I have more than 25 years' experience in major gifts and fundraising so will launch that program next month." He'll also be working on corporate giving, beyond just the sponsorship level, to encourage deeper community involvement.
Though, like with many of us, this isn't necessarily where Thomas thought he'd end up. "I honestly never thought I'd work for another hospital," he admits, "I thought I would finish my career in higher education where I've also worked." But SPMC offered challenges and opportunities that were too good to pass up.
"Our quality of primary care is some of the best," he says, "and our ED and Urgent Care are super busy and of real value to the community. After the pandemic, we hope to reintroduce more specialty care to help people stay in the community for care. Small hospitals have the ability to flex, and I love working with good people, it gets me up and excited every day."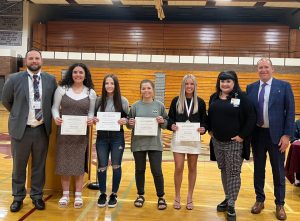 The hospital has also committed to working with the community to launch a Blue Zones Project. These are areas deemed longevity hotspots where residents live into their 100s. Blue Zones make a concerted, unified effort which pays off in reductions of obesity and tobacco use, for example. "Now there are 70 communities in the United States trying to use these policies for a healthy lifestyle," says Thomas, "It's a 12-to-15-year commitment including nutrition, health and wellness. They're now on year three in Grays Harbor County."
"The county was the 36th unhealthiest county in Washington," says Thomas, "but with their 20-to-30-year vision, it's unique in that we have a plan to bring that vision to reality and transform the health of our region. More than 100 volunteers have helped with the study survey so far and the next wave of volunteering starts in a few months. We need every little town in our county and hope every citizen participates in some way."
Thomas also loves that the focus on community care isn't just dedicated to sick patients. "We have a playground on campus, a splash pad and an indoor rock-climbing wall. There's a café and usable conference rooms. We want to be a resource beyond medical care, a partner for the whole community."
You can read more about the SPMC Foundation or donate online. While there, sign up for informative emails to stay up to date. Then swing by for coffee, lunch or to let the kiddos cool off on the splashpad just for fun.
Sponsored