One of the best things about 21st century medicine is the ability to diagnose problems in a fast, noninvasive fashion with remarkable pinpoint accuracy. Thanks to technology like computed tomography (CT) scanners, skilled medical staff can see to the heart of the problem and chart a course of treatment unique to each patient. At Summit Pacific Medical Center, their new CT scanner is up and running to help those in need.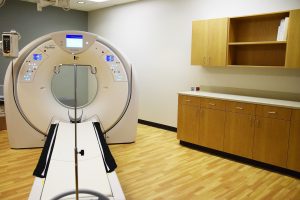 Imaging Manager Robin Johnson says this addition, "supports our mission: In partnership with our community, we passionately advance the health of all individuals with an emphasis on quality, access and compassion." Diagnostic Imaging Lead Daunell 'Nellie' Barnes agrees. "Also, a lot of our staff has worked on this machine in the past at other facilities and enjoys how user and patient-friendly it is."
"CT stands for computed tomography, which actually images body parts in slices like a piece of bread that you remove from the loaf and lay flat to look at the inside," Barnes explains. "Being a computer image, you can also reconstruct the data to slice a body front to back or side to side and any angle in between." CT scans can image bone, tissue and blood vessels unlike the traditional x-ray scan.
Selecting any large new medical purchase takes time, research, careful consideration and the input of staff. "We were pretty set on Canon Medical's Prime 80 slice due to its low radiation dose, versatility, and long life," says Johnson.
Once in place, the new CT machine took some extra training to get everyone on the same page. "There are three phases in the training certification," says Barnes. "During the first phase we were able to send two super-users to the Canon Institute in California to learn the machine inside and out. The second phase is when a Canon application specialist comes on site for one week to train the rest of the staff. The last phase happens 6 to 8 weeks after the initial training to review any further questions that have come up in the interim. Even with all this training Canon is available 24/7 to answer any questions our technologists might have."
But all this work benefits patients from day one. "The scans are much faster, and the radiation dose is a lot less. For patients who need multiple CT's, this will help with their cumulative radiation dose," says Johnson. "Also, this CT Scanner has a wide bore—the opening the patient passes through—78cm versus 62cm, so patients who are potentially claustrophobic will benefit from this new machine. It is also much more comfortable for patients with wide girth of shoulder or waist."
The process is also significantly faster, which helps medically nervous, claustrophobic or emergency room patients. "The new machine will be able to do an entire tube rotation in 0.35 seconds, whereas our old scanner could only scan at 0.5 seconds," says Barnes. "On our old machine a routine abdomen/pelvis study (600 images) reprocessed in 5 minutes, the new scanner will reprocess the same exam in just under 1 minute, which is approximately 60 images per second. All of this allows us to receive diagnoses faster, which is critical with trauma and stroke patients."
Considering Summit Pacific facilitates approximately 500 CT scans per month and 6,000 per year, the new machine will make everyone's visit easier. "The new machine has replaced our old scanner," explains Johnson. "We were also fortunate enough to be able to redesign the room by adding new cabinetry and turning the scanner at a slight angle for better patient care and monitoring."
Technology like this has revolutionized medical treatment. In cases where someone has had a stroke, for example, speedy identification can be the difference between life and death. CT machines of this level are a tremendous investment by Summit Pacific Medical Center, which will go far to save lives and reduce stress.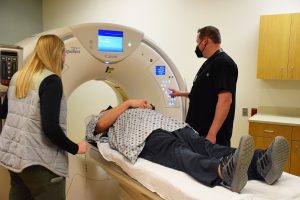 Summit Pacific's Diagnostic Imaging Department also provides a full range of Diagnostic Imaging services for routine outpatient exams and accepts imaging orders from referring providers. Some exams even have next-day availability. Technicians work around the clock providing exceptional care through a wide range of services including:
CT Scans
DEXA Bone Density
Body Composition
X-Rays
Ultrasounds (next-day availability)
Echocardiogram (next-day availability)
Mammography
MRI
For more information call 360-346-2243, or have your provider send orders to 360-346-2156. Summit Pacific Medical Center on Facebook, YouTube and Instagram for the latest updates, new additions and services.
Sponsored