There's nothing better than a week full of mermaids, unicorns and fairy tales! The Mermaid Festival in Westport is happening April 1-9, 2023 and is the perfect family-friendly activity in Grays Harbor. Grab your fin and head to the International Mermaid Museum to discover finlore, see live mermaids and unicorns and dive into adventure with performances you won't want to miss. And it's all free!
The nonprofit International Mermaid Museum is the perfect location to host the merfolk during their festival. For within you'll discover secrets never before seen to land dwellers. Explore the educational exhibits that teach visitors of all ages about ocean ecology, wrapped up in mermaid myth. The exhibits are fun and varied, with plenty to spark the imagination.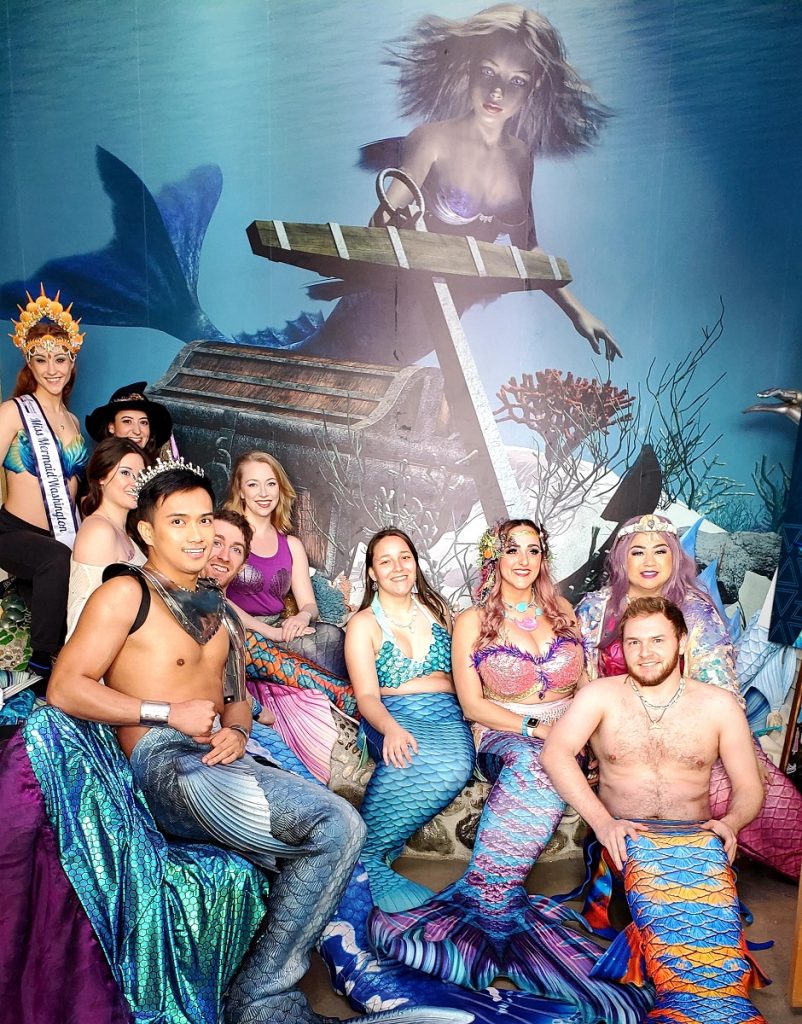 "When we created the museum in 2021, we had no idea how popular it would become," shares Kim Roberts, creator. "We have about 80,000 visitors a year from all around the world and all ages, who come to learn about ocean ecology and mermaid mythology."
Special Guests and Events at Westport During Mermaid Festival
Once a year the merfolk gather to celebrate and you're invited! The Mermaid Festival at the International Mermaid Museum sprawls throughout the museum, adjoining gardens and a large event tent. Special guests will wow and delight visitors at the Grays Harbor family-friendly event.
Here are just some of the fun in store for humans at the Mermaid Festival:
Una The Mermaid – Daily
Come meet Una the mermaid! She will be performing in a special underwater tank every day of the festival. On weekdays from 2 p.m. to 4 p.m. and weekends from 12 p.m. to 2 p.m. and 3 p.m. to 5 p.m. on weekends. Come during 12 p.m. to 2 p.m. during the week and she will be available for photos to create a special memory your family will treasure! "I am excited to be getting my fins back in the water!" shares Una the Mermaid.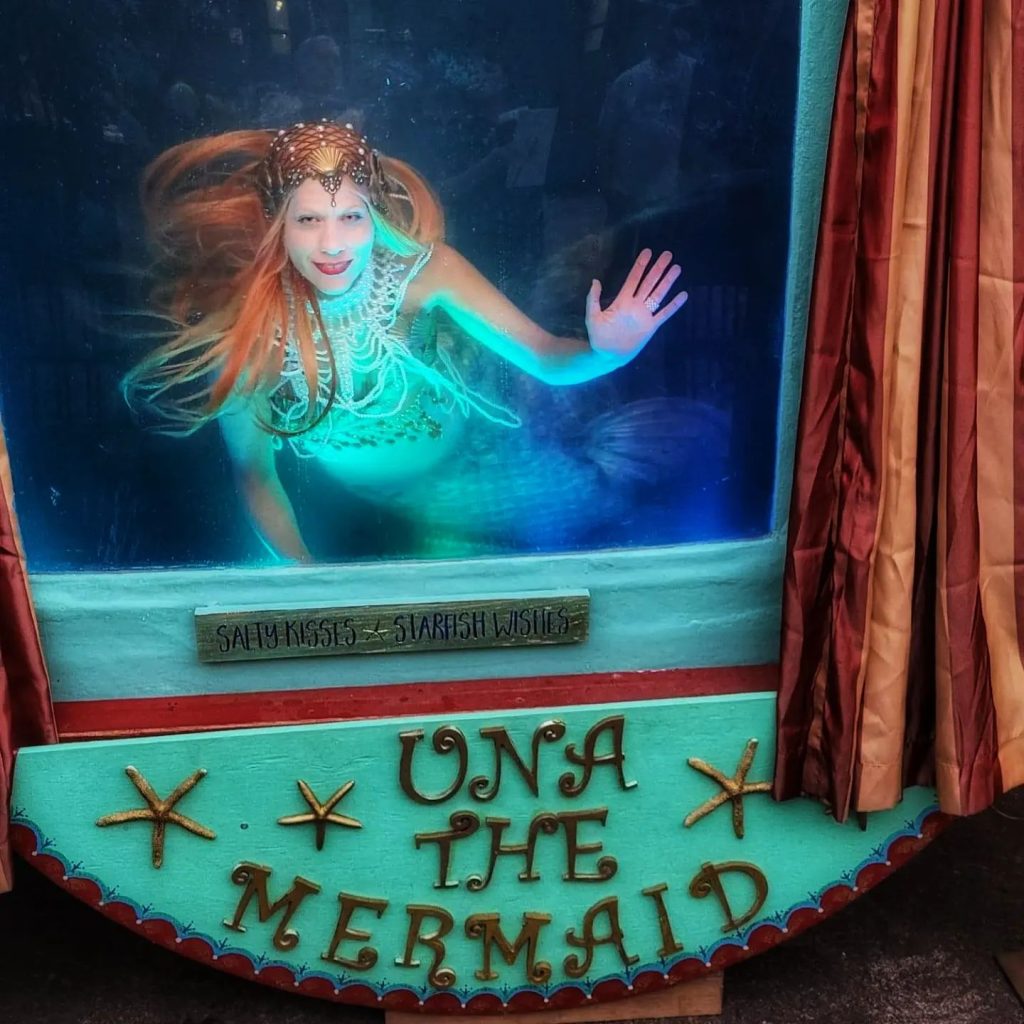 Olive the Alchemist – Daily
The founder of the Seattle Mermaid School, Olive the Alchemist will be in the museum for photos and to answer questions from 11 a.m. to 2 p.m. and 3 p.m. to 6 p.m. every day of the Mermaid Festival.
Pacific Northwest Unicorns – Daily
Mermaids and unicorns go together like peanut butter and jelly! You just can't have a good fairy tale without them. Experience the wonder of meeting live unicorns from 1 p.m. to 3 p.m. every day. Ask their attendants what their favorite treats or, how to catch a wild unicorn or what their special powers are.
Bigfoot – Daily
If mythological creatures had celebrity status, Bigfoot would be on the A List. Keep your eyes open for this elusive creature makes a rare appearance among humans during the Mermaid Festival!
Mermaid Aurora and Merman Mike – April 1-2
Performing April 1 and 2, Mermaid Aurora and Merman Mike, known as Bad Little Space Mermaids, will be performing Celtic folk music with mermaid harpist Ruth Navarre. It's a rare treat for humans as they share their own poetry and mythology.
In addition to all the wonderful mythological creatures awaiting to meet you, there will be some stellar human acts as well:
Vertical Axis – Daily, except April 8
The entire family will be thrilled by Nick Perry and Amanda Thorton's high wire act, happening a 1 p.m., 3:15 p.m. and 4:30 p.m. every day of the festival except April 8. "We are aerial duo Vertical Axis – also known as Nick and Amanda – and we are so excited to be performing aerial arts all nine days of the Mermaid Festival in Westport this April!" shares Amanda. "Both of us are Seattle natives living in the PNW and we have been performing artist in various disciplines our whole lives."
Katherine Qi – April 2 and 9
University of Washington Oceanography Candidate Kathrine Qi will be attending Westport's Mermaid Festival on both Sundays. Meet her at her booth and watch her 2 p.m. presentation on ocean ecology on both days.
Knot for Sail – April 1-2
A band of pirates is promising lots of friendly shenanigans as they sing sea shanties. including originals and sing-a-longs! Look for them walking about between 12 p.m. and 4 p.m. on April.
Meet author Marissa Meyer on April 8, and Brianna Tibbets and Aura Stiles – who is also a mermaid! – on April 1-2. All three will be signing their books.
There will be artists and crafters as well, with mythical and magical treasures, jewelry, knotwork and artwork that capture the mysteries of the deep sea. You can even shuck an oyster for a pearl! Mine for fossils, shells and gems inside the museum for a fee. Kids can join in the pirate treasure hunt and all are welcome to try the free gyotaku – fish printing – station.
Don't worry about getting hungry, the Sea Glass Grill will be open for a scrumptious bite. And there will also be Buckin' Beans Coffee daily except April 2 and 9. Mellie's Mini Donuts will be serving their tasty treats daily form their food truck.
 "We can't wait for another great year at the International Mermaid Museum Festival," says Olive the Alchemist. The Mermaid Festival allows visitors of all ages to escape into the fantastical world under the sea. For more information visit the International Mermaid Museum website.
Sponsored