For 44 years the Country Christmas Bazaar has been a family holiday tradition. This holiday market in Grays Harbor has over 240 booths full of everything you need for seasonal decorations and gifts for everyone on your list. All are handcrafted items, so you are supporting local businesses and artists too! Mark your calendars for November 18-19, 2023 for this year's Country Christmas Bazaar in Elma at the Grays Harbor County Fairgrounds. Parking is free. Admission is a suggested donation of a non-perishable food item. After all, 'tis the season for giving!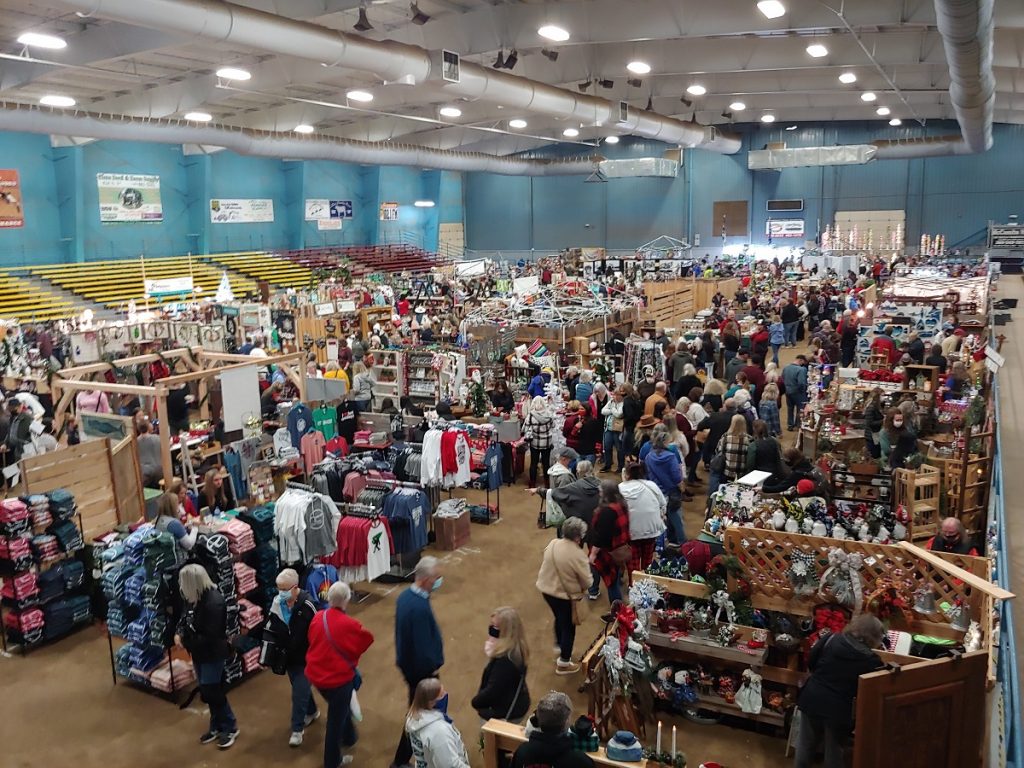 History of the Grays Harbor's Christmas Bazaar
The beloved Country Christmas Bazaar has been making gift and holiday home décor shopping easy for 44 years. Since the beginning, the bazaar has been a family-run affair. "My mom, Karen Olson, started the bazaar in 1978," shares Carrie Vessey. "I was three. She and her cousin, Marilyn Olson, were crafters who wanted to find a way for them and other crafters to sell their goods. The first bazaar was at the McCleary Community Center. It involved about 12 people who made a variety of handcrafted items. However, the weather that weekend was incredibly stormy so they got very few customers. I am told that they spent their time playing cards, visiting, and swapping goods with each other."
Stormy weather did not put a damper on their spirits, however, and the family continued with the idea of the Country Christmas Bazaar. Every year it got bigger. Soon, it outgrew the McCleary Community Center and moved to the VFW Hall in McCleary. "After a few years – I don't know the exact timeline – Marilyn became busy with her own small business and my mom Karen took over as sole organizer/director of the Country Christmas Bazaar," Carrie shares.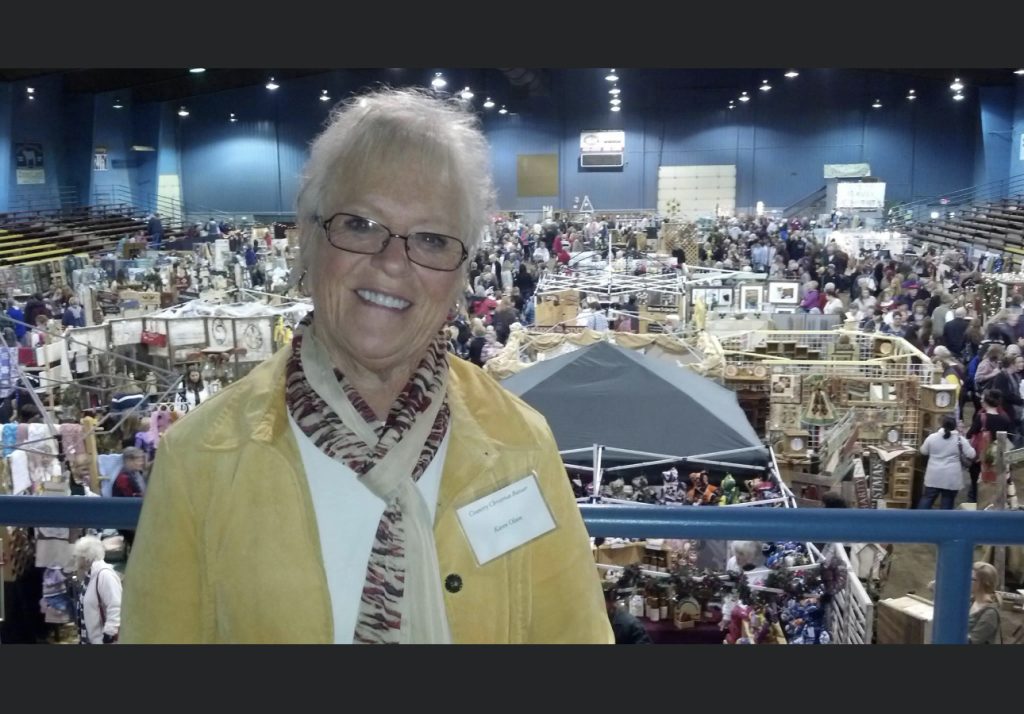 Once again, after a few years, the bazaar outgrew its space. This time it moved to the Grays Harbor County Fairgrounds, where they could use the entire pavilion for the event. "The Grays Harbor County Fairground crew have been amazing partners in helping to facilitate the large amount of traffic and shoppers on-site during the Country Christmas Bazaar," adds Carrie.
Carrie says her mom organized the entire thing herself each year. Other family members would help with set up and clean up, but everything else was lovingly done by Karen herself.
In May 2017, Carrie's mom and co-founder of the Country Christmas Bazaar passed away. "She made it very clear that she wanted the Country Christmas Bazaar to continue on," Carries says. "Our family – my brother and sister-in-law, Jason Olson and Missi Olson, and their kids Jayden, Kyle, and Kassedy Olson, and my husband Travis Vessey, son Grant Vessey, and I – promised that we would continue it in her honor. It is her legacy and it is our honor to keep it going."
It has been no easy to feat to accomplish what Karen had done by herself all those years. "Now that she is gone, it literally takes a team to do it," Carrie shares. "We are lucky to have an ultra-supportive extended family! My cousins, Mark, Heather, and Casey Bassett, and close friends Michael and Katy Moore are on-site to help with all things on set up day and weekend of the event. My sister-in-law Missi Olson is the one who is in charge of everything relating to our vendors. She does an amazing job facilitating the special requests and scenarios that come up."
2023 Country Christmas Bazaar
If you are looking for something unique that you can't find in stores, head to the Country Christmas Bazaar in Elma. "It was very important to my mom that the Country Christmas Bazaar be centered around items that are all-handmade," shares Carrie. "Everything sold by a vendor is handmade, handcrafted, or handgrown by them. No commercial products are allowed."
Some of the vendors have been with the bazaar for over 30 years – they are crowd favorites that are sure to help you knock out your holiday list. And, if you have been attending for years, there are always new and exciting vendors to discover as well! You will find everything from jewelry and clothing to tea and pet products. Look for bath and body items, specialty décor for every interest, from Christmas to hunting, and so much more! From books to toys, there is really is something for everyone.
The Country Christmas Bazaar is happening Saturday, November 18, 2023 from 9 a.m. to 5 p.m. and Sunday, November 19, 2023 from 10 a.m. to 3 p.m. Elma High Schoolers will be at the door waiting to accept any non-perishable food donations.
When you get hungry, no need to leave! Just hit one of the amazing food vendors, including the Fairgrounds' Snack Bar and the Elma High School Class of 2024 hosted taco/baked potato bar. Satisfy your sweet tooth with an espresso, mini donuts, kettle corn and, of course, all the specialty baked goods!
With so many vendors, you will want to stay and attend both days – and why not, parking and admission is free! – so book a stay now at a nearby hotel or RV park, such as the Stay Beyond Inn & Suites or the Elma RV Park.
Create Your Own Memories at the Country Christmas Bazaar
Carrie's favorite memories about the Country Christmas Bazaars have to do with her mom, of course. "My favorite memories of the Country Christmas Bazaar are when I think back to what it was like to watch my mom do her thing," she says. "She was this little ball of energy and kindness, and she took care of business! She walked around with her notepad taking notes, fixing issues, meeting new people and praising her vendors, whom she was so proud of. She poured herself into making it the success that it is. She knew all the vendors so well and many became friends who she spent time with throughout the year, not just in November."
This year head to Elma and make priceless memories with your mom, children, husband, friends, etc. Because, more than just shopping, the Country Christmas Bazaar brings us together as a community, no matter where we live.
Country Christmas Bazaar
November 18: 9 a.m. – 5 p.m.
November 19: 10 a.m. – 3 p.m.
Grays Harbor County Fairgrounds
32 Elma McCleary Road, Elma