By Stefanie Bennett

A civic choirs' job is to inspire those listening to the performance to appreciate the art of the song. Its members' job is to share a love of choral music and a deep spirit of community. A night spent rehearsing with the Grays Harbor Civic Choir is an uplifting experience for many of its members.  Civic Choir is a non-audition, community based concert choir that warmly welcomes individuals ranging in age and musical background.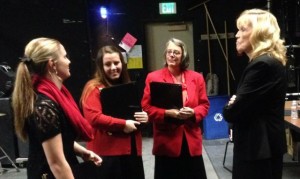 With over 30 years of directorial experience, newly appointed director Patricia Wilhelms, affectionately known as Pat, took up the reins this past fall and is hoping to steer the group into a very bright future. While it may be her first time leading the Civic Choir, it is not her first year of involvement with the community group.
When Pat and her husband, David, first moved to Grays Harbor, they were looking for a way to perform together. Back in 1978 the choir was then under the direction of Bob Neisinger, who is also a current member, and both Pat and David joined the singing group.
Pat's musical involvement in Grays Harbor may have started with a Grays Harbor College production of Little Mary Sunshine, but it was her twenty plus year career with the Aberdeen High School Music Department, and current involvement with her relatively new children's choir called Poco Voce, that has cemented her in Grays Harbors' choral history. The road to Civic Choir Director came through an answer to an advertisement in the newspaper, and now Pat seems to be busier in her retirement than ever before.
Civic Choir is a homecoming of sorts for Pat, with its members including many former students and parents of students, colleagues and friends. The chorus boasts mothers and children, fathers and grandfathers, and students and professionals. Mother and daughter duo Laurie and Meagan Yeoman showcase this family connection. Laurie, a long time civic choir member, recently took a few years off and chose to come back to the singing group this past fall. Her return is partly due to the new director and also partly due to wanting to bring her daughter with her. Laurie's mother was also a member when the choir was in its infancy and Laurie used to bring Meagan to practice when she was just four years old. Meagan now attends Grays Harbor College and this year is the first year she is singing in the group alongside her mother. Both mother and daughter emphatically agree that "it is the camaraderie, the music and being a part of something special" that keeps them coming to practice every Tuesday night week after week.
While practice is the place to flex your vocal muscles, the group enjoys the thrill of performing even more. The Civic Choir performs two concerts a year at the Grays Harbor College Bishop Center of Performing Arts, a Holiday Concert in December and a second concert in June. The June concert is what the group is gearing up for currently. The members are busily rehearsing a beautiful piece by composer John Rutter called the Magnificat, and playing around with several American Songbook medley compilations.
Pat says that she "has a vision of the group growing to twice the size it currently is." The thirty member choir is a great slice of the population, but she sees the group expanding and performing a wider variety of music. She is hoping to gain a wider audience at the June 8 concert. The performance starts at 3 p.m. and tickets will be available both at the door and through the Grays Harbor College Bishop Center website.