A career in medicine is profoundly rewarding. Long years of study and practice are difficult but knowing that you directly benefit your chosen community every day is tremendously rewarding. At Grays Harbor Community Hospital, they've recently welcomed three new primary care providers to their thriving family and that's a win/win for the entire region.
Our area greatly appreciates their help. Across Washington State there are approximately 97 primary care physicians per every 100,000 residents. In Grays Harbor, however, there are only 34 per 100,000. That's lower than the national average of 40 per 100,000 in most rural communities and "This uneven distribution of physicians has an impact on the health of the population," says the National Rural Health Association.
Mia Gerard, MSN, FNP, is a provider with Highland Family Medicine. She grew up and started her nursing career in the Philippines and came to Grays Harbor in 2010. "I've worked in various clinical settings such as critical care, medical/surgical and long-term care," says Gerard. "I have experienced multiple levels of care by spending time as a certified nursing assistant, a registered nurse, and a charge nurse before finalizing my schooling to become a Family Nurse Practitioner."
Although she is from the Philippines, Gerard wanted to make Grays Harbor her home. "With years of experience working as a nurse, I have seen the need for primary care providers in our community," she says of choosing to practice in Grays Harbor. "I want to be able to expand the level of care and offer more service to the people of Grays Harbor, which is why I wanted to pursue my education and become a Family Nurse Practitioner. This is my home now and this is where I want to be. I hope to bring a positive change to this community and help improve the peoples' quality of life by promoting a healthier lifestyle."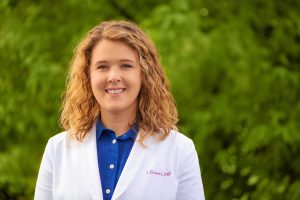 Her colleague Jacqueline Flowers, DNP, is a provider at the Montesano Clinic. A graduate of Elma High School, she moved away for schooling but was happy to return. "I felt that I clicked with the primary care team within GHCH and the mission/values of the organization," she explains. "I especially liked that GHCH has that hometown medicine feel where those providing care are personally invested in the community. I take pride in caring for a community which I have been a part of."
"Having spent my nursing career in a large, urban level II trauma emergency department, I was looking forward to transitioning to a more proactive side of medicine," says Flowers. "I enjoy establishing a therapeutic and trusting relationship with my patients and being able to work with them towards their health and wellness goals.  I love seeing my patients back in clinic, whether that's being able to celebrate their successes or helping them to navigate bumps in the road as they arise. Hearing about the birth of a new grandchild, antics of a beloved pet, or other happy moments in my patients' lives brighten my day. Plus, I'm a country girl at heart and much prefer rural living versus big city life."
Another local addition is Rachel Faught, ARNP, a Prompt Care provider. Born and raised near Coeur d'Alene, Idaho, she is a Family Nurse Practitioner who worked in emergency department nursing for seven years.  "I did many of my clinical hours while in school in Elma, and I fell in love with the idea of small-town medicine," she explains. "It's so much more appreciated than in areas rich with healthcare options.  I originally thought I would do Primary Care because I really enjoyed getting to know patients over multiple visits, but acute care is where my heart is. I think it's really important to have same day or next day appointments for less serious complaints to keep patients from going to the emergency department."
Wherever they came from or whatever their daily duties might include, all three are dedicated to one thing: keeping their chosen community healthy. Becoming part of the Harbor Medical Group felt like the best way to use their time and talents and the community inside and outside the hospital have welcomed them with open arms.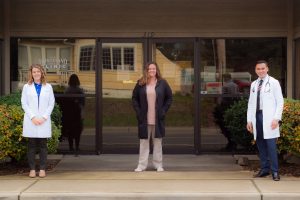 "Everyone in the rural area should have access to safe, effective, patient-centered, timely, efficient and equitable health care," says Gerard. "The expanding roles of both nurse practitioners and physician assistants as clinicians has given me hope that we can begin to bridge the worrisome shortage of physicians in rural communities. Also, promoting the use of telehealth with clinical health care services can help reduce challenges such as transportation issues in accessing specialty care."
Search GHCH Primary Care physicians by clinic, specialty and location or call 866-537-2778 to reach the Appointment Contact Center. Rest assured that no matter who treats your needs, they'll have a caring heart for their chosen community.
Sponsored