By Chelsea Royer

I have often pondered the potential downtown Aberdeen has for beauty and success. I've often wished capable locals would chase their dreams and bring back their business to downtown. It's an exciting thing for me when I see it happening in the form of new businesses popping up and succeeding or expanding. Jay's Farmstand is one such business.
Jay Fagerstedt, owner of Jay's Farmstand, has a sort of modern Cinderella story. Having lost his job and come to the end of his unemployment checks, Fagerstedt had a choice to make: accept the managerial position at McDonalds or take a gamble and pursue opportunity in the form of a produce stand.
Maxing out all his credit cards, Fagerstedt rented a run-down gas station near Safeway and tried his hand at selling fruits and vegetables. He had worked in produce many years prior and discovered quickly that it would be the business side of things to present the challenge. Rather than sink beneath the obstacles, Fagerstedt persisted and a year and a half later moved his business to the side of Michael's Meats. Twelve years old, its been quietly tucked into the side of Michael's Meats successful, but reserved.
Fagerstedt's dream continues and his hopes for Jay's is being realized. He has moved his business location once again, this time to the historic Olympic Candy Company building where Fagerstedt has many times the space and much better parking. With all the extra space, Fagerstedt hopes to bring in more vendors and grow into a full-fledged Farmer's Market. With organic spices, handmade crafts, and local honey, the ball is already rolling.
"We needed this space to do what we want to do – we want to bring in the organic line and begin a farmers market. I've lived here over 50 years and seen our town go from boom-town to…not so boom. Anyone who's been here and seen the history wants to revitalize the town. I've seen what this town was…everyone wants to see it back," explains Fagerstedt.
His plans will help deck out the main drag of Heron Street in downtown Aberdeen. With plans for outdoor sales, Fagerstedt is hoping for floral vendors, craft vendors, and food stands. Fagerstedt adds that they have between two and three bands lined up for entertaining on weekends. Most of these things are in development and may be slow going over this summer. But by next year, he hopes for these things to be staples and regular happenings at Jay's Farmstand.
Because of the larger space, Fagerstedt has the ability to expand his selection. Organics 101 Market (a soon-to-be-open store in Montesano) is becoming one of Jay's newest vendors. There are plans for a line of organic produce, dairy products, as well as the possibility of organic frozen meats. Jay's will eventually carry as much organic produce as it does non-organic. Fagerstedt credits the stand's success to fortunate timing. "We just started off at the right time – right on the edge of the health movement. You couldn't hardly give away kale ten years ago, but with juicing and such, people really want that stuff."
Despite increasing business and expansion, Fagerstedt insists its not just about the money. "I think basically that you have to like what you're doing. Everyone needs a certain amount of money to survive, but it can't be about the money. It needs to be your passion…what are your dreams? There are a lot of people on fixed incomes who have to watch what they spend and we have the ability to help the community. When they come and say thank you for keeping your prices down, it makes you feel good…we want to be fair to everyone," says Fagerstedt.
Fagerstedt tends to hang in the background, working hard and unnoticed. In all the years I've shopped at Jays, I've never before had the opportunity to meet the owner. After chatting with him and bombarding him with questions, I felt more convinced and motivated to shop there. Fagerstedt has the genuine humility of an honest business owner and I believe in the positive presence Jays Farmstand has in the community.
Outside of keeping low prices and donating to food banks, Fagerstedt is a firm believer in giving employees the benefit of the doubt. "Everyone here I think has been down and out at one point in time. We are second and third chance type people and I like giving people who are down an out an extra chance. I once hired a girl no one else would hire because of her past and she ended up being one of my best employees and now has a professional job.  Most of these people (employees) become my friends and we treat each other like family…Everyone pulls their own weight. I care about them and I think they care about me," reflects Fagerstedt.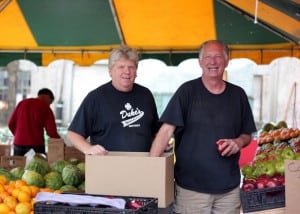 I am keeping an eager eye on the growing farmstand and looking forward to upcoming events, vendors and music. If you are interested in being a part of the excitement, contact Jeff Frankum 360-349-4669. Fagerstedt is looking for variety.  Who knows? Maybe becoming a Jay's Vendor could kickoff your own business success story.
303 East Heron Street
Aberdeen, WA 98520
360-532-8842