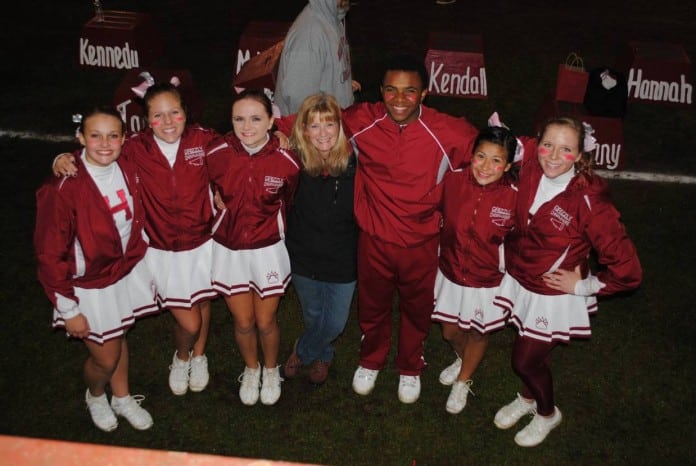 By Gail Wood

In 1994, Charlotte Helland made what she thought would be a four or five year commitment.
She became the cheerleading coach at Hoquiam High School, determined to give the program some stability. In the four previous years, when her daughter was a cheerleader at the school, there was a new coach every year.
"I decided I'd apply because I'd put in more years than just one so that the girls could get some stability," Helland said. "I had no idea that I'd still be here 20 years later, starting my 21st year."
But she is. Now coaching girls who weren't even born when she first took the coaching job, Helland is back, helping the cheerleaders cheer.
After 20 years, Helland has become the familiar face at sporting events at Hoquiam. She's enjoyed every moment.
"I love the girls. I love their enthusiasm, their excitement," Helland said. "I think it keeps me young. The girls are so fun."
Helland, a 1974 Hoquiam graduate and a librarian at the high school, is still having fun coaching. Even during her busiest time – in the winter during the basketball playoffs and wrestling tournaments – she's not regretting her decision to coach.
"I always said when it becomes work I'd quit," Helland said. "When it becomes a job then it's time to leave."
She's still having fun.
Claire Fairchild, who was a cheerleader from 2005 to 2009 at Hoquiam, remembers Helland being the caring coach, ready to help with a problem.
"She was definitely more like a friend," Fairchild said. "Not that she wasn't an authority figure because she definitely was, but she also made us feel that we had a friend in her, too."
At Christmas, Helland gives her cheerleaders presents.
"They were always kind of sentimental with pictures," Fairchild said.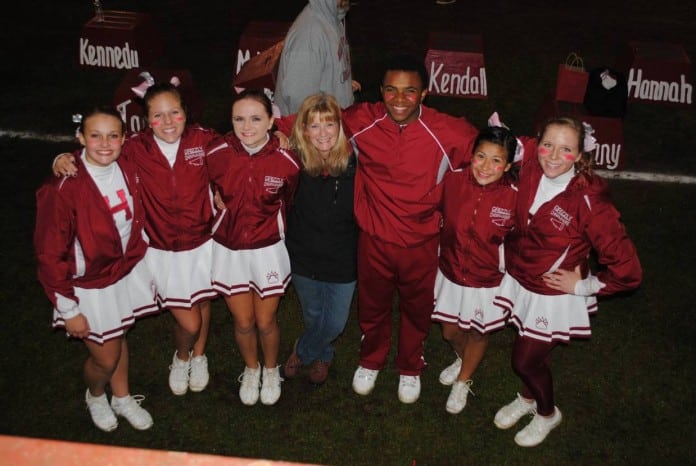 Helland keeps an open door policy with her cheerleaders. They know that whenever they have a problem – whatever it is – they can go and get help and advice.
"Whenever we had an issue or needed someone to talk to, we always felt comfortable going to her knowing that whatever we told her would stay in confidence," Fairchild said.
That connection Helland makes with her cheerleaders is often a lifetime bond.
"I've stayed in touch with her since I've graduated," Fairchild said. "We just pick up where we left off."
Being a cheerleading coach is a year around commitment. After tryouts in the spring, the cheerleaders practice two weeks in June and July and then the entire month of August. With 15 cheerleaders on the varsity and seven on the junior varsity, Helland's schedule can get pretty hectic. She attends all the sporting events the cheerleaders are at – varsity and junior varsity.
During basketball and wrestling season, there are two games a week for basketball and one match a week for wrestling. Then on Saturdays there are wrestling tournaments. In the fall, they'll practice once a week, preparing for pep assemblies.
"Other than that, we don't practice because the girls have games, they have homework," Helland said. "School is first. We don't practice too much so they can keep their grades up. That's important."
Even with that demanding schedule, she has no plans of retiring.
"When that time comes I won't announce it. I'll just walk away into the sunset," Helland said. "No hoopla. Too many tears. It will be a hard day to walk away."
Squeezing in all the evening sporting events sometimes gets in the way of dinner. In addition to the varsity games, she's at the junior varsity games. But she still hasn't learned to appreciate a good hot dog.
"I do eat nachos," Helland said with a chuckle.
Being a cheerleading coach doesn't just involve the games. There's also cheerleading camps and fundraisers.
"I don't think people know how much time she commits to the program," Fairchild said. "Behind the scenes, getting things ready for camps and fundraisers and events and tournaments. She's there for it all.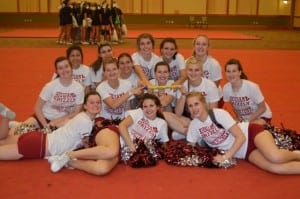 Hellend's daughter, Jesica Bryant, the one who was a cheerleader, is now a principal in Chelan. Her son, Terry Jr., is a teacher at Hoquiam. And her husband, Terry, who is also a Hoquiam  grad, is a teacher at their alma mater.
Over the years, Helland hasn't entered her cheerleading teams into competitions. Her idea of cheerleading is to cheer and support the teams of the school, not compete in state meets. Her cheerleaders have busy enough schedules already.
"We're a small school," Helland said. "I've got cheerleaders who play volleyball, run cross country or are in the band. My girls are very active besides cheer. And if you add a competition, woah – it would be crazy."
And Helland knows all about being crazy busy.