By Rachel Ayres, Montesano High School intern to GraysHarborTalk
Recently, the story of Montesano High School (MHS) graduate Robert (Bobby) Moch has gone from the plaque of the high school's Hall of Fame to the pages of a New York Times Best Seller, The Boys in the Boat.
Moch's story begins June 20, 1914, in Montesano. His father, Gaston Moch, was a jeweler in town. His shop was "where mother and everyone else went for wedding presents, graduation presents, and wristwatches," said Pat Clemons, a Montesano resident, who is also in MHS's Hall of Fame.
"I believe he and his family lived a relatively comfortable town life," The Boys of the Boat author, Daniel James Brown, said. "Though I'm sure the Depression affected them as it affected pretty much everyone."
As a high school student, Moch was not very tall for his age. "Even though he was only 5'7″ he went out for basketball at Montesano High, and lettered in the sport. He also liked to join in sand lot football games, even though he was always the smallest kid on the team," Brown stated. It was also well known that Moch was quick witted, intelligent, and a go getter.
After graduating from Montesano High School in 1932, Moch continued his education at the University of Washington. There, he was first introduced to crew, a sport where athletes row a shell boat. Though he was not the typical large size for rowing, he was a perfect fit for coxswaining, which requires those with small stature, a quick mind, and a loud voice.
As Brown puts it, "The coxswain is central to the success of any boat. It's something like the role a quarterback has to play in football. There is always a game plan going into each race, but once the boat is on the water, circumstances change quickly and the coxswain has to be the one to change the plan and communicate the change to the rest of the crew. He or she often has to make split second decisions that will determine the outcome of the race."
"He was good at taking charge of men, even men much larger than he was," said Brown. "He was very smart, so he quickly rose in the ranks of potential coxswains for the 1936 Olympic boat.". Together the UW Huskies won the final Olympic trials and boarded the SS Manhattan. Bound for Berlin, Germany, the nine man team along with their racing shell, the Husky Clipper, crossed the North Atlantic.
Even though it was five years before the United States would declare war on Nazi Germany, tensions were growing. In fact, the United States debated whether to boycott the Olympics. In his book, Brown describes in detail how Berlin had "put on a fake front" for tourists. Meanwhile in other parts Germany, concentration camps were being assembled. The discrimination of Jews, along with other targeted groups, grew increasingly worse.
Just before leaving for Berlin, Moch found out some life changing news. In a letter, his father told him that he was Jewish. "His father kept that from him, in hopes of protecting him or maybe having an easier upbringing," said Teri Zillyett, English teacher at MHS, as well as a member of the Hall of Fame committee. "This was a very emotional part of the book to me."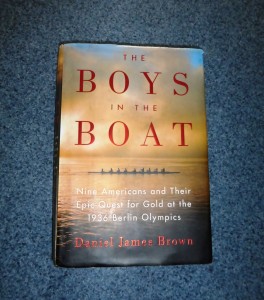 Spoiler Alert: The team went on to win gold in the event, beating the others despite unthinkable obstacles including a very sick teammate and a late start to the race.
"Moch was the one who had to figure out a way to get the boat back into contention after they had a terrible start," said Brown. The race of their lives became a desperate situation.
"It was up to Moch to get his crew to rally. As they came into the final few hundred meters the German fans in the grandstands were chanting 'Deutschland, Deutschland, Deutschland' so loudly that the crew couldn't hear Moch's commands. He had to grab a wooden dowel and pound it on the side of the boat to get the boys to take the rhythm up to the extraordinary 44-strokes-per-minute that they needed in order to win," Brown said. And with a flying finish, they indeed won.
After college,  Moch signed on as assistant crew coach at the UW, under his old coach. Moch later went on to become the head crew coach at Massachusetts Institute of Technology (MIT), and earned his law degree from Harvard Law School. Moch became a very successful lawyer in Seattle, even winning a case in front of the U.S. Supreme Court.
"He also spent a good deal of energy later in life trying to get more recognition for his crew – for what they had pulled off in Berlin," remarked Brown of Moch. So, that is how it came to be that Moch is in the MHS Hall of Fame.
"I first learned of Robert Moch [being] in the 1936 Berlin Olympics when we inducted him into the Hall of Fame for Montesano High School," said Zillyett.
Even though Moch's legacy is decades old, the story of the determined young man still resonates today. A movie is even in the making about the 1936 win for the UW crew team. "Bob Moch managed to master his circumstances and emerge as a truly dynamic leader. He was just a great guy," said Brown.