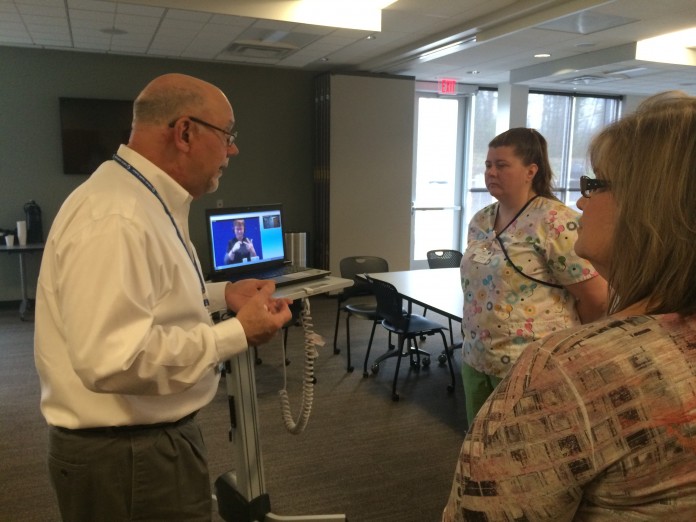 Submitted by Summit Pacific Medical Center
Imagine you go into a hospital with an ailment of some kind. You don't speak the same language that everyone else does and you are scared. You wonder, "What is wrong with me? Will I be okay? What kind of treatment will I be receiving?"
In order to provide the best care it is important for all healthcare facilities, large and small, to have a language interpretation strategy. Summit Pacific Medical Center (SPMC) recently implemented new technology that allows caregivers to connect patients with a live interpreter via video conferencing. Simply click on a language and wait to be connected with your personal, Certified Medical Interpreter (CMI). But you don't have to wait long, he or she (you have the option) will be available in 15 seconds or less through a video conference.
The interpreters will greatly improve how SPMC provides patient care. Kathy Miller, Clinic Manager at Elma Family Medicine said, "Patients who do not speak English or who are LEP (limited English proficiency) have difficulty participating in their own health care. They have difficulty understanding information from their provider and the language barrier can negatively impact patient-provider communication."
"By using a video interpreter they ensure patients and clinicians understand each other fully," said Miller, who also shared, "With InDemand Interpreters it gives us fast access to highly trained medical interpreters within seconds at the touch of a button. They are available 24/7/365."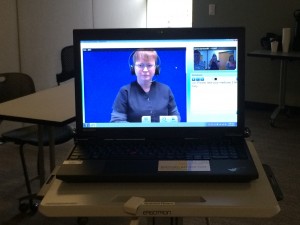 InDemand Interpreting, the company that provides the service, only hires CMI's because there are some words that do not directly translate into other languages. During the interpreter training, a representative from the company explained that there is no word in the Spanish language for gallbladder. CMI's are trained to explain these missing words to patients, ultimately making the patients more knowledgeable and comfortable with the care they are receiving. For additional patient comfort, this service is also equipped with a privacy curtain that can either block the interpreter or the patient view.
Miller said, "The most commonly used language has been Spanish and Romanian one time." Although only two have been utilized, SPMC is ready to accommodate many more languages.
The program includes 17 popular languages: Amharic, Arabic, American Sign Language, Burmese, Cambodian, Cantonese, French, Haitian Creole, Korean, Mandarin, Nepali, Polish, Russian, Somali, Spanish, Tigrinya and Vietnamese as well as more than 200 languages through voice interpreting.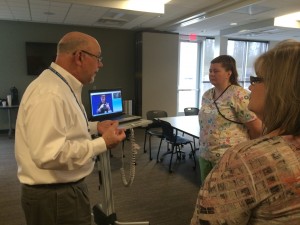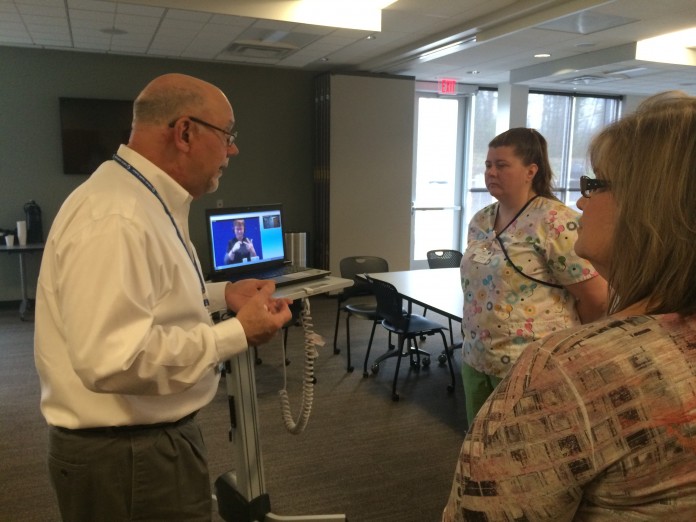 InDemand Interpreting allows up to six different languages to be video or audio conferenced into one session. Although it may not be a common necessity, it can come in handy. For example, a deaf Arabic woman comes in to the Emergency Department and needs to contact her Russian speaking mother-in-law.
It is important to SPMC to provide quality care to patients. It is SPMC's mission to passionately provide essential healthcare to all individuals of our community with an emphasis on quality, access and compassion. Access to knowledge is something that everyone needs. Language doesn't have to be a communication barrier anymore; it is an opportunity to provide a higher quality care for patients.
Other ways of providing interpreter services are over the phone or by in person visits. These methods both lack something. You lose all non-verbal communication when only using audio to communicate. And the availability of an in-person interpreter may not always be when they are most needed.