By Rachel Monroe

Ever since my kids were babies, they've loved music and dancing. As a mom, I've read how music has a powerful and positive impact on young children. When I discovered there were Kindermusik classes —right here in Grays Harbor I didn't waste much time signing my kiddos up.
Kindermusik is a national organization that has developed an outstanding curriculum for parents and educators. At present, Kindermusik has touched over 1.5 million families in 70 countries. This far-reaching impact is made possible by training individuals to teach these classes in their own communities—people like Aries Light who is touching Grays Harbor residents everyday with the gift of music.
A Business with a Mission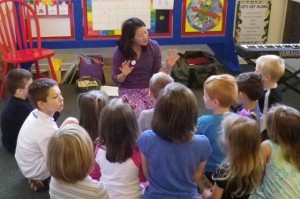 Light has a passion for music and in 2012 decided to turn that passion into a career. She first came across Kindermusik while searching for fun, family activities for her and her young daughter. Since there were no local Kindermusik classes, they attended a trial class in Olympia. "We had so much fun playing instruments and dancing together with the music," Light said.  "My entrepreneurial spirit led me to research for the opportunity to bring Kindermusik to Grays Harbor."
Light contacted the Kindermusik organization to be trained and certified to teach their curriculum. After passing a vocal test, she worked with a Kindermusik mentor before offering her own classes.
Touching Young Lives
Light offers multiple types of classes to suit your child's needs and development. This includes classes for infants, toddlers and preschoolers. She also offers a "Family Style" and "Young Musicians" class at the Gayle Russell Dance Academy in Aberdeen.
The "Young Musicians" class is designed for children, between ages 5 to 7, who are eager to begin exploring musical instruments and theory in a fun, interactive way. Light explains that students in this class will experience singing and vocal development, movement and focused listening. She noted that they will also have the ability to explore numerous instruments including the glockenspiel, resonators, drums, bells, triangles, castanets, maracas, finger cymbals, zig zag blocks, sand blocks, wood blocks, rhythm sticks, guiro, rainmakers, shakers, chime balls, slide whistle, recorder, harmonica, lap harp, ukulele, guitar, and keyboard.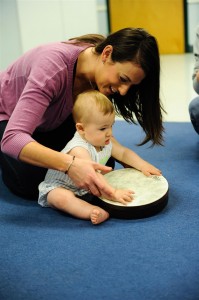 "Our goal is to help children learn and grow through fun, interactive activities that stimulate brain growth, build motor skills, enhance social emotional development and build confidence," Light said. "In the long run, the lessons will help strengthen the musical foundation for students and instill a lifelong love of music and learning."
Family Style classes are designed for children birth through 7 years. "In our Family Style class, families share the experience of singing, instrument play, moving, dancing, cuddling, family jams and more," Light said. "From newborn to grandpa and everyone in between, there is room in a Kindermusic family class for everyone." In these fun-packed sessions, children and families will dance with scarves and ribbons, listen to stories and poems and play with a variety of instruments.
"Each month, Kindermusik features a new theme, so there is always something new to learn," Light said.
Music Far and Wide
With a passionate desire to help as many children in Grays Harbor as possible learn through music, Light also teaches Kindermusik at Raindrop Cooperative Preschool and several moms' groups in Aberdeen and Montesano. "This summer, there will be two Kindermusik playdates at Tracy's Tikes Daycare and Preschool in Montesano," Light added. "Also, we participated in the Grays Harbor Public Health and Social Servicers' 'Parents as Teachers' program in June. Last summer, Kindermusik was one of the fun summer activities at the Hoquiam Timberland Library."
A Life-Long Passion
For Light, music has always been an important part of her life. Born and raised in Hong Kong, she points out that music is "ingrained in early childhood education" in that country. Throughout her early life, she took voice and music lessons and was involved in both church and school choir. She attended college in the United States, graduating from the Old Dominion University in Norfolk Virginia with a Bachelor of Science in International Business Management and a Master in Business Administration.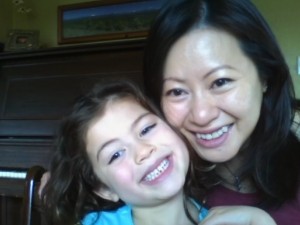 While working for a global chemical company as their marketing manager, she met and married her husband, Scott Light. They moved to Portland, where Light opened a home and garden retail shop. After five years, she sold her thriving business and moved with her husband to Pineville, Oregon where he worked as a physician's assistant. In 2008, Scott's career brought him to Grays Harbor Community Hospital.
Light notes that her family has come to cherish their lives in Grays Harbor "We love our church, our community, neighbors and friends. We enjoy how close we are to the beach, lakes, and Olympic National Forest," Light stated.
One of the highlights for Light is her ability to teach music to the kids and families in the Grays Harbor community. "I love what I do as a Kindermusik educator," she said. "I love seeing young children grow with confidence when they learn how to master new skills through our music and movement activities. I love my Kindermusik families who take their time to build strong bonds with their little ones."
For more information or a schedule of available Kindermusik classes, visit Light's website at http://www.kindermusikwitharieslight.com/.