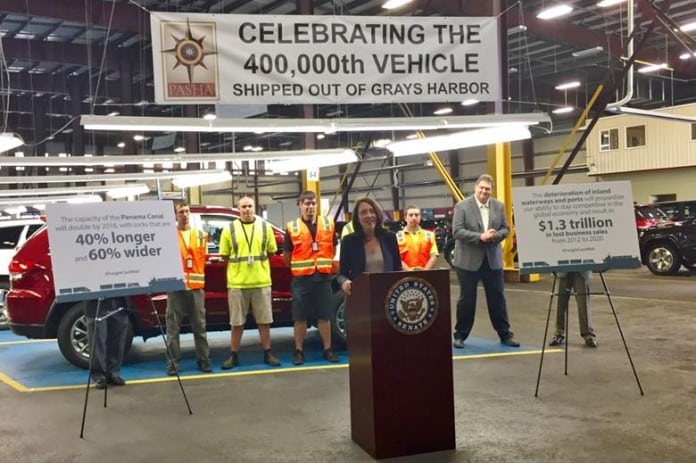 Submitted by Port of Grays Harbor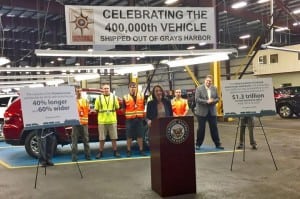 The importance of transportation infrastructure and freight mobility to rural communities couldn't be more apparent than at the Port of Grays Harbor.  On Wednesday, Port officials and community leaders welcomed U.S. Senator Maria Cantwell as she promoted the Developing a Reliable and Innovative Vision for the Economy (DRIVE) Act, the long-term transportation funding bill that passed the Senate on July 30th.
The bill includes a first-ever national multimodal freight policy, new strategic freight planning, a program to specifically invest in multimodal freight and port projects, the creation of a freight investment grant program authorized for $200 million annually over the next six years, and the creation of new funding for grade separation and short-line rail projects that are critical to community economic development and safety.
The largest commercial seafood landing port in Washington State and leading exporter of American grown soybean meal and American made automobiles on the West Coast, the Port of Grays Harbor is an example of how transportation infrastructure is critical to getting goods to market, and creating jobs.  More than 2,700 jobs in this rural county are directly related to Port infrastructure.
"We sincerely thank Senator Cantwell for her leadership in recognizing the need for strategic freight planning and funding so that U.S. manufacturers and growers are able to efficiently get their products to markets around the globe via highways, railroads and ports, like ours," stated Executive Director, Gary Nelson.  "As a rural port district, served by both class I railroads by our short-line partner Puget Sound and Pacific Railroad, and the only 4-lane highway to the coast north of San Francisco, we know and value the importance of multimodal freight projects and fully support the DRIVE Act as a long-term avenue for improving freight mobility across the nation."
Founded in 1911, the Port of Grays Harbor is one of Washington State's oldest port districts and Washington's only deep-water port located directly on the Pacific Ocean.  The Port of Grays Harbor operates 4 deep-water marine terminals, the Westport Marina, Bowerman Airport and numerous industrial and business parks throughout the region.  The addition of Satsop Business Park increases the Port's properties to more than 1,000 acres of industrial properties and an additional 1,200 acres of sustainably     managed forestland.   Strategically located midway between Seattle and Portland and less than 1 ½ hour from open sea, the Port of Grays Harbor provides businesses a diverse portfolio of facilities. More information on the Port of Grays Harbor's facilities and operations is available at portofgraysharbor.com.