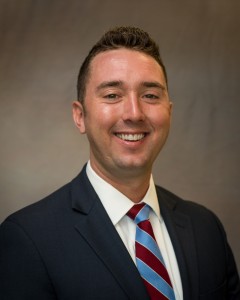 When you hear someone mention Olympia Orthopaedic Associates you may automatically think of surgery or joint replacement. And if you need specialized orthopaedic care, their physician's expertise and experience can't be beat. But for those everyday aches, pains, and occasional injuries, you can turn to Oly Ortho as well.
The Sports Medicine Clinic in the West Olympia location sees patients of all ages who may have suffered a sports or active lifestyle related injury. Dr. Tracy Hamblin has been seeing patients at the clinic for over a year, partnering until recently with Dr. Leyen Vu. Dr. Hamblin is excited to welcome her new partner, sports medicine specialist Dr. Dominic Femiano who began seeing patients on October 1.
Dr. Femiano was born and raised in West Seattle. His father was an elementary school teacher (and taught young Dominic, too) and his mother was a nurse. Through their professions, Dr. Femiano had early modeling in the importance of educating and caring for others. His interest in sports medicine began early on while he was dealing with sports related injuries of his own, earned during many hours on the basketball court.
"I spent a fair amount of time with orthopedists and sports medicine doctors," he shares. Shoulder and knee issues earned landed him appointments with these specialists leading to a lasting interest in the field. Dr. Femiano's love of basketball continues today and he can often be found on the court as part of his active lifestyle.
Dr. Femiano "bleeds purple" and earned his undergraduate degree at the University of Washington. After graduation he headed east to Jefferson Medical College in Philadelphia. "Jefferson was a great place to learn medicine and a good place to get my start in the field," he shares. With his large, extended family located throughout the east coast, he not only had support from colleagues, but family as well.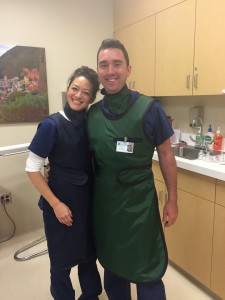 Although Dr. Femiano enjoyed life in Philly, Seattle remained his home and he returned to complete his residency in family medicine at Group Health Cooperative where he served as Chief Resident. He built on his family medicine experience, adding a fellowship in sports medicine at the University of Washington.
An awareness of medicine as a career choice started early for Dr. Femiano. "Well, I watched a lot of ER growing up," he jokes when asked how this interest began. "But seriously, I got this idea in high school that I wanted to be a doctor, to really help people, and it just never really left." As a teen, he volunteered at UW Medical Center and the Harborview Medical Center burn unit and, he says, "it just sealed the deal."
In addition to clinical work, Dr. Femiano will serve as the team doctor for the Lacey-based Saint Martin's University. He will also work closely with local high school coaches and athletes as team doctor. Working with student athletes is nothing new to Dr. Femiano, either. "During my fellowship, I worked extensively with the Husky athletes, attending all the sports and covering just about every event there," he explains.
His experience with athletes extends beyond youth. He has worked with the Seattle Storm (WNBA), serving as team physician as well as serving as Medical Director for the Seattle Marathon and Medical Captain for the Seattle Rock n' Roll Marathon.
He brings this extensive experience to the teams and athletes throughout the region, but more than that, Dr. Femiano brings this expertise to you. The Sports Medicine Clinic at Olympia Orthopaedic Associates is open to all patients and for most, a referral from their primary care physician isn't required. Suffering from a sports related injury or condition? Want the advice of a specialist? Give the Sports Medicine clinic a call and schedule an appointment with Dr. Femiano or Dr. Hamblin.
On top of his broad knowledge of sports related medicine, Dr. Femiano has expertise in the prevention and treatment of sudden cardiac arrest in young athletes. The heartbreaking stories of fit, young athletes who suffer heart attacks during routine sporting events caught his attention and Dr. Femiano has completed extensive research, and presented nationally to the medical community.
One of the most relevant areas of his expertise to parents of student athletes is the prevention, treatment and management of concussions. Dr. Femiano's special skills will be available to parents, and patients, in clinic, but more importantly, his participation on the sidelines and interactions with coaches will help ensure the safety of local student athletes from this increasingly common injury.
"I think sports medicine doctors are uniquely qualified to care for student athletes," says Dr. Femiano. "Not only do we know the musculoskeletal system but we have training as primary care physicians. This allows us to provide care for the other medical issues athletes present with from GI issues to depression to chronic illness."
You can visit with Dr. Femiano now at Oly Ortho's West Olympia location where he can help you maximize a 'Life in Motion.'
"My goal is to keep people active, which means different things to different people," he says. "Whether you are headed into your 50th marathon, are a gymnast trying to get healthy enough to compete, or are just trying to get to the gym, I meet people where they are and help get them to where they want to be."
Olympia Orthopaedic Associates
3901 Capital Mall Dr. SW, Olympia
360-709-6230