The offensive numbers being put up by the North Beach High School fastpitch team this season would make most football squads envious.
"We can hit," second-year coach Frank Pope said. "That's definitely a strength for us."
Through the opening 12 games this season, the Hyaks have simply ran roughshod through the opposition, combining to score a gaudy 201 runs over that stretch while posting a unblemished 12-0 record.
"The top of the order has a good combination of speed and power and our younger bats have actually improved a lot since the start of the season," Frank Pope said. "If our 7-8-9 hitters give us any kind of productivity, we are a very dangerous team offensively."
Dangerous may be an understatement. Lethal may be the more appropriate word to apply when talking about North Beach's batting lineup.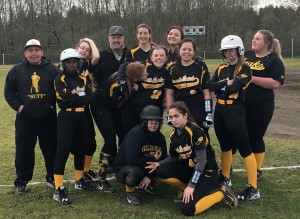 Few games have surpassed five innings as the mercy 10-run rule has been utilized more than a number of times. The Hyaks have scored 20 runs on three separate occasions and have yet to post a game where they scored in single digits with their lowest output occurring in a 12-2 victory over Tacoma Baptist.
Leading the offensive charge is Pope's daughter, Cora Pope, and fellow senior Emily Takagi.
Cora Pope, a former league most valuable player who is a three-time first-team all-league selection, batted .920 through the first eight games this year, while Takagi wasn't far behind, hitting at an .859 clip.
"They've been our 1-2 punch for a while now," Frank Pope said. "It's nice having them in the lineup because you know how consistent they are at the plate. They're always going to find a way to get on base. And they have both shown some power this year too. Cora probably has three or four home runs already."
It's a senior class Frank Pope is certainly familiar with, having coached his daughter and her friends since they were in elementary school.
"For the most part the core group has played together since 10U ball," Frank Pope said. "They were always athletic. It just took them a year or so to figure out fastpitch."
Once everything started to click for the group, the wins quickly piled up. State championships for the class came in select ball at both the 12U and 14U divisions.
"They started playing teams from Puyallup, Olympia, Tacoma, bigger programs, once they started travelling with the select team," Frank Pope said. "It really helped improve them as players. During the summer they will play 40, 50 games."
That experience paid off once they arrived at North Beach as the senior class has won three consecutive Pacific 2B League titles, but one thing remains on the class's to-do list.
"Get to state," Cora Pope said. "Making the state tournament has been the ultimate goal for us for a long time. Every year we get close, but come up a little short. This is the seniors' last chance. We're definitely motivated."
At last year's district tournament, the Hyaks suffered an early loss, sending them to the loser-out side of the bracket where they defeated league rival Ocosta, 17-6, before bowing out to Morton-White Pass, 14-3.
"There's a lot of talent our district," Cora Pope said. "I think the key for us is to always be pushing ourselves. The speed of the pitchers is so different once you make the playoffs, and we're not used to seeing it at that level on a consistent basis during the regular season. So, I think we've let up before. One of the main things the seniors on this team have tried to stress to the other players this year is that everything we do is to prepare us for the playoffs."
The top four state placers at the 2B state tournament last year emerged from North Beach's district in state champion Adna, runner-up Napavine, third-place finisher Toutle Lake and fourth-place finisher Morton-White Pass.
"It's tough when you miss going to state by one game and then you see the four teams that finish ahead of you are the top four teams at the state tournament," Frank Pope said. "State is obviously the goal this year for this team. It's shown if you can make it out of our district you can do well at state."
Should that occur it would mark the first time North Beach has advanced to the state fastpitch tournament. The Hyaks' lone state slow pitch tournament appearance came in 1990 – two years before the state switch over to fastpitch.
Cora Pope has more than done her part in helping the program make history. Not only is she one of the top hitters, she is also one of the Pacific 2B's premiere pitchers – a status she's held since her freshman year.
With Cora Pope taking the mount, the Hyaks have been just as stingy on the defensive side, surrendering a combined 17 runs with six shutouts so far.
A fourth straight league title can be wrapped over during North Beach's upcoming three-game series with fellow league unbeaten Ocosta. The teams play a double header at North Beach on April 26 and meet again for a third time in Westport on April 29.
Then it's on to the postseson, and a potential history-making run for the program.