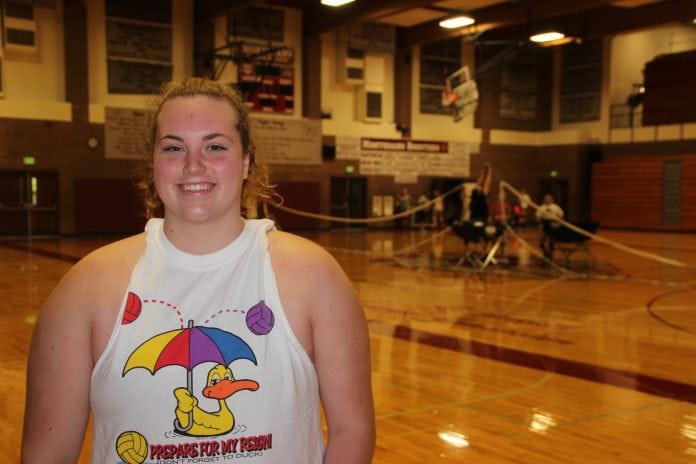 Maybe what's most amazing about Jordan Spradlin's accomplishments in sports is that it's plural. It's not just one sport, one event or even one time.

In a time when a one-sport focus is popular, she's the exception.
It's not just that she's been a starter and an all-league player on Montesano High School's volleyball team since she was a freshman. It's not just that she's been an all-league basketball player and the Bulldogs all-time leading scorer, averaging 19 points a game last season. And it's not just that she's a state champ in track, winning the shot put and the discus with school-record breaking throws.
And it's not just that she's a standout in sports, the one fans jump to their feet to cheer after a block at the net in volleyball or a swish in the key in basketball. She's not only a sensation in sports, she's also a whiz in the classroom. This Bulldog senior has a 3.957 GPA, getting A-minuses in astronomy and calculus, the only two "blemishes" on her high school report card.
"Most of the time I end up doing my projects at the games," Spradlin said when asked how she juggles academics and athletics. "I make sure I'm on top of it and I don't get behind."
So often when a kid is really good in athletics that eclipses the classroom. It becomes the focus. But Spradlin has kept a balance, becoming the true definition of student athlete.
"My parents didn't really have to bother me about homework," Spradlin said. "They knew I'd do it."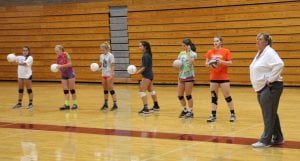 From first grade to 12th grade, Spradlin has never had a B on her report card. Her favorite subject is science. One day she wants to be a physical therapist or involved in sports medicine.
"Jordan is a good student," said Debbie Gibson, Montesano's long-time volleyball coach. "I never have to worry about her."
Besides her commitment to sports and to the classroom, Spradlin also finds time to commit to ASB. In the past, she's been class vice president and right now she's the parliamentarian, making sure everyone is following the school constitution.
"I don't watch a lot of TV," Spradlin said. "I don't have the time."
Like Spradlin, Shayla Floch has been on the Bulldogs' varsity volleyball team since she was a freshman, making it four straight seasons they've teamed up as middle blockers. It's an impressive combo. They're two big reasons why Montesano is off to an 8-0 start, knocking off a couple of 2A teams.
"They've been a big part of our success," Gibson said during a recent practice.
And like Spradlin, Floch isn't just a good blocker at the net. She's also a multi-sport standout, starting at wing in basketball and going to state in track, closing in on school records in the high jump (5-4 PR) and the long jump (16-11). And again like Spradlin, Floch hasn't let success in sports eclipse the classroom. Floch has a 3.94 GPA, making her another perfect example of student-athlete.
"School always comes first," said Floch, a 5-foot-7 middle blocker. "That's how I've been taught. I just try to get that done before I worry about sports. There's a lot of late nights. But it's worth it in the end."
Often, Floch is doing her homework on a bus ride home from a game or right after practice.
"I'm pretty good about staying up on my work," Floch said. "You never want to get behind."
Floch plans on going to Eastern Washington University and majoring in dental hygiene.
"Grades have just always been important to me," Floch said.
Success, whether it's in sports or in the classroom, has also come at a cost for Spradlin. It's not just talent. Spradlin will tell you that success doesn't just ooze out.
"It takes hard work," Spradlin said.
Spradlin has the package – she's 6-foot-1 – and the skill. But she also has the work ethic to get the most out of herself. And that's another life lesson Spradlin has pocketed from her years of involvement with sports.
The payoff for Spradlin isn't just the satisfaction of winning. It's also the satisfaction of earning a college scholarship. She's already been offered scholarships in track from the University of Arizona and Oregon State University. She'll make the choice os which college she'll attend in November.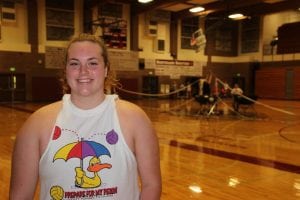 Spradlin first started thinking that an athletic scholarship was even possible during track season her sophomore year. That's when she first started to get letters of interest.
"I was like, 'Woah, that would be cool,'" Spradlin said. "Then it hits you midway through your junior year when coaches are calling you. Wanting you to call them. Then you think, 'Oh, I can do this.'"
As they near the end of their high school careers, it's been mission accomplished for Spradlin and Floch, both in sports and the classroom.