Submitted by Aberdeen Beautification Committee
Aberdeen's first Winterfest, a festive holiday season-starter in the downtown area, is Friday and Saturday, December 2 and 3, with traditional tree-lighting, community caroling, special shopping hours, activities for children and, of course, the arrival of Santa.
Planned in conjunction with the downtown merchants' First Friday extended shopping hours, the tree lighting ceremony in Zelasko Park kicks off the celebration at 5:30 p.m. Caroling by Harbor City Church Choir and Aberdeen High School Goldenaires is planned. F street between Wishkah and Heron Streets will be blocked off for the brief ceremony.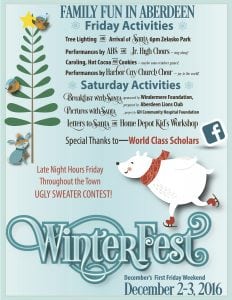 Once Santa arrives at Zelasko Park in a vintage fire truck and the tree lights are electrified, shopping in most of Aberdeen's downtown stores will be underway. Most businesses are also offering customers entries into drawings which will take place throughout the downtown area on Friday evening through Saturday afternoon. Participating businesses will display Winterfest placards.
Some Aberdeen restaurants, including Breakwater, Billy's, Amore', Scoops, Ocean Palace, Pizza Hut, Duffy's, Rediviva and Corteses are offering discounts or dinner specials Friday evening to customers wearing Winterfest bracelets which will be distributed at the tree lighting. 
On Saturday morning, Santa will be back at 9:00 a.m. at the D & R Event Center, located at Heron and I Streets, ready for breakfast with local children sponsored by the Windermere Foundation and prepared by the Aberdeen Lions Club. Children through sixth grade will receive, breakfast for free; older youth and adults will be charged. There will also be a $10 cost for photos with Santa, a fund-raising project offered annually by the Grays Harbor Community Hospital Auxiliary. Santa will be available for the Auxiliary's photos from 9:30 a.m. to 11:30 a.m. and again between 12:30 p.m. and 2:30 p.m.
Also at the Event Center on Saturday morning, Home Depot will organize a kids' take-home craft workshop. Children can also write and mail letters to Santa.
In addition, everyone should get ready to participate in the Ugly Sweater Contest. Judging will take place online with contestants posting photos on the Winterfest Facebook site.
Winterfest is being organized with downtown merchants by the Aberdeen Beautification Committee with the Aberdeen Revitalization Movement. Further details about the two-day event are available on Facebook at Winterfest-2016.