Submitted by Providence Health & Services, Southwest Washington
Free event: March 21, Aberdeen Cancer Center, 5-7 p.m.; dinner provided
For most people — and their loved ones — a cancer diagnosis can be overwhelming. It's an experience no one wishes to have in their lifetime. During this time, there is a need for trustworthy information, resources and caregivers.
The Providence Regional System wants to help. A free class, Cancer 101, will take place Tuesday, March 21 at 5 p.m. You do not need to be a Providence patient to attend.
RSVP HERE or by calling 360-412-8949.
From diagnosis to treatment and more, you'll learn from our team of cancer experts what to expect as you navigate the path ahead. Dinner for each patient and guest is provided, as well as resources and time to ask questions.
Cobie Whitten, Psycho-Oncology Consultant for the Providence Regional Cancer System will lead the session. "We are excited to offer Cancer 101 in Aberdeen.  Those who have attended sessions in Olympia and Centralia say that they now have a better understanding of the disease, treatment, and the available resources. Also, it is good to meet with our team of health care providers in a relaxed setting over dinner."
The evening will also showcase the opening of the new Cancer Resource Center at the Aberdeen Providence Regional Cancer System clinic. Ryan Whisnant, Health Systems Manager for the American Cancer Society explains: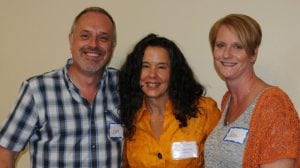 "Providence Regional Cancer System and the American Cancer Society have a long tradition of partnering together to improve the quality of life of patients battling cancer.  I'm excited that this new Cancer Resource Center (CRC) will help us to continue that partnership and more patients can be helped.  The new CRC will have informational resources for patients and their caregivers, Personal Health Managers, wigs, and an uplifting class called, "Look Good Feel Better" which helps patients deal with the appearance related side-effects of cancer."
At the Providence Regional Cancer System, our skilled and experienced team members are devoted to helping you and your family navigate through your cancer journey. From diagnosis through treatment and beyond, we can help you understand your medical treatment options, connect you with other people who understand what you're going through, and match you with resources and support that fit your particular needs, personality and circumstances.
Aberdeen Cancer Clinic
954 Anderson Drive, Suite 102
Aberdeen, WA 98520
360-533-6906